Tweet
CBA Students Named Garner Men's Soccer Honors
2016-11-15 00:00:00.0
Senior Adam Najem was named the MAC Player of the Year as well as first-team All-Mid-American Conference men's soccer selections, and two other CBA students, Sophomore Ben Lundt and junior Stuart Holthusen gained second-team All-Mid-American Conference recognition.
Najem is only the third Akron player to earn first-team All-MAC honors in each of his four campaigns as a Zip. He is the seventh Zip to be a four-time All-MAC (first- or second-team honoree) recipient.
A three-time all-conference honoree after earning first-team status in 2015 and second-team recognition in 2014, Holthusen has overcome injuries that sidelined him for the first half of the 2016 campaign to appear in eight games, including five starts. Stepping into the starting goalkeeper's slot this season, Lundt has recorded 52 saves while posting a 1.22 goals against average en route to nine shutouts.
Read more about all 8 All-MAC honorees here.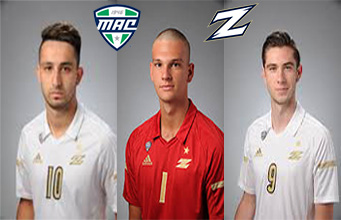 Pictured (l. to r.) Adam Najem (1st Team), Ben Lundt (2nd Team), Stuart Holthusen (2nd Team).