Tweet
UA and Incept partner to bring marketing and sales experience to students
11/01/2018
Incept, a leading Northeast Ohio-based marketing firm, announced the expansion of its business with a second office space located at UA and in partnership with The Gary L. and Karen S. Taylor Institute for Direct Marketing and Ronald R. and Diane C. Fisher Institute for Professional Selling. The new Incept Communications Center at The Taylor Institute for Direct Marketing was officially opened with a ribbon-cutting ceremony Oct. 26.
This partnership will leverage the growing and diverse talent pool of UA students while providing these students with practical experience in their field.
"We're thrilled to be partnering with The University of Akron," states Sam Falletta, Incept's CEO. "The education I received at The University of Akron and my first job working for the Taylor family were two of the more impactful opportunities of my career. I am delighted that this partnership is in place to help accelerate the growth of tomorrow's sales and marketing leaders in the region."
Incept is a leading telemarketing partner that provides on-demand marketing and sales services to local and national clients. It has developed award-winning multi-channel marketing and lead generation campaigns for some of the country's most recognizable brands, including Serta, AARP and the American Red Cross.
"This partnership is a perfect example of how the Taylor Institute fulfills its mission of 'Where Theory Meets Practice,'" notes Jacob Farrar, director of the Taylor Institute for Direct Marketing. "Students in the Department of Marketing will gain valuable 'real-world' experience that will translate into immediate impact on their initial jobs upon graduation."
Quite simply, students can work a paid job, get real life experience in their field of study, then walk across the hall to go to class – all at the Taylor Institute, located on the fifth floor of the Polsky Building. Nine students this semester are already taking advantage of the opportunity to work for Incept.
"Gathering this experience during their college career is going to give them a significant advantage in their first role after graduation and provide several of them opportunities to continue their development at our headquarters in Canton, Ohio." says Darren Hudach, Incept's chief growth officer.
---
Media contact: Lisa Craig, 330-972-7429 or lmc91@uakron.edu.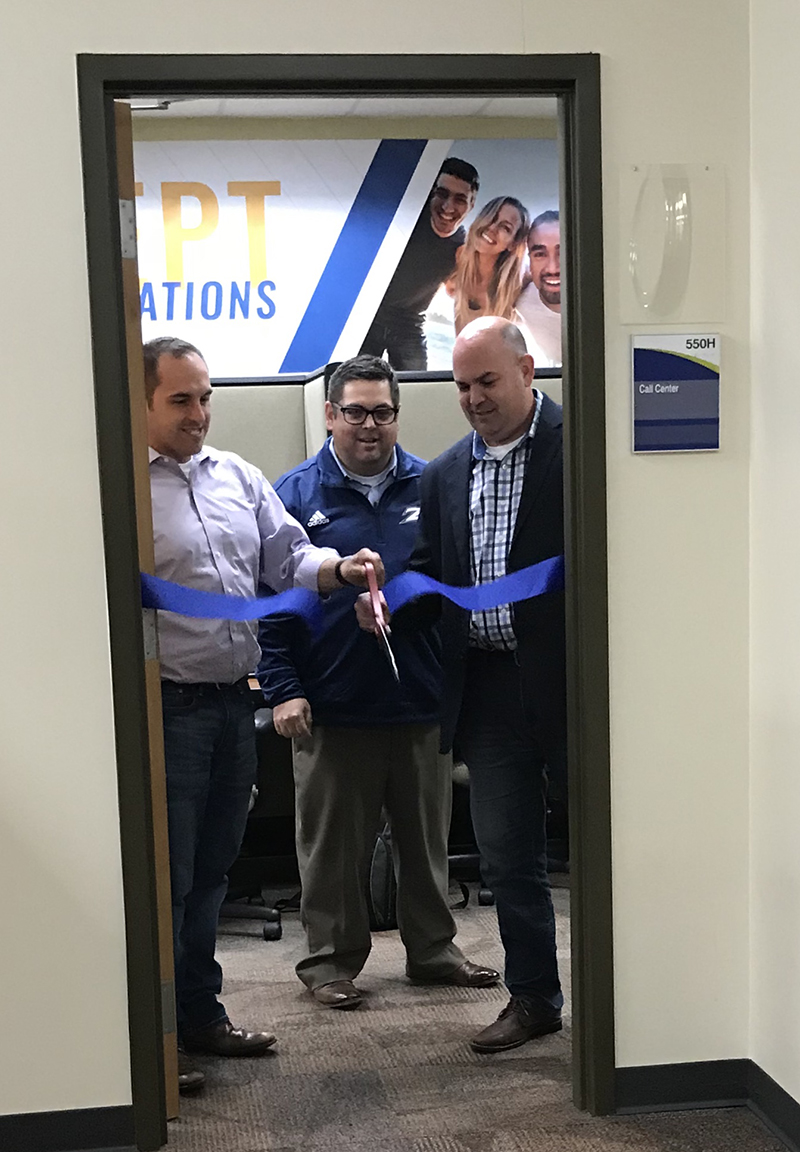 At the ribbon-cutting ceremony are, from left, Darren Hudach, Incept's chief growth officer; Jacob Farrar, director of the Taylor Institute for Direct Marketing; and Sam Falletta, Incept's chief executive officer.