Fisher Institute of Professional Selling celebrates 25th anniversary
11/30/2020
As part of The University of Akron's sesquicentennial celebration — honoring 150 years of our people, place and promises — we are hosting a "Celebration of Academic Excellence" to highlight the history and future of our colleges and academic disciplines.
Today we are looking at the history and achievements of the Fisher Institute of Professional Selling in the College of Business.
As The University of Akron (UA) celebrates its sesquicentennial, the Ronald R. and Diane C. Fisher Institute for Professional Selling, housed in the College of Business (CoB), has also been celebrating 25 years of excellence in sales education.
As the country's second-oldest university-based sales institute, and one of the founding members of the prestigious University Sales Center Alliance (USCA), the Fisher Institute has for the past quarter century pioneered one of the preeminent sales programs in the U.S.
The Fisher Institute is born
Ronald R. Fisher learned the art of sales while working with his father and brothers at Zimmer Manufacturing Co., a medical devices company in Toledo, Ohio. He moved to Akron to start his own company in 1972, Ronald R. Fisher and Associates, where he sold some of the first hip and knee joint replacements in the country.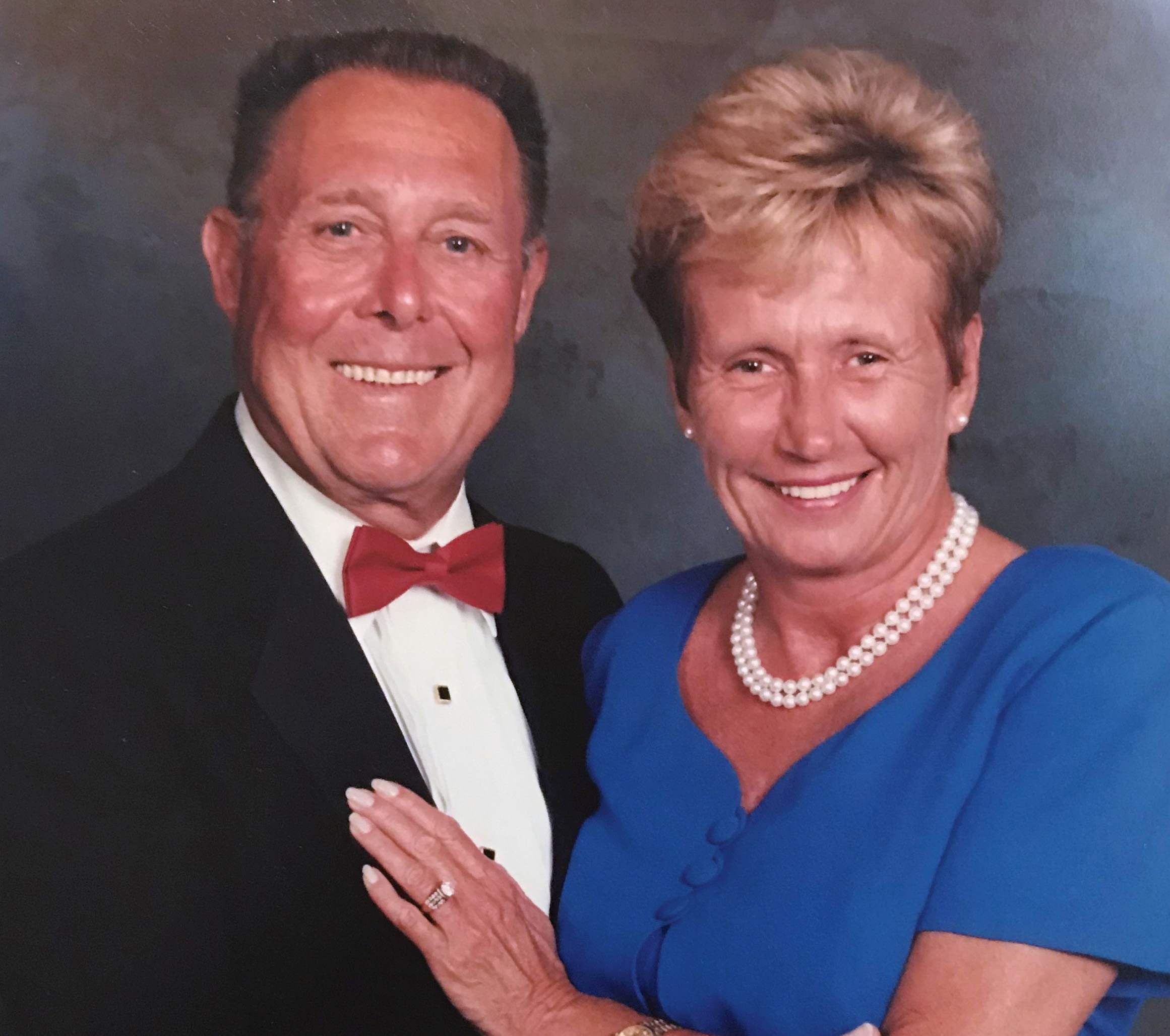 The late Ronald (1934-1997) and Diane (1940-2020) Fisher
After earning his bachelor's degree in business administration from the CoB in 1977, he and his wife, Diane, donated a large sum of financial support to the CoB to establish the Clyde A. and Carl V. Fisher Laboratory — named in honor of Ron's father and uncle, respectively — which was completed in the early 1990s.
In 1993, Ron was honored with the CoB's Frank L. Simonetti Distinguished Business Award, recognizing his professional excellence and service to the University and community. At the awards ceremony, he announced that he and Diane were starting an endowment to create the Ronald R. and Diane C. Fisher Institute for Professional Selling, a full-fledged sales education program housed within the new laboratory. The Fisher Institute officially launched in January of 1994, making it the second university-based sales institute to be established in the country. The goal of the Fisher Institute was to teach professional selling skills to prepare students for careers in sales. 
Uncharted territory
UA's Dr. Jon Hawes — a rising star in sales education who would go on to author, co-author or contribute to nearly 400 publications — was named the first director of the Fisher Institute. Dr. James Strong, professor of marketing, was named associate director.
In many ways, they were launching into uncharted territory.
"I will say that many people at this point don't recognize how truly innovative Ron's concept was," Hawes said. "There was very little activity in sales education nationwide and certainly worldwide. At that point there was only one other sales center in the country, despite the fact that more than 10% of the U.S. workforce works in sales. People just didn't teach it as a program. Some schools would have one class, usually a sales management class, but not a full-scale commitment to sales education — so in that regard, what we were doing was quite innovative."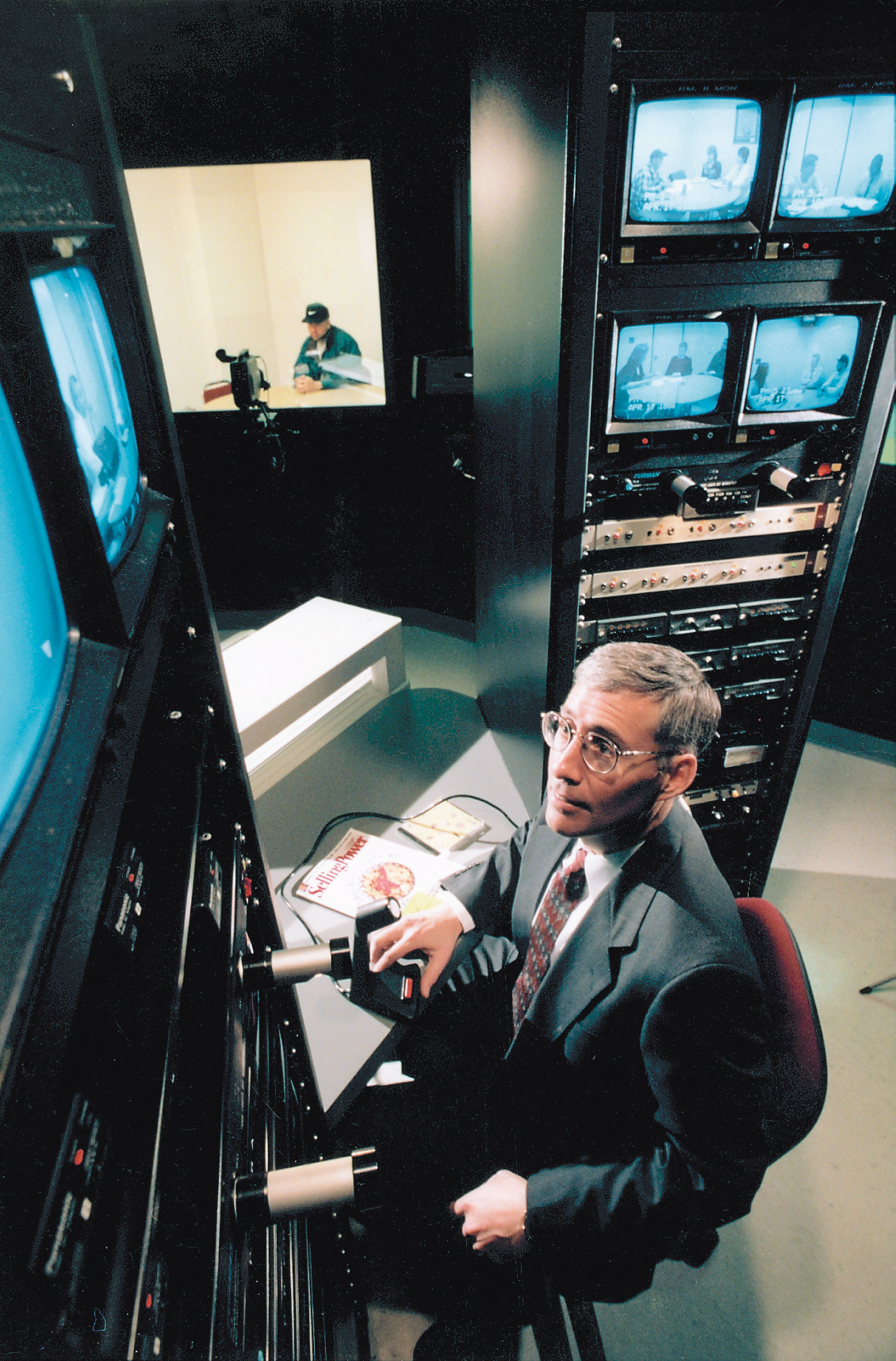 Jon Hawes, inaugural director of the Fisher Institute, viewing students' role-playing sessions.
One example of that innovation, Strong pointed out, was the Fisher Institute's use of videotaped role-playing scenarios, allowing students to practice and then review their sales techniques.
"In the beginning, the Fisher Institute was one of the only, if not the only, institute to have a facility designed to easily videotape students in role plays," Strong said. "We told students to bring a video of their best role plays to interviews with employers, and those that did really impressed interviewers and were offered great sales jobs."
National recognition
Employers were not the only ones who were impressed. The Fisher Institute quickly garnered national media attention, appearing in newspapers and professional publications such as Sales and Marketing Management magazine, Selling Power magazine and the Journal of Personal Selling & Sales Management.
"Everybody thought I was crazy when I started framing and hanging newspaper clippings in the sales lab," Hawes said, "but then students started developing this extraordinary sense of pride, so much so that they started writing on their resumes, by accident, that they were graduates not of The University of Akron, but of the Fisher Institute of Professional Selling."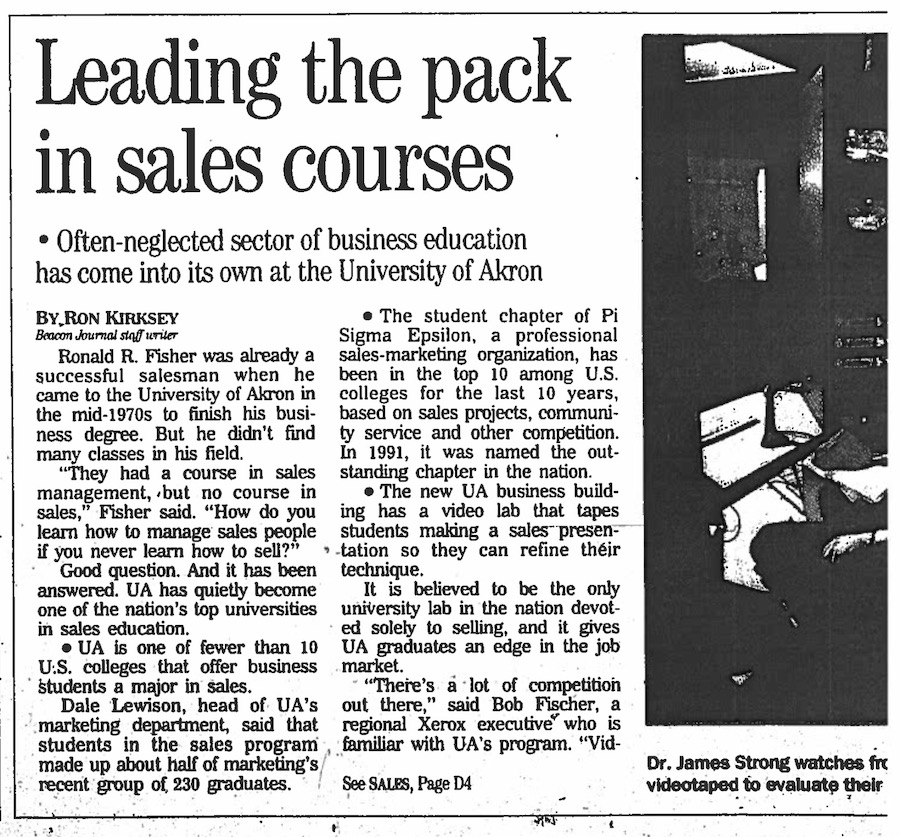 "Leading the pack in sales courses" — Akron Beacon Journal, 10/20/93
As other universities started their own sales programs throughout the 90s and early 2000s, the Fisher Institute continued to serve as a model, widely recognized as one of the best in the country.
It was named one of the top six undergraduate sales programs in 1996, and one of the top five graduate sales programs in 2001, by Sales Marketing Management magazine. It was ranked 19th overall worldwide for sales research, and eighth among programs without a Ph.D. option, by the Journal of Personal Selling and Sales Management in 2000.
In 2001, the Fisher Institute was one of only seven schools to co-found the USCA, a consortium of sales centers dedicated to advancing the sales profession, which now consists of more than 60 Full and Associate Members worldwide, with new members continually being added.
In 2003, the Fisher Institute became the third program in the country to be certified by the Professional Society for Sales & Marketing training.
From Fisher to Pfizer
Under Hawes, the Fisher Institute also began attracting its first corporate partners, establishing relationships with such leading companies as Pfizer Pharmaceuticals.
"We had a wonderful relationship with Pfizer," Hawes said. "We placed a ton of students at Pfizer, right around the turn of the century, and almost all of them were making six-figure incomes in their third year."
One of those students hired by Pfizer, Anne Kirby '03, '04, is now a vice president at Vyera Pharmaceuticals in New York City.
"The Fisher Institute prepared me professionally by exposing me to training that was very similar to Pfizer's industry-leading training program," she said. "While other new hires were timid and nervous during the rigorous training, I felt confident and prepared. In my current leadership role, I continue to believe the professional confidence I gained from the Fisher Institute has served me well."
"GQ George"
Students were not the only beneficiaries of the Fisher Institute's training programs. In its first 15 years, the Fisher Institute provided more than $800,000 worth of consulting and training services to corporations such as The Goodyear Tire & Rubber Co. and FirstEnergy Corp., according to Hawes.
Strong and Hawes were assisted in their corporate training efforts by the late George Prough, a beloved professor of marketing and master of ceremonies at the University, and a 2006 recipient of the Simonetti Award. Affectionately called "GQ George" on account of his impeccable dress and demeanor, Prough was also known for his lessons in sartorial style and etiquette, smoothing many a rough-edged student into a polished professional. 
"Students would come to him without a professional background, and he would teach them how to tie a tie, and tell them the shoes should match the belt, and not to wear a vest — 'that's pretentious' — and that bowties are a little too edgy," said Dr. Deborah Owens, current interim chair of the CoB's Department of Marketing. "George was really good at helping prepare students for a career in sales — helping them with everything from their resumes and attire to elevator pitches, telling them they only had one shot at making a good first impression."
Sales competitions
After receiving the "Distinguished Sales Educator Award" from the USCA in 2005 and being named distinguished professor at UA in 2006, Hawes stepped down from his director position in 2009. Dr. Linda Orr, who had previously worked as an assistant marketing director for Warner Bros. Records in Nashville, Tenn., assumed the role of interim director.
In 2012, Dr. Christopher Plouffe, who had helped build sales programs at Washington State University and Florida State University, was hired as the new director. One of his goals was to further enhance the Fisher Institute's reputation through participation in national competitions.
The previous year, the institute's Dr. Frederick Beuk had coached 20 students in the World Collegiate Sales Open (WCSO), including Joshua Wools, who took first place. In 2013, Beuk and Plouffe coached Brittany Burke (Nagy) to a runner-up finish in both the WCSO and the National Collegiate Sales Competition (NCSC). Plouffe also led a team of students to a third-place finish in the NCSC that year.
After graduating in 2013, Burke (Nagy) went on to work as a field sales consultant for Henry Schein Dental.
"I attribute much of my success to the Fisher Institute," she said. "The curriculum and professors helped me discover my sales talent, helped to hone my skills and enhance them, and they gave me ample opportunities to network with local companies for a potential career. In my current role, I find myself referencing the sales process that was taught to us."
Beuk has recently begun taking his students to compete in the Baylor Business Negotiation Competition at Baylor University in Waco, Texas.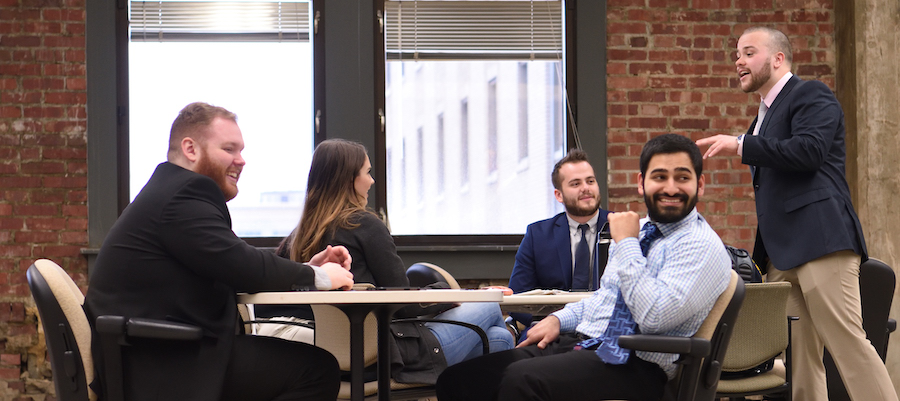 Students hone their selling skills at the Fisher Institute's 5,300-square-foot facility on the fifth floor of the Polsky Building
"We are one of the very few sales programs that go to this national negotiations competition," he said. "In many schools, negotiations is considered part of the management curriculum, but at UA we approach selling from multiple angles to deliver a truly well-rounded, comprehensive sales education. We are very good at overcoming academic silos."
In 2016, David Payne, a two-time UA alumnus ('85 and '86) who had started as assistant director of the Fisher Institute in 2014, became the institute's new director.
 
"UA sales students have competed at the very highest level for nearly 20 years, and we have proudly finished in the top 20 out of more than 70 schools for nearly a decade," Payne said. "In 2020, we had a top-10 finish, and Hannah Keller finished fifth of 140 students nationally as she competed in the first virtual National Collegiate Sales Competition."
Corporate partners
In addition to launching the country's first Professional Selling Certificate for Engineering Majors, Plouffe established a three-tiered corporate partners' membership structure, which grew to include 30 partners, including companies such as the J.M. Smucker Co., Northwestern Mutual and Ohio Cat Construction Equipment.
"Without our corporate partners, this program doesn't exist," Payne said. "Our Fisher Corporate Partners are the backbone of this fantastic sales program, offering support both financially as well as educationally. They are well-ingrained in our educational offerings in the classroom, networking, sales career fairs, sales workshops and our new Fisher Sales Society, the sales club on UA's campus."   
Corporate partners are actively involved in the program, serving as mock buyers in the students' role-playing exercises and providing networking workshops, mentorships, internships, co-ops and full-time sales positions to graduating students.
"My favorite part about being a partner is having so many wonderful opportunities to interact with students," said Lorri Schmidt, manager of distribution and sales service at Parker-Hannifin Corp. "We're involved with the role plays, we work with the advanced sales classes on some of their evening workshops, and we have sales shadowing opportunities, where students can shadow our sales professionals."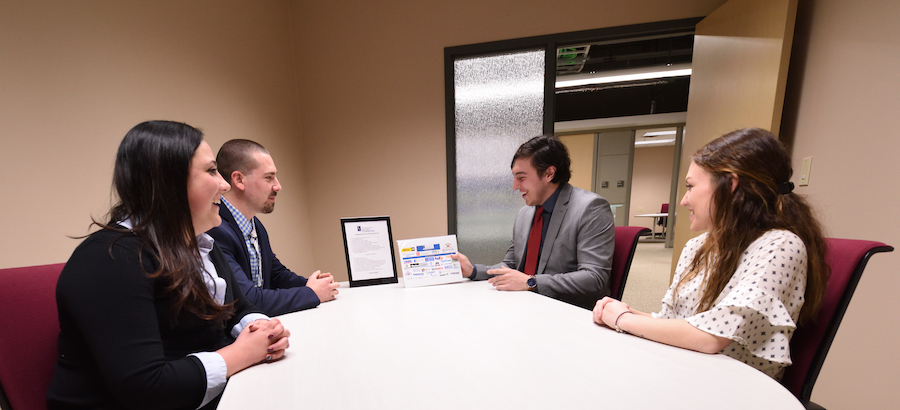 Students prepare for a "Final Role Play," in which they will try to sell their product to a Fisher Corporate Partner
Many students are offered full-time positions by partners and other employers upon graduating, frequently earning six-figure incomes within a few years, according to Payne.
"These kids are getting great jobs with fantastic companies," Payne said, adding that the job placement rate of graduates has been at or near 100% for nearly a decade. "Most of our graduates are getting several job offers … and many of them are coming out of The University of Akron with starting salaries of more than $50,000, with some earning nearly $100,000 in their first year, right out of the gate."
State-of-the-art facilities
The Fisher Institute has only continued to grow over the past few years, completing in 2017 an extensive renovation and expansion of the Clyde A. and Carl V. Fisher Sales Laboratory. The 5,300-square-foot facility in the Polsky Building features nine sales rooms equipped with dual, zooming cameras and state-of-the-art video recording technologies.
"To the best of my knowledge, this is the biggest and most technologically advanced sales facility in the nation," Payne said. "Our rooms have sound dampening to minimize crossover noise from room to room, as well as camera technology to capture non-verbal communication, with the recordings stored on a cloud-based system with 500 terabytes of space. … Many executives are looking for places to do their sales training, and there's not a hotel in America that has the recording capabilities we have for sales training and coaching."
Additionally, in 2019, the Fisher Institute welcomed Cynthia Tomasch, an accomplished executive, as an assistant professor of practice. She has held several prominent positions within PolyOne Corp., including vice president of planning and investor relations, finance director, and general manager of various business units.
"We've only just begun"
The Fisher Institute recently hosted a celebration of its 25th anniversary, where faculty, staff, students and corporate partners were joined by members of the Fisher family to reflect on the past and express their hopes for the future.
"I cannot believe how far the program has come since its conception," said Charlotte Fisher Waddell, eldest daughter of the late Ron and Diane Fisher, and former board member of the institute. "I believe my father would be so happy as to how the program has evolved and where it is going in the future."
Having seen impressive increases in enrollment over the past few years, the Fisher Institute shows no signs of slowing down, according to Payne.
"I think Mr. and Mrs. Fisher would be proud of what we've been able to do, but we've only just begun," he said. "This thing is going to be a whole lot bigger and better in the next five, 10 years. In the fall of 2020, we've just completed the Executive Training Center/Fisher Classroom to offer a combined sales education of classroom and sales lab room experiences in the same facility. We now have a state-of-the-art training center to match the sales labs technology, taking the program to new heights. With more than 30 great Fisher Corporate Partners, the sky is the limit. Now we need to recruit more future sales champions!"
---
 Unless noted otherwise, historic images are courtesy of Archival Services of University Libraries at The University of Akron.