Tweet
Food, income and shelter — all from foam 'bricks'
03/18/2016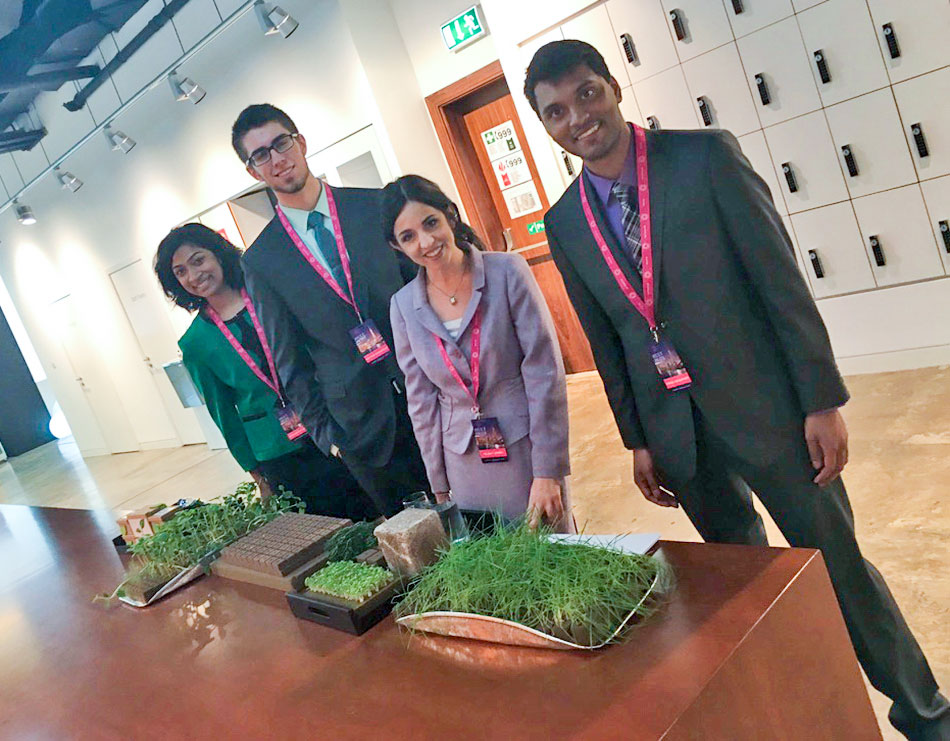 Hult Prize team members are pictured here with the foam growing bricks. From left are Amanda Pinheiro, Peyton Zachrich, Kelsey Jones and Vishal Chaurasia.
---
"Can we build sustainable, scalable and fast-growing social enterprises that double the income of 10 million people residing in crowded urban spaces by better connecting people, goods, services and capital?" — Former President Bill Clinton
"Yes," say four students at The University of Akron, and they have created a product to prove it.
The UA students formed one of the 300 international collegiate teams chosen to answer the challenge issued by Bill Clinton in the regional finals of the annual Hult Prize Competition. Now in its seventh year, the competition is done in partnership with the Clinton Global Initiative.
For what is considered the world's largest student case competition, the teams headed to one of five sites for the regional contests on March 11 and 12 — London, Shanghai, Boston, San Francisco and Dubai.
The UA team, which traveled to Dubai, is made up of undergraduate students in the Gary B. and Pamela S. Williams Honors College — business majors Peyton Zachrich, from New Concord, Ohio, and Kelsey Jones, from Green, Ohio; and bioengineering major Amanda Pinheiro, also from Green; along with honors alumnus MBA candidate Vishal Chaurasia, from Buffalo, N.Y. Dr. Lakeesha Ransom, vice provost and dean of the Williams Honors College, who introduced the Hult Prize to the University this fall, mentored and accompanied the team on the trip. There, they competed against more than 60 teams from around the world, including those from Cambridge University, the London School of Economics, INSEAD, the Indian Institute of Management and Columbia University.
Rising to the challenge
With the initial round of presentations on March 12, the teams introduced their solutions to the challenge to one of three executive jury panels composed of regional CEOs, nonprofit leaders and social entrepreneurs.
Thrive is the name of the UA students' business model, and the product they introduced looks deceptively simple — a foam brick. But that brick offers the possibility of food, shelter and economic stability with minimal investment.
First, a large variety of produce, including leafy greens and herbs, can be grown in the nutrient-rich foam that forms the brick. The team estimates that harvesting time can be accelerated by 35 percent, while using 95 percent less water than soil would require.
A sampling of the many uses of the foam brick developed by the UA Hult Prize team.
---
After the crops are harvested by families for food or by growers who can double their income with the increase in produce, the foam can be repurposed into hard bricks for housing construction with minimal equipment.
Impact ripples in many directions
"They had to come up with a product that had not yet been done, and could be scalable," explains Ransom. "It had to be disruptive, in a positive way, to meet many needs quickly, not just incrementally."
"It took a lot of innovative, interdisciplinary thinking to create a product to meet different needs, and to do it in any type of environment," adds Chaurasia, who earned a B.S. in Polymer Mechanical Engineering at UA in May 2015.
Thanks to friends who live in Dubai, Ransom was able to send bricks and seed ahead to them several weeks before the competition, so the judges were able to see green crops rooted and flourishing in the foam bricks.
The UA team was one of six to make it on to the evening competition. After that round, UA was tied for first. In the end, the UA team lost by one vote to the University of Ghana, where former Secretary General of the United Nations, Kofi Annan, serves as its chancellor.
Only one team is chosen from each regional competition to advance to the finals, to be held in September in New York City. The team that wins that competition will receive $1 million in seed capital to turn its social entrepreneurial idea into reality.
But the UA team is undeterred.
There is a wild card round in which any of the non-winning teams can compete to earn a sixth spot at the finals in September. Over the span of about a month, the teams will have to "sell" their product through social media and publicity while raising capital on a global crowd-funding website for creative and entrepreneurial ideas known as indiegogo.com.
Determined to move forward
Winning the sixth spot would give the UA team the opportunity to join the five regional champions in Boston for six weeks this summer at the Hult Prize Accelerator, an incubator for social enterprise where they will work with mentors to further develop their products.
Getting this far has been a once-in-a-lifetime experience, the team members agree.
"It was amazing — life-changing," says Jones. "We are so proud of ourselves and what we have been able to accomplish."
"I am incredibly proud of our students," notes Ransom. "It took creativity, vision, ingenuity and commitment to get this far, and I can only imagine where they will take this. Ultimately, this work extends beyond the competition and has the capacity to impact lives around the world."
Related:
Pictured here with Dr. Lakeesha Ransom, center, dean of the Williams Honors College, are, from left, Vishal Chaurasia, Kelsey Jones, Amanda Pinheiro and Peyton Zachrich.
---