Expansion coming to our College of Business Administration
05/10/2018
The need for polished and experienced business school graduates is endless. Big corporations that reach across the globe, small businesses that stretch across town, nonprofits, public accounting firms and government agencies all rely on skilled business professionals to make their organizations succeed.
To help prepare the next generation of business students for future opportunities, The University of Akron's College of Business Administration (CBA) is building a new Professional Development Center — a $5.2-million project largely paid for by private funds. This is the first major construction project at the CBA building since it opened at its current location on S. Broadway Street in 1991. The expansion comes as the college marks its 65th anniversary and was just recently reaccredited in both business and accounting by AACSB — the premier accreditation agency for more than 16,000 business schools worldwide. Fewer than 2% earn accreditation in both business and accounting, as the CBA has.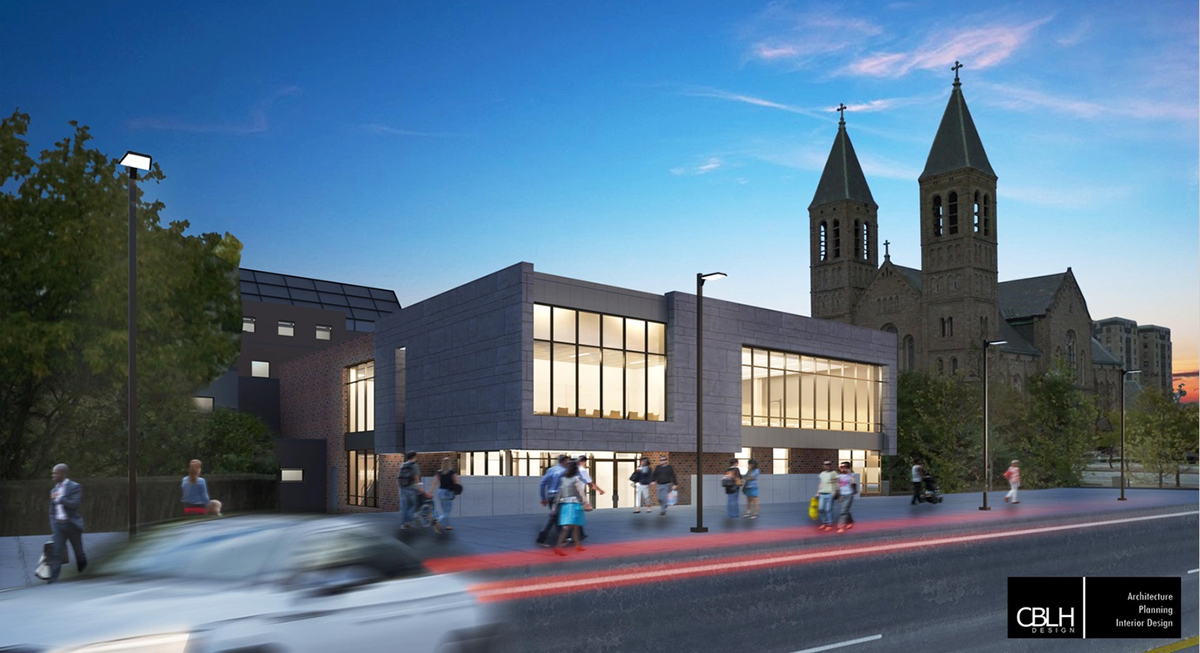 The nearly 15,000-square-foot, two-floor Professional Development Center, pictured above in an artist's rendering, will be built out from existing renovated space adjacent to the CBA and expand toward the corner of S. Broadway Street and University Avenue. Construction is anticipated to last a year, with the new building operational for the fall 2019 semester.
Integrated learning and professional development
The new center is a result of the CBA's strategic plan, one that will reflect an emphasis on integrating academic quality with experiential learning and professional development, said Dr. Ravi Krovi, dean of the college. The center will be the home for EDGE (Exploring Degree Goals and Experiences), the college's professional development program. The CBA's professional development initiatives are in response to advice from its advisory board of 278 business executives from throughout the region. The center will become the hub of activity that contributes to CBA graduates becoming "Career Ready and Connected."
"Right now, the different staff involved in each component of EDGE are distributed throughout the college," Krovi said. "We feel it makes sense to have an addition right next to the college that reflects our mission and underscores the importance of professional development to all our stakeholders, including students and employers."
The Professional Development Center will house:
Institute for Leadership Advancement
Business communications experiential learning suite
Presentation studio
Internship offices
Study abroad center
Interview rooms for employers
Professional studies classroom
Business analytics lab
Learning commons area
"A lot of what the CBA does draws upon experiential learning — learning by doing," said Krovi. "This Professional Development Center is an extension of that idea. Our goal is for students to have a one-stop place for everything from international study opportunities to space for practicing pitches. We believe our brand — Career Ready and Connected — will be strengthened because of this center."
Groundbreaking ceremonies for the Professional Development Center are scheduled for Tuesday, May 15, from 8:30 to 9:45 a.m. at the College of Business Administration, 259 S. Broadway St., Akron. Among those offering remarks at the ceremonies will be Krovi, Dr. John Green, interim president of UA; Akron City Council President Margo Sommerville, Suzie Graham, president and CEO of Downtown Akron Partnership; CBA student Kristin Genetin and Stephen L. Myers, interim chief planning and facilities officers of Capital Planning and Facilities Management.
The CBA was established at UA in 1953 and has more than 30,000 graduates.
---
Media contact: Alex Knisely, 330-972-7429 or aknisely@uakron.edu.