College of Business Administration
Transfer Students Q&A
— Meet Alyson Pekkola —
Major: International Business
Hometown: Westlake, OH
Transferred from: Miami University of Ohio
Involvement at UA (i.e. student organizations, leadership): VP of Recruitment for Women in Business and International Business Association, member of the National Society of Leadership and Success (NSLS), and Williams Honors Student
Q. Why did you transfer to UA?
I transferred to UA because I wanted to be closer to home for family and work. UA gave me the flexibility to pursue my education as well as balance all of the other things in my life that are important to me; such as figure skating and coaching. I also changed my major from Pre-Med Kinesiology to International Business and UA has a great curriculum for business students as well as a good reputation across the state. Equally important is that UA is well connected to the business community, which has been continually providing me with opportunities outside the classroom.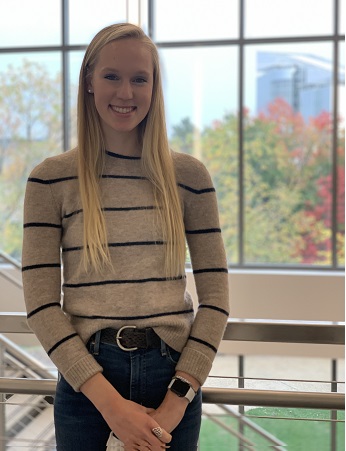 Q. What was transferring like for you?
I felt welcomed and supported throughout my decision to transfer here. Every faculty member is passionate about helping students achieve their goals and obtain the professional experience they need in order to be prepared for the real world. Also, the students here have a desire to learn and it is refreshing to learn in an environment where people are striving and motivated to accomplish their personal and professional goals.
Q. What are your favorite things about UA?
I love how connected the university is with the community. Being located in the heart of the city allows students to learn from and grow alongside dedicated, hardworking and passionate people outside of the classroom.
I appreciate how dedicated professors and other staff members are in supporting students. I am able to communicate directly with many of my professors and feel they have truly guided me and advocated for me throughout my time here.
The University of Akron has brought so many opportunities to campus. I am so grateful for all of the workshops, seminars, networking events, internships, study abroad opportunities and community events that have been presented on campus as they have helped me discover who I am as an individual and where I could potentially see myself professionally in the future.
Q. Any advice for students starting their college transfer search?
Remember that everyone's experience is going to be different than yours. It's important to understand what you are truly wanting to gain from attending any University and figuring out what your pros and cons are when making the decision.
Be open to new places and opportunities that you would not expect to enjoy. You might be pleasantly surprised and it could completely change your life.