College of Business Administration
Transfer Students Q&A
— Meet Mahima Brahmbhatt —
Major: Human Resource Management
Hometown: Strongsville, OH
Transferred from: Cuyahoga Community College (Tri-C)
Involvement at UA (i.e. student organizations, leadership): I'm the Founder & President of - Commuter Activity Board, Society of Human Resource Management, and Public Relations Officer - Indian Student Association
Q. Why did you transfer to UA?
I transferred to UA because it has one of the best industrial and organizational (I/O) psychology programs. During my first semester at UA, I asked my professor what minor degree I should think about pursuing. They recommended getting a minor in human resources. I didn't know enough about HR and how it related to I/O psychology, so I decided to do some research. I discovered that I am more of a hands-on person as opposed to being primarily interested in theory and research. This led me to change my major. I'll be graduating with a major in HR and a minor in psychology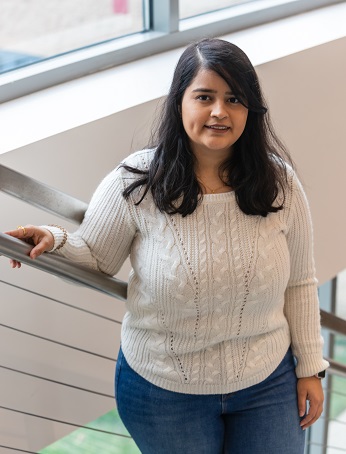 Q. What was transferring like for you?
It was hard because I was a commuter student. But my professors have been really helpful.
Q. What are your favorite things about UA?
Gaming area in Student Union
Starbucks all around the campus
Encouraging professors
Q. Any advice for students starting their college transfer search?
Make an Excel Sheet and write down the pros/cons, tuition, and scholarship available for the top 5 colleges you want to transfer and then make a decision.