The arts start here!
Art exhibitions, dance performances, theatre productions, music concerts, operas, lectures, and much more are available on campus.
Many events are free, and all are open to the public. University artists and nationally and internationally acclaimed guest artists share their talents with the campus and community, help to create a vibrant arts scene, and boost the region's economic and cultural vitality.
---
E.J. Thomas Performing Arts Hall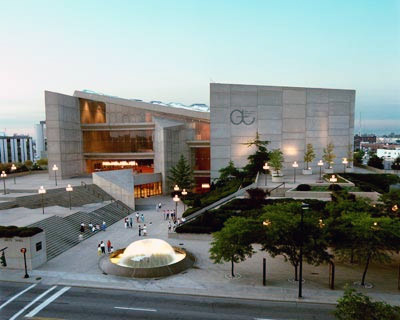 E.J. Thomas Performing Arts Hall presents Broadway shows, concerts, dance performances, the UA Forum Speakers Series, Rock the Roo concerts, the new Contemporaries series, and much more every exciting season. What's coming to the E.J. Thomas Hall stage?
---
Guzzetta Hall
All of the University's academic programs in the performing arts - music, dance, theatre, and arts administration - are under one big roof at Guzzetta Hall. Adjacent to Guzzetta Hall is E.J. Thomas Hall, creating an artistic, educational and cultural hub for the campus and community.
The world-class Center for Dance and Theatre at Guzzetta Hall is home to the UA School of Dance, Theatre, and Arts Administration. The center features seven technology-enhanced dance studios, including the Francia Holliday Albrecht Dance Performance Studio, a design and lighting studio, scene and costume shops; trainer and physiotherapy facilities; locker rooms; and technology-enhanced classrooms.
The original portion of Guzzetta Hall, built in 1976, is home to the UA School of Music. Guzzetta Recital Hall is a 250-seat concert venue presenting more than 300 music performances a year, including the Kulas Concert Series, operas, musicals, recitals, and more.
A professional-quality recording studio and a Music Computer Center are also in Guzzetta Hall.
Sandefur Theatre in Guzzetta Hall is a flexible black-box theatre seating up to 125 patrons. Varian Theatre is a black-box studio space for classes as well as the performance of experimental plays and intimate work.
---
Daum Theatre
The Paul A. Daum Theatre is a 250-seat proscenium space in Kolbe Hall. Plays, musicals, dance performances, lectures, and more are presented there.
---
Folk Hall and the Emily Davis Gallery
Folk Hall, home of the Myers School of Art, is among the largest and most impressive art facilities in the region. The renowned Emily Davis Gallery (right) in Folk Hall showcases work and lectures by emerging and established contemporary artists.