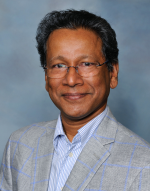 Dr. Sadhan C. Jana
Benjamin Franklin Goodrich Endowed Professor
Department of Polymer Engineering
Phone: 330-972-8293
Email: janas@uakron.edu

Patents Issued to Prof. Sadhan C. Jana's Group
Jana, S.C., Isayev, A. I. 2001 Multi-layered article having a conductive surface and a non-conductive core and process of making the same, US Patent No. 6172155B1.
Jana et al. 2001 Melt-mixing thermoplastic and epoxy resin above Tg or Tm of thermoplastic with curing agent. US Patent No. 6197898B1
Jana,S.C., Dris, I., Balch, G.S., 2000 Method of coagulating and isolating graft copolymers from lattices, US Parent No. 6156875.
Jana, S.C., Scott, E., Sundararaj, U.T., 2000 Single extruder screw for blending of miscible and immiscible polymeric materials, US Patent No. 6132076.