Ph.D. student explores 3D printing in New Mexico
06/13/2018

One of our Ph.D. student will boost his professional development this summer by working with experts in the area of 3D printing through a special partnership between The University of Akron and a national security and nuclear science laboratory.

Adam Woods, who is pursuing a doctorate in polymer science, will spend about eight weeks at Sandia National Laboratories in Albuquerque, N.M., to learn the development process for building a custom 3D printer system. The new printer, to be built in the laboratory of Dr. Eric J. Amis, professor of polymer science, will be used to print three-dimensional libraries of materials and designs using combinatorial material science techniques, or "combi."

This unique method enables scientists to analyze various systems to identify characteristics they are seeking. Specifically, one model of interest is an "auxetic structure," which means when it is stretched, the material expands to become larger. The idea for this work was developed by Piljae Joo, another Amis group member who, like Woods, is in the third year of his doctoral program.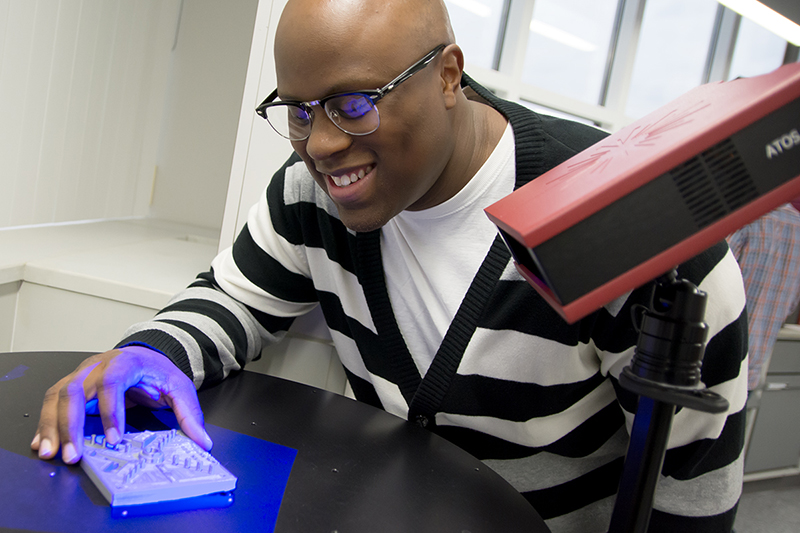 Adam Woods works on equipment in the lab of Dr. Eric J. Amis, a professor of polymer science, in the Goodyear Polymer Center.
"'Combi' methods help expedite discovery, and saves time and saves resources," said Woods.
One area of relevance of the work will be stretchable or wearable electronics. Some examples include flexible devices such as displays, batteries, sensors, smart fabrics, and biomaterials.
Printer expands research opportunities
"My research background has little connection with my current work," said Woods, whose background is in chemistry. "Additive manufacturing can be a processing tool for materials such as polymer, metal, ceramics, etc. We can create materials by using chemistry, then use those materials in the 3D printer to create models for various applications. By building the custom 3D printer, it gives me a deeper insight into controlling the machine and the preparation of the materials. The project gives me the opportunity to do practical applications, like testing the performance limits of auxetic models which translates to one day having flexible devices that are more durable. The goals are to fabricate these auxetic models and to develop novel testing methods."
Woods was connected to this project by Amis, his advisor, who chairs the materials science review board for Sandia National Laboratories. In 2016, Sandia and UA approved a Master Research Agreement that has enabled multiple collaborations in areas of additive manufacturing and advanced materials research.
"Regarding my future career, I would enjoy working in government or industry," said Woods. "I believe this collaboration will show me firsthand the life of a government scientist/engineer."
---
Media contact: Alex Knisely, 330-972-6477 or aknisely@uakron.edu.