Named scholarships
When it comes to earning a college degree, the greatest obstacle can be funding.
For this reason, The University of Akron is pleased for the opportunity each year to assist talented, deserving students achieve their dreams, thanks to more than 1,300 named scholarships established through the kindness and generosity of thousands of UA alumni and friends, corporations, and foundations.
Scholarships truly are the best way to ensure that today's students persist to graduation. Scholarships allow students to enroll full time and remain focused on their studies; they also reduce drop-out rates, decrease the stress of student loans, and shorten the road to graduation.
The need for scholarships grows each year, however, as students continue to face an increased financial burden in pursuit of a college degree. In fact, 94 percent of today's baccalaureate students borrow to pay for college – versus just 45 percent in 1993. Across the country, the average college-related debt for borrowers in the class of 2016 was $37,172; for Ohio students, that figure was $30,239.
If you are interested in making a significant contribution to student success, please consider a gift to the MAKING A DIFFERENCE AND MOVING FORWARD scholarship campaign, which is the University's most important initiative. You may also establish a named scholarship at The University of Akron, which can be created to honor a living person, in memory of a loved one, or to contribute to the growth of an area of study.
To learn more, please contact the Department of Development at 330-972-7238.
How do I apply for a scholarship?
This is not the page to apply for scholarships.
Students who want to apply for scholarships should visit the scholarship page on the Financial Aid site.
The Department of Development does not accept applications for or distribute scholarships. Scholarships are distributed through the University's Office of Student Financial Aid.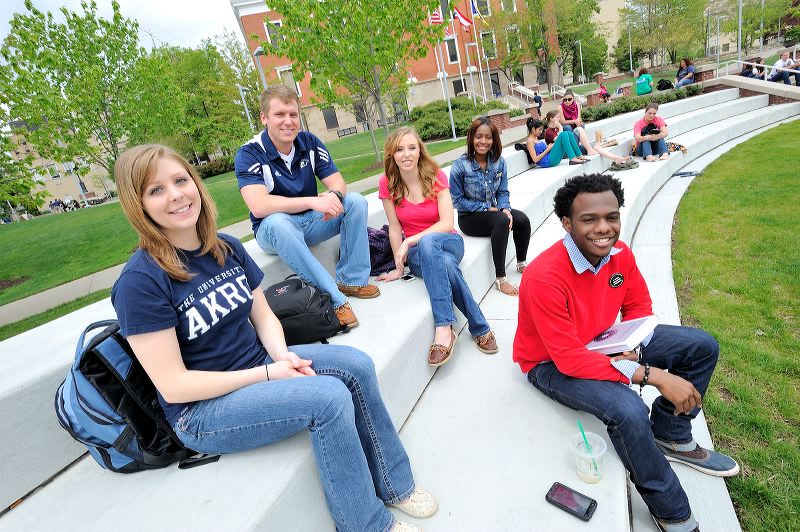 ---
Search for a Named Scholarship
1758e8c4-72b8-442d-be6c-6ceebfc272dd
Hardgrove, William C. and William G. Hoover Endowed Scholarship
The William C. Hardgrove and William G. Hoover Endowed Scholarship was established in 2018 by Phyllis (Hoover) Hardgrove and Michael W. Hardgrove to honor the lives of these amazing Akron area international businessmen. Combined, they spent more than 100 years in global commerce, importing internationally-made products to the U.S. and selling domestically produced items abroad. From the mid-20th century, they contributed to the emergence of the United States as the economic leader in global trade.
Mr. Hardgrove and Mr. Hoover, both Akron natives with a deep commitment and loyalty to the region, appreciate how Akron has shaped their lives. Their linkages to The University of Akron go back to the 1950's. Their wives, Judith Hardgrove, and Marjorie Hoover, graduates of Akron Kenmore and Garfield high schools respectively, have each celebrated 60-year marriages with their husbands. All told, the two couples have raised nine children and seen the success of 19 grandchildren.
Mr. William Hardgrove was born and raised in Akron, attended Kenmore High School and, for a time, The University of Akron. It was during this time his father, Robert, founded Akron Novelty and Merchandise (Akron Novelty). Akron Novelty has been a premier importer and distributor of gift items in Northeast Ohio for school fairs, hospital shops and carnivals for more than 60 years. Throughout the 60's, 70's, 80's and into the 90's, they were key suppliers to local pharmacies and gift shops, with school supplies, personal care products, toys, and engraved awards. These products were generally imported from numerous manufacturers and distributors throughout the Pacific Rim, as well as products manufactured by domestic companies, such as watch makers and jewelers.
For 25 years, they occupied the corner of Main and Thornton Streets in downtown Akron. When Robert retired in 1976, the business moved to the comer of Main and Voris Streets to a larger and more space efficient facility. Then in 2016, due to proposed revisions to the Main St./I-76 intersection, the business relocated to the Doylestown, Norton and Barberton area (near Routes 21 and 585). Over the years, Akron Novelty has had numerous employees, including nearly every member of the extended Hardgrove family. Today, Bill and his son, John, continue to operate a business that has evolved over the years into an on-line sales and distribution center.
Mr. William Hoover, was born in the Beverly Hills area of Los Angeles, California. While attending UCLA in 1941, he joined the Army Air Corps (now Air Force) as one of the youngest pilots among the "greatest generation" in World'War II. He flew B17s and B29s from a base in Saipan, where he flew more than 40 combat sorties, and was awarded the Distinguished Flying Cross for heroism and extraordinary achievement. Following the war, he studied international business, first with an undergraduate degree from Mexico City College, and then as one of the first graduating classes from the Thunderbird Graduate School of International Management in Glendale, Arizona.
With this educational background, international travel and years of military experience, he started his business career in 1954 at the Goodyear Tire & Rubber Company in Akron. He continued traveling the world, while raising his family in New Jersey, Brussels, and then in Copley, Ohio. His prior experience and expertise as a pilot translated well into the world of global sales for Goodyear products. With his real-world expertise in aircraft tires and brakes, he managed Goodyear Aviation and Goodyear International sales teams throughout South America, the Far East and Europe for more than 41 years. After 20 years of retirement, he passed away at age 91 in January 2016.
Phyllis Hardgrove graduated from The University of Akron in 1982 with a Bachelor of Arts degree in Biology. In 1988, she graduated with a Master's Degree in Business Administration from San Jose State University. From her post-graduation experience at Med-Assist and Firestone Bank, she managed retail branch offices of Security Pacific Bank, and then excelled as a financial analyst for Pacific Eagle, a real estate property investment company. Retiring to raise her children, Nicole and Collin, she became involved in various school and not-for-profit projects. She also loves riding, training, and competing her event horses in Hamilton, Massachusetts and Southern Pines, North Carolina.
Michael Hardgrove graduated from The University of Akron in 1982 with a Bachelor of Science degree in Accounting. In 1989, he graduated with a Juris Doctor from Santa Clara University. He gained valuable international accounting, tax, legal and business experience while at Coopers & Lybrand, and later PricewaterhouseCoopers, as a staff accountant in Akron, a manager in San Jose, Brussels and San Francisco, and a partner in Seattle and Boston. He "retired" from the accounting profession in 2010 and started his legal career as a DLA Piper partner, where he leads the Boston Tax Practice, and sits on the Global Tax Practice Committee. His international business career started with experiences working at Akron Novelty, and grew under the tutelage of a retiree from Goodyear International.
In honor of the international business legacy of both import and export global products, and in appreciation of the role that The University of Akron has played in their lives, Phyllis and Michael Hardgrove wish to provide financial support through The William C. Hardgrove and William G. Hoover Endowed Scholarship to other students working towards their international business careers while pursuing a college degree at The University of Akron.
This annual scholarship will be applied directly to a student's account for tuition and applicable fees, applicants must meet the following requirements:
full time, part-time, or a graduate student at The University of Akron College of Business Administration
first consideration will be given to students majoring in international business and/or accounting
be in good academic standing with a minimum cumulative 3.0 GPA
Selection will be made by the College of Business Administration scholarship committee.
​