Named scholarships
When it comes to earning a college degree, the greatest obstacle can be funding.
For this reason, The University of Akron is pleased for the opportunity each year to assist talented, deserving students achieve their dreams, thanks to more than 1,300 named scholarships established through the kindness and generosity of thousands of UA alumni and friends, corporations, and foundations.
Scholarships truly are the best way to ensure that today's students persist to graduation. Scholarships allow students to enroll full time and remain focused on their studies; they also reduce drop-out rates, decrease the stress of student loans, and shorten the road to graduation.
The need for scholarships grows each year, however, as students continue to face an increased financial burden in pursuit of a college degree. In fact, 94 percent of today's baccalaureate students borrow to pay for college – versus just 45 percent in 1993. Across the country, the average college-related debt for borrowers in the class of 2016 was $37,172; for Ohio students, that figure was $30,239.
If you are interested in making a significant contribution to student success, please consider a gift to the MAKING A DIFFERENCE AND MOVING FORWARD scholarship campaign, which is the University's most important initiative. You may also establish a named scholarship at The University of Akron, which can be created to honor a living person, in memory of a loved one, or to contribute to the growth of an area of study.
To learn more, please contact the Department of Development at 330-972-7238.
How do I apply for a scholarship?
This is not the page to apply for scholarships.
Students who want to apply for scholarships should visit the scholarship page on the Financial Aid site.
The Department of Development does not accept applications for or distribute scholarships. Scholarships are distributed through the University's Office of Student Financial Aid.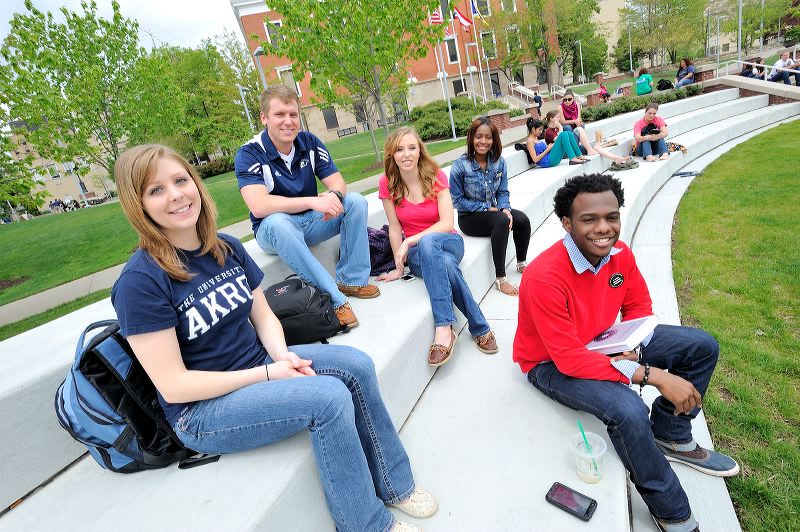 ---
Search for a Named Scholarship
1940155
Ametrano, Umberto and Maria Perpetua Scholarship for Women in Electrical and Computer Engineering
The Umberto and Maria Perpetua Ametrano Scholarship for Women in Electrical and Computer Engineering was established in 2011 by Carmen (Carmela) Ramona Ametrano-De Abreu and José Alexis De Abreu-García to honor Carmela's parents, Umberto Ametrano and Maria Perpetua Vidal de Ametrano.

Umberto Ametrano was born in Italy on September 20, 1920. After serving in WWII, he immigrated to Caracas, Venezuela, in 1952 and met Maria Perpetua Vidal. They were married in 1954. With very little knowledge of Spanish and while tirelessly working different jobs, Umberto became an auto mechanic, specializing in engines, earning a "Diploma in Engines," a career he pursued long distance — through mail correspondence and self-teaching. He worked long hours managing and laboring in his own garages to provide for his family, especially for the education of his four children. Umberto's ethics and sense of responsibility were examples to his children. He always wanted for his children what he was unable to have for himself, pushing them to study hard and become successful professionals.

Maria Perpetua Vidal was born in Venezuela on February 8, 1930. Through much sacrifice, she became a school teacher. Upon graduation, Maria taught for four years before moving to Caracas in search of a more lucrative teaching position. As fate would have it, she landed a position with a major bank, where she trained as an archivist. Eight years later, she joined the Ministry of Public Works and The Environment. She worked for the government for 33 years. Like her husband, Maria also worked hard, long hours to provide for her children's welfare and education. She was never tired, and even after a long day's work, she would come home to take care of her children and prepare exquisite meals for her family.

Due to an unexpected illness, Umberto was forced into early retirement in 1979. Since then, Maria continued to work as the sole provider for the family, holding both her regular job as well as running a personal catering business. Upon retiring from her government job, she became the coordinator of her son's landscaping company and continued working as an archivist for a private entity. At the age of 81, she was still working two jobs. Maria was always ready and eager to help those in need. She was a devoted mother whose work ethics and tenacity earned the appreciation, respect, and high esteem of many people, especially those around her.

As one of four children from a family of modest means, Carmela did her undergraduate studies at Andres Bello Catholic University in Caracas, Venezuela, where she earned a bachelor of science education degree in biology and chemistry. Carmela learned hard work at the early age of 13, when she started working with her mother and helping in her office and catering business during school breaks. While pursuing her undergraduate degree, Carmela worked as a biologist, preserving species in danger of extinction, and as an organic chemistry teacher. After graduation, Carmela won a scholarship to pursue graduate studies in Canada. Moving from her home in Caracas, Venezuela, Carmela surpassed both gender and language barriers to excel at her education and career ambitions and passions. From the encouragement of her parents, Carmela was the first member of her immediate family to complete graduate school, earning a master's degree in food science and microbiology from Guelph University in Canada.

From the influences of their parents, both Carmela and Alex strongly believe that education is the pathway to betterment and success. As staunch advocates for hard work, dedication, and persistence, they also are committed to promoting excellence in the education and careers of engineering and sciences.

Carmela and Alex are thankful their parents instilled within them a love and appreciation for family, education, cultural diversity, and charity. To honor her parents for their exceptional encouragement, Carmela envisions that The Umberto and Maria Perpetua Ametrano Scholarship for Women in Electrical and Computer Engineering will give confidence to young women who are seeking engineering and science careers. It is then hoped the recipients of this scholarship, by their own life's examples and successes, will take every opportunity to also promote a future in engineering or science to others.

The Umberto and Maria Perpetua Ametrano Scholarship for Women in Electrical and Computer Engineering is to be awarded to an undergraduate student in electrical or computer engineering at The University of Akron. Preference is to award this scholarship to a foreign-born, female student, whose communication in English is a second language. If no qualified applicant meets this request, the scholarship then may be awarded to a qualified female undergraduate student born in the United States. Further, if no qualified applicant meets the above criteria, the funds are to be directed and contributed to the endowment principal.

The recipient must demonstrate an exceptional work ethic, outstanding leadership in both the classroom and community, and an extraordinary dedication to engineering. Financial need is to be considered, and the recipient must offer a 3.0 GPA or better.

The funds from the scholarship are to be applied to tuition only. The recipient is to be selected by a committee consisting of The University of Akron Electrical and Computer Engineering Department Chair and a number of selected electrical and computer engineering faculty.
​