Named scholarships
When it comes to earning a college degree, the greatest obstacle can be funding.
For this reason, The University of Akron is pleased for the opportunity each year to assist talented, deserving students achieve their dreams, thanks to more than 1,300 named scholarships established through the kindness and generosity of thousands of UA alumni and friends, corporations, and foundations.
Scholarships truly are the best way to ensure that today's students persist to graduation. Scholarships allow students to enroll full time and remain focused on their studies; they also reduce drop-out rates, decrease the stress of student loans, and shorten the road to graduation.
The need for scholarships grows each year, however, as students continue to face an increased financial burden in pursuit of a college degree. In fact, 94 percent of today's baccalaureate students borrow to pay for college – versus just 45 percent in 1993. Across the country, the average college-related debt for borrowers in the class of 2016 was $37,172; for Ohio students, that figure was $30,239.
If you are interested in making a significant contribution to student success, please consider a gift to the MAKING A DIFFERENCE AND MOVING FORWARD scholarship campaign, which is the University's most important initiative. You may also establish a named scholarship at The University of Akron, which can be created to honor a living person, in memory of a loved one, or to contribute to the growth of an area of study.
To learn more, please contact the Department of Development at 330-972-7238.
How do I apply for a scholarship?
This is not the page to apply for scholarships.
Students who want to apply for scholarships should visit the scholarship page on the Financial Aid site.
The Department of Development does not accept applications for or distribute scholarships. Scholarships are distributed through the University's Office of Student Financial Aid.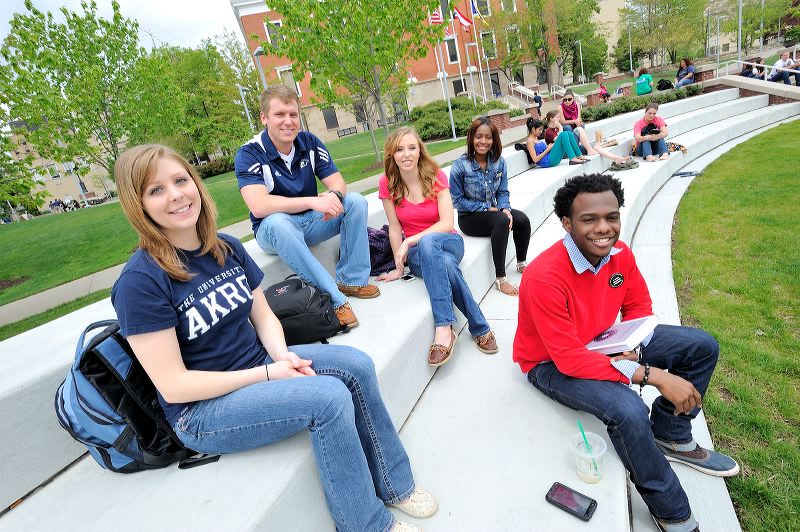 ---
Search for a Named Scholarship
640a5aa6-ac98-4222-83bd-bef138f6387d
Buenafe, M.D., J.D., Colonel Felicisimo N. Memorial Scholarship Fund
The Colonel Felicisimo N. Buenafe, M.D., J.D., Memorial Scholarship Fund was established in 2012 by Dr. Buenafe's wife and children. This scholarship shall be awarded to part-time evening students enrolled at The University of Akron School of Law based on financial need and accumulative GPA of 3.0 and above. History of military service will be given special consideration when awarding this scholarship.
Felicisimo "Happy" Navarro Buenafe, M.D., J.D., was born on January 9, 1936, in Batangas, Philippines. He attended the University of the Philippines, where he obtained his high school diploma in 1952, his undergraduate degree in 1956, and his medical degree in 1960. In 1958, as he pursued his medical degree, Dr. Buenafe met his devoted wife, Amelia Carreon, BSN.
With his heart filled with love for the beautiful, intelligent, and charming Amelia Carreon, on June 7, 1959, Dr. Buenafe asked Amelia for her class ring. To him, this gesture was a symbol that the two of them belonged to one another. Although they were married on December 29, 1961, Dr. Buenafe considered the date of June 7 to be their personal day of celebrating their commitment to one another. In fact, every month for 53 years, Dr. Buenafe gave his wife a hug and a kiss, saying "Happy Seventh," which translates into 636 anniversary celebrations! Such steadfast devotion is just one example of Dr. Buenafe's exemplary character and integrity.
Dr. and Mrs. Buenafe immigrated to the United States in 1962. In 1963, they celebrated the birth of their daughter, Marites C. Buenafe, followed by the births of Melody in 1964, Michael in 1968, and Mark in 1969. During this time, Dr. Buenafe practiced anesthesiology in Akron, Ohio. He was widely known as a very competent and caring anesthesiologist. Described by Amelia as a "super-achiever," Dr. Buenafe's lifelong quest for knowledge led him to the doors of The University of Akron School of Law. While raising his family and actively practicing medicine, Dr. Buenafe pursued a legal education as an evening student at Akron Law. He graduated from law school in 1984.
Despite Dr. Buenafe's full schedule, his wife, children, and grandchildren always came first. He never failed to make time to attend school and extracurricular activities. He was known to make surprise visits to his children as they followed in his footsteps and diligently pursued their respective educations and meaningful professions.
Dr. Buenafe enjoyed Tae Kwon Do. He was very proud that he achieved the level of second degree black belt. In fact, he even founded his own Tae Kwon Do school where he served as an instructor with his two sons. Dr. Buenafe enlisted in the United States Army Reserve Medical Corps in 1988 and was promoted to colonel in 1993. He served until 2004. He practiced law at Buckingham, Doolittle & Burroughs where he met fellow attorney Mark Skakun. To this day, the Skakun and Buenafe families remain the closest of friends.
Dr. Buenafe's parents, Felicisimo B. Buenafe and Teresa Navarro, instilled in him a love of education that he and Amelia passed down to their four children and seven grandsons. Marites C. Buenafe earned an undergraduate degree in music from Yale University and a medical degree from Case Western Reserve University. She serves as s staff physician at Eastern Kentucky University. Melody C. Buenafe studied music therapy at The College of Wooster and earned a Bachelor of Science in nursing at Samuel Merritt University. Michael L. Buenafe obtained his undergraduate degree in chemistry and a medical degree, both from Cornell, and a Master of Business Administration from The University of Arizona. He is chief of Medical Services at the Phoenix Indian Medical Center. Mark A. Buenafe earned an undergraduate degree in psychology from The University of Miami and a Master of Business Education from Wake Forest University. He is a Professor of Economics at Mesa Community College.
After practicing law for five years, Dr. Buenafe retired from both medicine and law in 1990. For the last 23 years of his life he enjoyed spending time with family, traveling, fishing, learning languages, betting the odds in craps, and "Perfecting the Art of Loafing and Making It into a Way of Life." His generous philanthropy culminated in the inauguration of the Col. F. N. Buenafe, M.D., J.D., Auditorium at the University of the Philippines in December of 2010. The establishment of The Colonel Felicisimo N. Buenafe, M.D., J.D., Memorial Scholarship Fund is a further extension of the Buenafe family's philanthropy to honor the memory of their beloved "Happy."
​