Named scholarships
When it comes to earning a college degree, the greatest obstacle can be funding.
For this reason, The University of Akron is pleased for the opportunity each year to assist talented, deserving students achieve their dreams, thanks to more than 1,300 named scholarships established through the kindness and generosity of thousands of UA alumni and friends, corporations, and foundations.
Scholarships truly are the best way to ensure that today's students persist to graduation. Scholarships allow students to enroll full time and remain focused on their studies; they also reduce drop-out rates, decrease the stress of student loans, and shorten the road to graduation.
The need for scholarships grows each year, however, as students continue to face an increased financial burden in pursuit of a college degree. In fact, 94 percent of today's baccalaureate students borrow to pay for college – versus just 45 percent in 1993. Across the country, the average college-related debt for borrowers in the class of 2016 was $37,172; for Ohio students, that figure was $30,239.
If you are interested in making a significant contribution to student success, please consider a gift to the MAKING A DIFFERENCE AND MOVING FORWARD scholarship campaign, which is the University's most important initiative. You may also establish a named scholarship at The University of Akron, which can be created to honor a living person, in memory of a loved one, or to contribute to the growth of an area of study.
To learn more, please contact the Department of Development at 330-972-7238.
How do I apply for a scholarship?
This is not the page to apply for scholarships.
Students who want to apply for scholarships should visit the scholarship page on the Financial Aid site.
The Department of Development does not accept applications for or distribute scholarships. Scholarships are distributed through the University's Office of Student Financial Aid.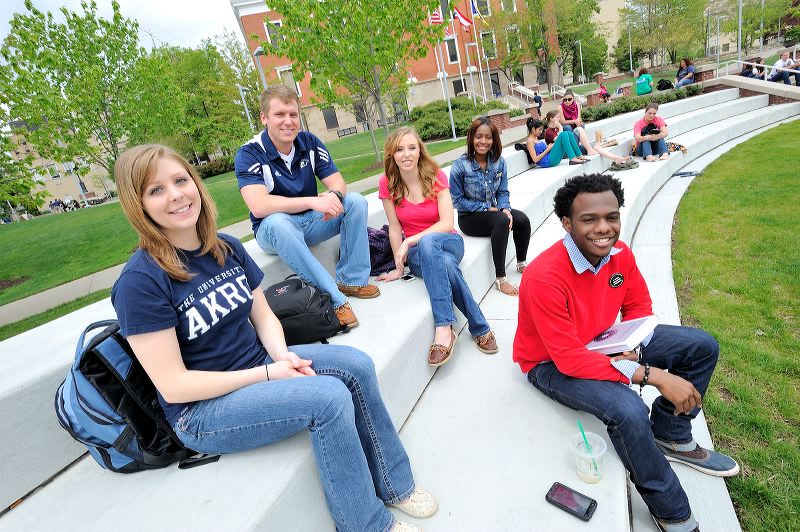 ---
Search for a Named Scholarship
6902cba8-9d11-42ed-8c5e-47eb5366f159
Lenehan, Jim Endowed Scholarship for Baseball and Leadership
The Jim Lenehan Endowed Scholarship for Baseball and Leadership was established in 2017 with a generous gift of $750,869 from James T. and Christine P. Lenehan. Through this fund, Jim and Chris directed that their support provide a full scholarship to a deserving baseball student-athlete at The University of Akron who demonstrates a commitment to excellence on the field and in service to others.
Tom Adolph said of Jim Lenehan, "He was serious, reliable, dependable, and dedicated as a player, and, if we had had a bunch of him around, life would have been a lot better for me as a coach." Adolph, a Hall of Fame athlete who was the third baseball coach Jim played for at UA, went on to say, "Jim was the consummate student-athlete and the all-around good person who was fun to be around!"
A native of New Brunswick, N.J., Jim and his three brothers, Dan, Steve and Bill, all UA graduates, came to Akron in 1965 when their father took a position with Babcock & Wilcox. During the school years 1967 to 1971, Jim worked his way through The University of Akron, where he studied economics, by shoveling asphalt, building parking lots and tennis courts. During his time at UA, he also became president of Phi Delta Theta Fraternity and earned four letters playing first base on the Zips nine. Although he did not have a great baseball career, he was a consistent .250 hitter. As a senior, under the direction of Adolph, Jim led the Zips in RBIs and helped the team compile the only winning season of his college career: 15-10-1.
After graduating from UA in 1971 and getting his MBA from Northwestern, Jim worked briefly for the golf division at Wilson Sporting Goods. He joined Johnson & Johnson in 1976 in the McNeil consumer products division and by 1990 had worked his way up to president of that division. Ultimately, Jim became vice chairman and president of Johnson & Johnson, capping a 28-year career with the company.
He is presently a senior adviser at Cerberus Operations Advisory Company, LLC, where he was previously chief executive officer and private consultant to Cerberus Capital Partners. His distinguished professional career also includes posts such as chairman of Princeton Pharma Holdings, LLC, as well as service on the boards of the Healthcare Leadership Council; Prescient Medical, Inc.; Novocure, Blacklight Power, Inc.; and Abington (PA) Hospital Foundation.
Jim married Christine "Chris" Piliponis in 1973. She graduated in 1972 from Colgate University and received a master's degree in 1973 from Northwestern University. The couple has three adult children and several grandchildren.
The Lenehans' affiliation with The University of Akron has spanned more than 30 years. The couple's philanthropy has supported various UA interests, including the Buchtel College of Arts and Sciences, Athletics, the Phi Delta Theta Clock Tower, and sponsorship of the Emile Grunberg Lecture, which brings Nobel Laureates in economics to campus. In 2004, Jim received the Varsity "A" Achievement Award from the UA Department of Athletics.
Leadership is a personal trait that often proves elusive to many people, although it is intimately related to personal success. Leaders are at the forefront of their fields; they are respected and quite often become pillars of their communities. Leaders also foster social change, and most of our cultural, social, and economic progress is the result of effective leadership.
Jim speaks often of the impact that team sports has on building leadership skills and looks at his own baseball career as foundational to imparting the skills and attributes sought-after in leaders.
While leadership remains easy to define and identify, a consistent summation of characteristics that make an effective leader remains elusive. Jim and Chris endeavor to provide the recipient of their scholarship with opportunities – on and off the field – to impart leadership building experiences to an eager, young mind.
Jim and Chris, through the establishment of this scholarship, wish to demonstrate the importance of team participation; which often is cited as an important aspect in using sports to develop leadership skills.
As documented in studies centered on C-Suite executives, a high number of CEOs participated in team sports. In fact, team participation is often more important than the physical component, as a search through biographies of captains of industry shows that few of them were their "high school quarterback." They all were on some team, however, and display five leadership skills learned in athletics that have a direct workplace crossover: teamwork, communication, strategic development, organizational skills, and self-discipline.
To Jim and Chris, leadership skills are important on and off the field. They help create championship teams, great work in the office and, most importantly, personal growth.
​