Named scholarships
When it comes to earning a college degree, the greatest obstacle can be funding.
For this reason, The University of Akron is pleased for the opportunity each year to assist talented, deserving students achieve their dreams, thanks to more than 1,300 named scholarships established through the kindness and generosity of thousands of UA alumni and friends, corporations, and foundations.
Scholarships truly are the best way to ensure that today's students persist to graduation. Scholarships allow students to enroll full time and remain focused on their studies; they also reduce drop-out rates, decrease the stress of student loans, and shorten the road to graduation.
The need for scholarships grows each year, however, as students continue to face an increased financial burden in pursuit of a college degree. In fact, 94 percent of today's baccalaureate students borrow to pay for college – versus just 45 percent in 1993. Across the country, the average college-related debt for borrowers in the class of 2016 was $37,172; for Ohio students, that figure was $30,239.
If you are interested in making a significant contribution to student success, please consider a gift to the MAKING A DIFFERENCE AND MOVING FORWARD scholarship campaign, which is the University's most important initiative. You may also establish a named scholarship at The University of Akron, which can be created to honor a living person, in memory of a loved one, or to contribute to the growth of an area of study.
To learn more, please contact the Department of Development at 330-972-7238.
How do I apply for a scholarship?
This is not the page to apply for scholarships.
Students who want to apply for scholarships should visit the scholarship page on the Financial Aid site.
The Department of Development does not accept applications for or distribute scholarships. Scholarships are distributed through the University's Office of Student Financial Aid.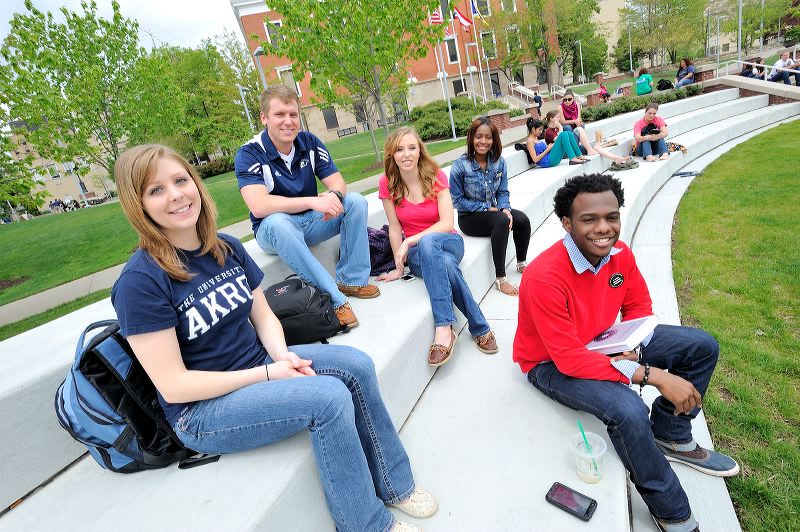 ---
Search for a Named Scholarship
b62eb8cb-1e54-499c-ae69-eccccf73619a
De Abreu-Jordão and Francisca Endowed Scholarship
The Jordão and Francisca De Abreu Endowed Scholarship was established in 2011, and revised in 2018 by José Alexis De Abreu-García and Carmen (Carmela) Ramona Ametrano-De Abreu, to honor Alex's parents, Jordão De Abreu Zacarías and Francisca Antonia García-De Abreu.
Jordão De Abreu Zacarías was born in Funchal, Madeira Island, Portugal, on March 15, 1916. In 1947, he immigrated to Caracas, Venezuela, where he married the love of his life – Francisca Antonia. His life was defined by his undying commitment to work and family. Through his entrepreneurial spirit, hard work and perseverance, he became a successful businessman and chef. He successfully operated his own restaurants and rental properties for more than 42 years. He worked long hours seven days a week, and took only a couple of vacations to visit his parents back in his homeland. He instilled his sense of commitment and responsibility in his children, and always reminded them he had never missed work, not even when sick!
A self-taught individual, Jordão De Abreu Zacarías seized every opportunity to learn and even tutored his two youngest children in elementary through high-school math. Jordão De Abreu Zacarías had a "green thumb," everything he planted grew beautifully and lush! He enjoyed gardening so much that at 90+ years of age he was still climbing and trimming trees in his Fairlawn home.
Francisca Antonia García-De Abreu was born in Caracas, Venezuela on January 17, 1926. Her life was defined by her commitment and total dedication to her family and those around her, especially the less fortunate. A most loving, tender, understanding and yet firm and determined mother, grandmother, great-grandmother and great-great-grandmother, she never tired until her children had the best life could offer, especially a solid education.
In 1995, Jordão and Francisca immigrated to Akron, Ohio, and in 2006, became the oldest couple to ever become citizens of the United States, a special source of pride for them. Jordão and Francisca enjoyed the company of their 10 children, 24 grandchildren, 29 great-grandchildren, and 6 great-great-grandchildren.
Having had no formal education, Jordão and Francisca's foremost life goal was to ensure their children's education. They viewed education as the means to provide their children a much better and intellectually fulfilling life than their own. While some of their children were the first generation ever to complete high school, half of them went on to college, with some achieving master and doctoral degrees.
As one of 10 children from a family of modest means, in Caracas, Venezuela, Alex learned hard work at an early age, helping his mom and siblings do household chores and working in the family restaurant on weekends and school breaks. While in sixth grade, he started working as a personal tutor for students in the sixth grade and below. He tutored high school students as he went through high school and, upon graduating, continued to do so on a full-time basis for an additional two years. In 1976, he won a scholarship to pursue his undergraduate studies in Canada. He surpassed the language barrier to excel at his education and career ambitions and passions. Upon completing his electrical engineering degree in 1982, he was the recipient of teaching and research assistantships, tuition bursaries, and a number of awards and scholarships to pursue graduate studies. In addition to his teaching and research duties, he taught calculus and was a counselor to Venezuelan students in Canada, on a part-time basis. From the encouragement of his parents, Alex was the first member of his family to complete graduate school and to earn a doctoral degree in electrical engineering from Queen's University at Kingston, in Canada.
From the influences of their parents, both Alex and Carmela strongly believe that education is the pathway to betterment and success. As staunch advocates for hard work, dedication, and perseverance, they are also committed to promoting excellence in the education and careers of engineering and sciences.
Alex and Carmela appreciate that their parents instilled in them a love and appreciation for family, education, cultural diversity, and charity. To honor his parents for their exceptional encouragement, Alex envisions that The Jordão and Francisca De Abreu Endowed Scholarship will give confidence to young men and women who are also seeking engineering and science careers. It is then hoped, that the recipients of this scholarship, by their own life's examples and successes, will take every opportunity to also promote a future in engineering or science to others.
The Jordão and Francisca De Abreu Endowed Scholarship is to be awarded to an electrical engineering undergraduate student with first preference given to Hispanic students, if possible. The recipient must also demonstrate an exceptional work ethic, and outstanding leadership in both the classroom and community. Financial need is to be considered and the recipient must have a 3.0 grade point average or better. Recipient(s) will be selected by the Electrical and Computer Engineering scholarship committee.
​