Named scholarships
When it comes to earning a college degree, the greatest obstacle can be funding.
For this reason, The University of Akron is pleased for the opportunity each year to assist talented, deserving students achieve their dreams, thanks to more than 1,300 named scholarships established through the kindness and generosity of thousands of UA alumni and friends, corporations, and foundations.
Scholarships truly are the best way to ensure that today's students persist to graduation. Scholarships allow students to enroll full time and remain focused on their studies; they also reduce drop-out rates, decrease the stress of student loans, and shorten the road to graduation.
The need for scholarships grows each year, however, as students continue to face an increased financial burden in pursuit of a college degree. In fact, 94 percent of today's baccalaureate students borrow to pay for college – versus just 45 percent in 1993. Across the country, the average college-related debt for borrowers in the class of 2016 was $37,172; for Ohio students, that figure was $30,239.
If you are interested in making a significant contribution to student success, please consider a gift to the MAKING A DIFFERENCE AND MOVING FORWARD scholarship campaign, which is the University's most important initiative. You may also establish a named scholarship at The University of Akron, which can be created to honor a living person, in memory of a loved one, or to contribute to the growth of an area of study.
To learn more, please contact the Department of Development at 330-972-7238.
How do I apply for a scholarship?
This is not the page to apply for scholarships.
Students who want to apply for scholarships should visit the scholarship page on the Financial Aid site.
The Department of Development does not accept applications for or distribute scholarships. Scholarships are distributed through the University's Office of Student Financial Aid.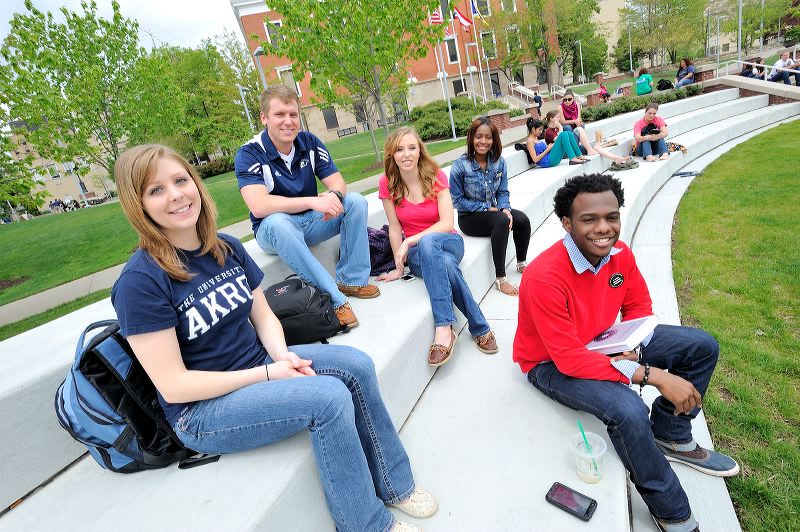 ---
Search for a Named Scholarship
efc8e650-730f-4317-a054-0216c9ef2b44
Berry, James R. and Phyllis C. "Zippy" Endowed Scholarship
The James R. and Phyllis C. Berry "Zippy" Endowed Scholarship was established at The University of Akron in July 2018 by their sons, James W. and Thomas M. Berry. The scholarship will support undergraduate or graduate students portraying The University of Akron's beloved mascot Zippy, and who demonstrate exceptional people skills and a deep commitment to school spirit.
Born November 4, 1913 (the year that Buchtel College became The University of Akron), James Raymond Berry graduated from Akron Central High School in 1930 at age 16, after skipping two grades. At the height of the Depression, young Jim, one of six children, drove a bakery route in a 1929 Ford delivery truck four hours a day, six days a week beginning at the crack of dawn for nine years. He worked four years just to be able to afford college, and five more while a student at The University of Akron. He graduated with honors in 1939 with a Bachelor of Science degree in Business Administration, majoring in accounting.
In spite of his work schedule, Jim's campus accomplishments were legendary. He was president of Omicron Delta Kappa Leadership Honorary, a member of Phi Sigma Alpha Scholarship Honorary, and won an "A" Key Award for overall campus achievement. After being selected to the Pershing Rifle and Scabbard & Blade Military Honor Societies, he became Cadet Colonel and Commanding Officer of the 550-man ROTC Regiment. Jim was president of Student Council after being voted Student Body President in a campus-wide election. He was also president of Theta Chi Fraternity. Blessed with a smooth bass voice, Jim was a member of the Glee Club, the University Singers and the Buchtel Singers.
In athletics, he won three letters as a star middle distance runner on the track team, and was also a member of the basketball team. He later played basketball for the Akron All-Stars and football for the Akron Bulldogs. Jim was listed in "Who's Who Among Students in American Universities and Colleges" in 1937-38 and, to no one's surprise, was named "Outstanding Senior Man" by the class of 1939.
After graduation, Jim worked for the B.F. Goodrich Company for two years as a systems analyst while teaching accounting at The University of Akron. In December 1941, he was called up from the Army Air Force Reserves to active duty at the start of World War II. Before departing, he married his college sweetheart, Phyllis Rowland. During the next three years, he rose through the ranks from Lieutenant to Captain to Major and finally to Lt. Colonel. When he ended his tour of duty, he was Base Commander at Barksdale Field, Louisiana. After the war, he continued his employment with B.F. Goodrich as a market research analyst. He also returned to The University of Akron to teach Business Policy, a senior seminar class, for five years.
In 1954, he joined Acme Stores as Controller, later becoming Vice President and Treasurer. As one of his many duties, he was in charge of ticket sales for the annual Acme-Zip football games, helping to "Fill The Bowl" and achieve record crowds for 25 years. During his storied business career, he was president of The University of Akron National Alumni Board, Downtown Kiwanis and of the United Community Council. Additionally, he was a member of the Greater Akron Musical Association and the Summit County Historical Society. Jim was a personal friend of four University of Akron Presidents --Drs. Simmons, Auburn, Guzzetta and Muse (spanning a 50-year period) -- and participant (shovel in hand) in the groundbreaking ceremonies of numerous campus buildings. Truly a member of "The Greatest Generation," he was a proud, generous and die-hard Zips fan until his death in 1999.
The family would also like to acknowledge that Jim's younger brother, the late Robert C. Berry, class of 1942, devoted his entire life to The University of Akron, serving as Assistant Treasurer, Business Manager, Advisor of Men and UA Placement Coordinator.
Phyllis Carol (Rowland) Berry was born June 19, 1916. She was delivered by her late father, Dr. Albert Rowland, who was born in 1870, the year Buchtel College was founded under the Grant Administration. She graduated from Akron West High School in 1934, where she was voted "Most Athletic" and awarded the Womanhood Cup by fellow students. One of five children, she also had to work a full-time Depression Era job, selling movie tickets in the box office of Loew's Theatre (now the Akron Civic Theatre). Her campus activity was therefore limited, but she still managed to be a member of Kappa Kappa Gamma sorority and the Pan-Hellenic Council, while winning several awards including her selection as Honorary Cadet Colonel of the ROTC Regiment.
It was through these organizations that she met and dated her future husband, Jim Berry. Phyllis graduated from UA in 1939 with a Bachelor of Science degree in Education, and taught 3rd and 4th grade in the Mantua, Ohio school system for two years after graduation. She and Jim were married two weeks after the attack on Pearl Harbor, and following the war years, she was a dedicated mother to their two sons. Phyllis joined the UA Women's Committee in 1964 and has been a loyal member ever since. She has served many Akron area charitable organizations, most notably Akron Children's Hospital. As of the founding of this scholarship, Phyllis is 102 and resides in the Concordia at Sumner Retirement Community in Copley, Ohio. Like her husband Jim, she has always been an avid fan of America's Best College Mascot-Zippy.
The James R. and Phyllis C. Berry "Zippy" Endowed Scholarship provides scholarship assistance to undergraduate or graduate student(s) who participate in the Zippy program and demonstrate outstanding personal characteristics coupled with a deep commitment to school spirit. The recipient will be an incoming or returning student with a 2.5 overall GPA or higher. Recipient selection will be made by the administrators of the Zippy program.
​