Named scholarships
When it comes to earning a college degree, the greatest obstacle can be funding.
For this reason, The University of Akron is pleased for the opportunity each year to assist talented, deserving students achieve their dreams, thanks to more than 1,300 named scholarships established through the kindness and generosity of thousands of UA alumni and friends, corporations, and foundations.
Scholarships truly are the best way to ensure that today's students persist to graduation. Scholarships allow students to enroll full time and remain focused on their studies; they also reduce drop-out rates, decrease the stress of student loans, and shorten the road to graduation.
The need for scholarships grows each year, however, as students continue to face an increased financial burden in pursuit of a college degree. In fact, 94 percent of today's baccalaureate students borrow to pay for college – versus just 45 percent in 1993. Across the country, the average college-related debt for borrowers in the class of 2016 was $37,172; for Ohio students, that figure was $30,239.
If you are interested in making a significant contribution to student success, please consider a gift to the MAKING A DIFFERENCE AND MOVING FORWARD scholarship campaign, which is the University's most important initiative. You may also establish a named scholarship at The University of Akron, which can be created to honor a living person, in memory of a loved one, or to contribute to the growth of an area of study.
To learn more, please contact the Department of Development at 330-972-7238.
How do I apply for a scholarship?
This is not the page to apply for scholarships.
Students who want to apply for scholarships should visit the scholarship page on the Financial Aid site.
The Department of Development does not accept applications for or distribute scholarships. Scholarships are distributed through the University's Office of Student Financial Aid.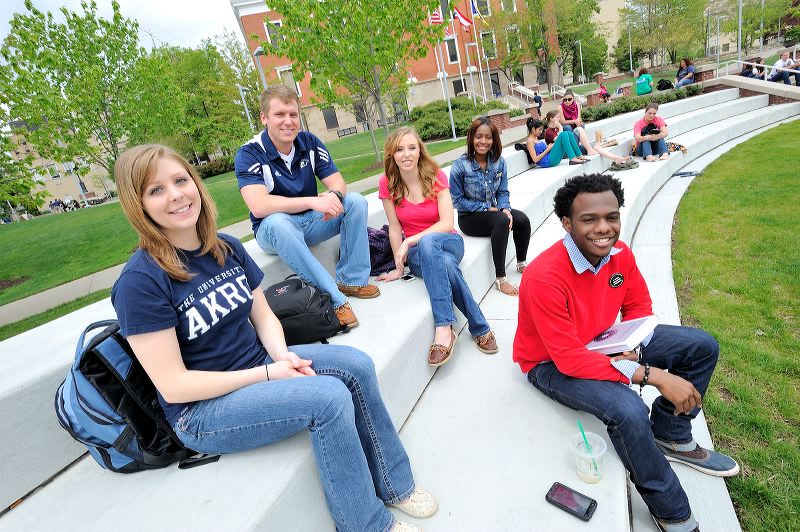 ---
Search for a Named Scholarship
0619cace-b052-4134-9f9f-5b7a535ae164
Obiekwe, Jerry C. Ph.D., Ed.D., Endowed Scholarship in School of Law
Law affects every aspect of life, particularly in a system where law and order are paramount. It modifies behavior, and it creates an environment where intellectualism is allowed to flourish to the limits of individual ability. More importantly, law helps provide the parameters in which a level playing field is possible so that everyone has equal opportunity to participate with equal protection. The United States of America is surely a cognitive democracy. It's a country where old traditions can be re-examined and re-evaluated and can be replaced with better, progressive ideas that emanate from robust debates driven by well-reasoned and sound arguments.
The Emancipation Proclamation, the U.S. Civil War, and the 13th Amendment may have ended slavery about a century and a half ago, but its vestiges still linger today in other forms. One of the landmark cases that changed America, Brown v Board of Education, helped pave the way to dismantle "separate but equal" doctrine after years of segregation. That decision by the United States Supreme Court and the civil rights movements that ensued later gave birth to the Civil Rights Act and the Voting Rights Act that have profoundly changed the conditions of minorities and women in America. These laws, which are uniquely American and born out of immeasurable adversity, are greatly cherished, as they have rightfully bestowed upon women and minorities equal access to opportunities by removing socially constructed impediments. We must continue to be vigilant, making certain these rights are not weakened or abolished, as the recent gutting of section four of the Voting Rights Act by the U.S. Supreme Court, on Tuesday, June 25, 2013 did. Instead, let's continue to find ways to make them better, as equal access to opportunities motivates all people to strive to the limits of their ability, which inevitably translates to the uplifting of society at large.
The Jerry C. Obiekwe, Ph.D., Ed.D., Endowed Scholarship in School of Law was established by Jerry Obiekwe, professor of mathematics at The University of Akron Wayne College. Dr. Obiekwe is a native of Nigeria and came to the United States to further his education. Thanks to U.S. laws that provide the parameters for equal educational opportunities for all, he was able to fulfill his dream and remains forever grateful for all who paved the way for him. Dr. Obiekwe's scholarship will provide awards to full-time second-year African-American students in the School of Law at The University of Akron. The scholarship is based on need and scholastic achievement and will be awarded annually by the dean of the School of Law in coordination with Financial Aid to a student who meets the criteria. It is envisioned that as the endowment increases, additional awards will be offered to additional students each year.
​