CLASS DESCRIPTIONS

---
Dance Institute offers Pre-Ballet classes for ages 5-7, and ballet-based pre-professional training for ages 7 and up with additional classes in pointe, classical repertoire, jazz and tap. See below for full list of classes which are designed to increase students desire to learn and grow.
---
Introductory Levels
---
Pre-ballet (Ages 5-7)
An introduction to basic ballet vocabulary and positions of the arms and legs. Children experience dance conceptually and technically through the development of simple movement sequencing. Dance Institute's Pre-Ballet Work Summary is a presentation of class exercises and activities that have been prepared as part of the Pre-Ballet curriculum.
Storybook Dance (ages 3 and 4)
A fun and creative introduction to the integration of dance and music. Children combine basic motor skills with their imagination through directed activity and the magic of words and pictures to explore the world of movement. Students attend class one day per week.
Dance Discovery (Ages 7 & Up)
An introduction to several forms of dance all conveniently taught in one class. A great way to explore ballet, modern jazz, and tap! Students attend class one day per week.
---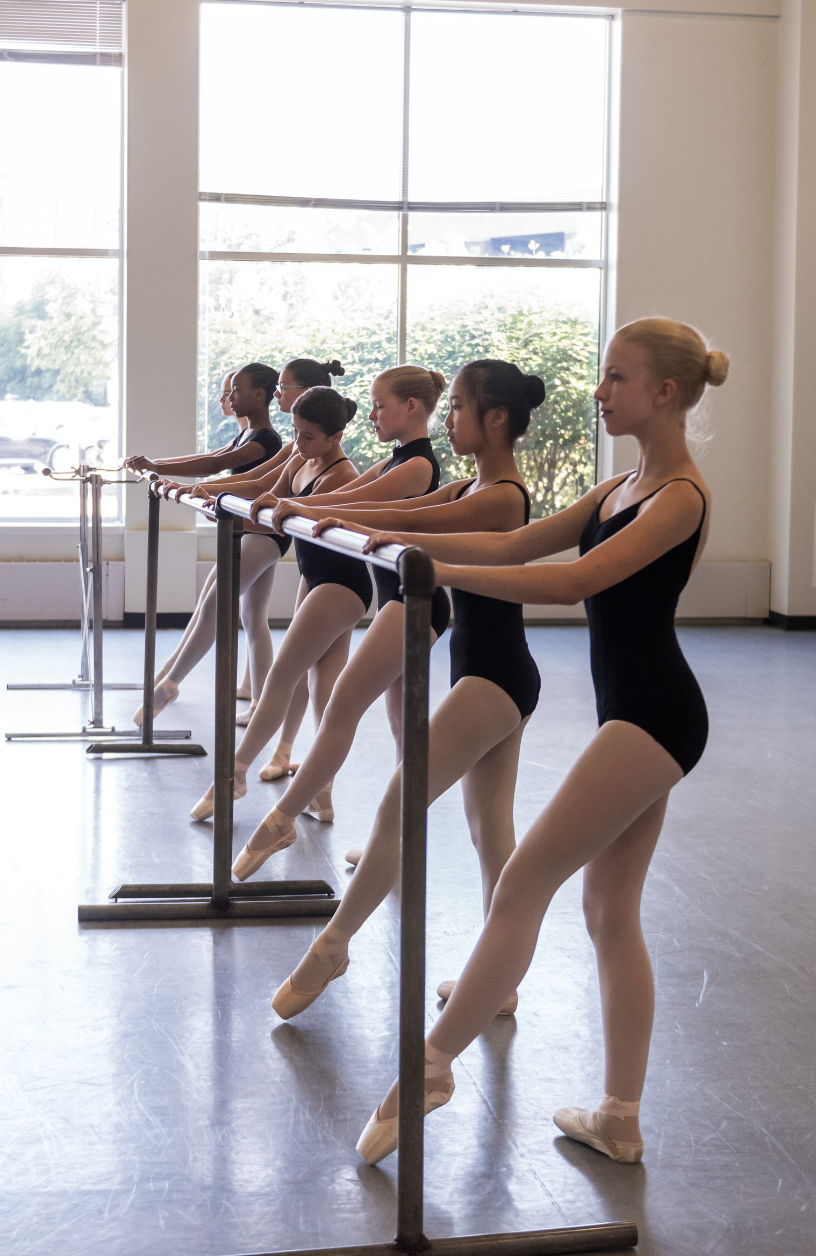 ---
Pre-Professional Levels
---
Beginner
(age 7-8 and older students with limited or no previous ballet training)
Students are introduced to the fundamental principles, positions, and movements of ballet technique, building strength and flexibility, and moving to different rhythms. No prior dance experience necessary. Students with previous ballet training from other dance programs may be placed in Beginner I in order to establish the skills and understanding that Dance Institute identifies as providing an effective foundation for continued progress. Students attend class 2 days per week.
Intermediate I
Pointe technique is introduced and ballet and jazz techniques continue their focus on clean, correct, and precise execution, with an increased awareness of musicality and artistic expression. Students attend classes 4 days per week.
Intermediate II
Ballet, pointe, classical repertoire, and jazz classes focus on building strength and developing stylistic nuance, musical phrasing, and artistic interpretation. Students attend classes 4 days per week.
Advanced
Students receive training in ballet, pointe, classical and contemporary ballet repertoire, and jazz, all of which emphasize technical excellence and artistic maturity. Students attend classes 4 days per week.
Tap
Tap classes are designed to develop rhythm, style, and sound. D.I. Students will learn a variety of tap styles from Broadway to Rhythm tap. Exercises focus on building flexibility of the knee and ankles, coordination, and speed of movement. The class emphasis is on developing proper tap technique, producing clear tap sounds, and having fun.
Jazz
The class focuses on learning proper dance techniques such as isolations of the body, improving performance quality, and developing multiple rhythms and patterns. Students will be exposed to various styles of jazz to help develop a well-rounded dancer.
Recreational Classes
---
Adult/Teen Ballet
Adult ballet is the foundation of all dance forms, and adult ballet will maximize technique and longevity in a career of dance. It provides poise and the technique needed to be proficient in all other areas of dance. Ballet classes will help dancers with posture, flexibility, fitness, balance, self-discipline, and self-confidence. Students are taught proper body placement, body alignment, barre, and center floor work, along with across the floor combinations.
Pilates Mat Class (Adult/Teen)
Pilates mat classes focus on developing core strength, flexibility, balance and stamina. The instructor presents the exercises at multiple levels which allows students to choose to work at a beginning, intermediate, or advanced pace. Students learn to be aware of breathing patterns and spinal alignment while engaging the deep muscles of the core.
Dance Discovery
(ages 7 & Up) An introduction to several forms of dance all conveniently taught in one class. A great way to explore ballet, modern, jazz and tap! Students attend class one day per week. No experience necessary.
Hip-Hop
Hip hop is a high-energy class that will encourage students to step outside of the box by bringing their style and personality to the movements. Hip hop dance requires students to have the strength and stamina to perform moves successfully. Students will learn hip hop moves and combinations to enhance and develop coordination with fundamentals and challenge each student at their individual skill levels to help prepare students for more intense movements.
Musical Theatre
This class blends three critical components of musical theater: dancing, singing, and acting. Students will focus on each individual component before collaboratively fusing the three techniques together to form a full musical theater performance piece to songs from today's best, well-known musicals. This class includes a proper warm-up, across-the-floor progressions, and combinations. Emphasis will also be placed on learning performance skills such as connecting with the audience and telling a story through dance and facial expressions.