About Us
Welcome to the Department of Polymer Engineering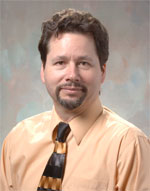 Dr. Mark Soucek
Department Chair
As a new chair, I am very excited to bring a new energy and change to the department. There are, however, several things that will not change. First of all, I believe that the Department of Polymer Engineering provides the best training for Polymer Engineering in the country and perhaps the world. We are located in a polymer valley in northeast Ohio. It should be noted that Ohio is 2nd in terms of state GNP for polymeric materials, and 1st in state GNP for the paint and coating industry. We have a combination of core-coursework, usage of experimental equipment, access to industrial projects and short internships that continue to make our graduates highly sought after. This is coupled with research opportunities with an increasingly young and vibrant faculty that will set the tone for the foreseeable future. I, as chair, will work to reach out to our alumni as every alum is an ambassador to the polymer engineering community, and will always be a part of the Department's family. So, this is a very exciting time to be engaged with the department.
Contact Us
Address: Department of Polymer Engineering
Polymer Engineering Academic Center
The University of Akron
250 South Forge Street, Akron, OH 44325-0301
Phone: 330-972-8845
Fax: 330-972-3406
Email: sarah3@uakron.edu
Directions and Campus Map: click here.