About Us
Welcome to the Department of Polymer Engineering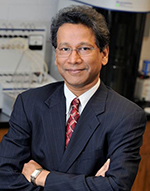 Dr. Sadhan Jana
Department Chair
It is my pleasure to welcome you to the website of the Department of Polymer Engineering (DPE) at The University of Akron (UA). DPE is part of the world-renowned College of Polymer Science and Polymer Engineering at UA, which has about 40 full-time faculty and 250 graduate students and postdoctoral research associates studying the chemistry, physics and engineering of polymeric materials and systems.
The Center for Polymer Engineering was created in 1983 and the Department of Polymer Engineering in 1984. In 1988 the Center was renamed the Institute of Polymer Engineering. The Department is currently comprised of 10 full-time faculty and approximately 100 graduate students. DPE is housed in three buildings -- the 32,000 sq. ft. Polymer Engineering Academic Center (PEAC); the 70,000 sq. ft. Sidney L. Olson Research Center (OLRC); and the 43,000 sq. ft. National Polymer Innovation Center (NPIC).
Contact Us
Address: Department of Polymer Engineering
Polymer Engineering Academic Center
The University of Akron
250 South Forge Street, Akron, OH 44325-0301
Phone: 330-972-8845
Fax: 330-972-3406
Email: sarah3@uakron.edu
Directions and Campus Map: click here.