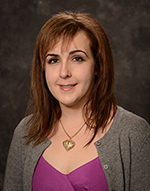 Dr. Nicole Zacharia
The University of Akron
Department of Polymer Engineering
Phone: 330-972-8248
Email: nzacharia@uakron.edu

---
Education/Experience
Postdoctoral Fellow, University of Toronto, Chemistry Department (2007 – 2009)
Ph.D., Materials Science and Engineering, Massachusetts Institute of Technology (2007)
B.S., Materials Science and Engineering, Massachusetts Institute of Technology (2001)
B.S., Mathematics, Massachusetts Institute of Technology (2001)
Research Interests
Our group uses the directed assembly of polyelectrolytes and colloids via the Layer-by-Layer (LbL) method of film deposition to create films and coatings with novel properties and responsiveness. We examine properties such as surface wetting, mechanical response to external stimuli, and various strategies for mechanical toughening. We are also interested in solution behavior of polyelectrolyte complexes and various strategies for processing these complexes into thin films.
Dr. Zacharia's Research Website
http://polyelectrolyte.uakron.edu/
Recent Publications
Huang, X.; Zacharia, N.S. "Facile Assembly Enhanced Spontaneous Fluorescent Response of Ag+ Ion Containing Polyelectrolyte Multilayer Films," ACS Macro Lett. 2014, 3, 1092 – 1095.
Huang, X.; Bolen, M.J.; Zacharia, N.S. "Silver nanoparticle aided self-healing of polyelectrolyte multilayers," Phys. Chem. Chem. Phys. 2014, 16, 10267 – 10273.
Huang, X.; Chrisman, J.D.; Zacharia, N.S. "Omniphobic Slippery Coatings Based on Lubricant-Infused Porous Polyelectrolyte Multilayers," ACS Macro Lett. 2013, 2, 826 – 829.
Huang, X.; Schubert, A.B.; Chrisman, J.D. "Formation and Tuneable Disassembly of Polyelectrolyte-Cu2+ Layer-by-Layer Complex Film," Langmuir 2013, 29, 12959 – 12968.
Huang, X.; Zacharia, N. S. "Surfactant Co-assembly and Ion Exchange to Modulate Polyelectrolyte Multilayer Wettability," Soft Matter 2013, 9, 7735 – 7742.
Cho, C.; Jeon, J.W.; Lutkenhaus, J.L.; Zacharia N.S. "Electric Field Induced Morphological Transitions in Polyelectrolyte Multilayers," ACS Appl. Mater. Interfaces 2013, 5, 4930 – 4936.
Cho, C.; Zacharia N.S. "Film Stability During Postassembly Morphological Changes in Polyelectrolyte Multilayers Due to Acid and Base Exposure," Langmuir 2012, 28, 841 – 848.
Huang, H. C.; Zacharia, N. S. "Polyelectrolyte Multilayers and Complexes to Modify Secondary Interactions in Ethylene-co-methacrylic Acid Ionomers" ACS Macro Lett. 2012, 1, 209 – 212.
Cho, C.; Valverde, L.; Ozin, G. A.; Zacharia, N. S. "Reactice Wet Stamping for Patterning Polyelectrolyte Multilayers," Langmuir 2010, 26, 13637-13643.