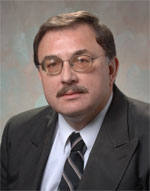 Dr. Erol Sancaktar
Professor;
Professor of Mechanical Engineering
Department of Polymer Engineering
Phone: 330-972-5508
Email: erol@uakron.edu

Research Group
Recent research activities in Dr. Sancaktar group include "Fabrication of Well-Defined Block Copolymer Nano-Cylinders by Controlling the Thermodynamics and Kinetics Involved in Block Copolymer Self-Assembly", which was published in Soft Matter 4, pp. 1454-1466 (2008), and "Perpendicularly Aligned, Size-and Spacing-controlled Nanocylinders by Molecular-weight Adjustment of a Homopolymer Blended in an Asymmetric Triblock Copolymer", which was published in Advanced Functional Materials 16, pp. 1950-1958 (2006). The first author in both of these papers was Dr. Dae-Up Ahn who recently obtained his Ph.D. in Dr. Sancaktar group, and currently doing post-doc work at Univ. Colorado, Boulder.
Dr. Sancaktar's other current research activities include: Self-assembly in block copolymers and stretched polymer films; Modification and use of electrospun nanofibers; Use of excimer laser in composite material, adhesion and polymer property evaluation, polymer welding, micromachining applications and nanolithography; Electrically/electronically conductive polymers/adhesives; Optimization of adhesion and adhesive joint geometries, surface topographies and Design of/with novel materials.
Group Members
Gao, Tongzhai, Ph.D., "Manufacturing Nano Porous Membranes Using Self-Assembled Block Copolymer Masks" (in progress).
Chang, I. -Ta, Ph.D.., "Excimer Laser Ablation of Polymer-Clay Nanocomposites" (in progress).
Karmarkar, U. P., Ph.D., "Novel Honeycomb Sandwich Structure Designs for Improved Performance in Composite Applications" (in progress).
Reagan, M. A., M.S., "Electric Charging and Nanostructure Formation in Polymeric Films Using Combined Amplitude-Modulated Atomic Force Microscopy Assisted Electrostatic Nanolithography and Electric Force Microscopy" (co-advising with Prof. S. Lyuksyutov) (in progress).
Hirano, T., M.S., "Liquid Phase of Styrene Butadiene Rubber Thin Films Induced by Electrostatic Nanolithography" (co-advising with Prof. S. Lyuksyutov) (in progress).
Dr. Semsettin Temiz (Associate Prof.), Ataturk University, Turkey.