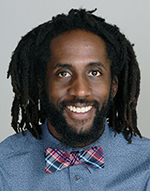 Dr. Ruel McKenzie
Assistant Professor
Department of Polymer Engineering
Phone: 330-972-5344
Email: rmckenzie@uakron.edu

---
Biography
The core competency of Dr. Ruel McKenzie is in experimental soft matter physics with expertise in rheological and dielectric characterization methods. He joined The University of Akron following an NRC Postdoctoral Fellowship at the Air Force Research Laboratory (AFRL) in WPAFB, OH where the focus was on developing techniques to characterize adaptable materials and on advancing technologies in additive manufacturing. Prior to his tenure at AFRL, Dr. McKenzie was a postdoctoral researcher at the Institute of Electronic Structure and Laser (IESL) of the Foundation for Research and Technology-Hellas (FORTH) developing rheological techniques to understand elastomer reticulation and fluid flow near surfaces. Upon conferral of his doctoral degree, Dr. McKenzie served briefly as an adjunct professor in the Department of Chemical and Biomolecular Engineering at New York University-Tandon School of Engineering. Dr. McKenzie holds a Ph.D. degree in Chemical Engineering from New York University-Tandon School of Engineering where his thesis was on understanding dynamics in heterogeneous laminate systems.
Research Interests
Dynamics is concerned with understanding molecular mobility, especially of polymer systems, over a broad range of length and time scales, and its influence on macroscopic behavior. An understanding of molecular mobility is crucial to not only developing and optimizing polymer processing methods but is key when targeting and discovering applications, as dynamics is also informative when it is desired to engineer specific structures, properties and/or functions. The technical aspirations of this research are primarily experimental in nature and is directed towards a phenomenological understanding of polymeric behavior. Under this broad theme, the current research thrusts are categorized as follows: polymer dynamics, multifunctional materials and enabling complex structures.
Recent Publications
Slocik, J. M., McKenzie, R., Dennis, P. B., Naik, R. R., Creation of Energetic Biothermite Inks Using Ferritin Liquid Protein, Nature Communications, (2017), 8, 15156.
Wang, D. H., McKenzie, R. N., Buskohl, P. R, Vaia, R. A, Tan, L.-S., Hygromorphic Polymers: Synthesis, Retro-Michael Reaction, and Humidity-Driven Actuation of Ester-Sulfonyl Polyimides and Thermally Derived Copolyimides, Macromolecules, (2016), 49, 3286-3299.
McKenzie, R., Vlassopoulos, D., Rheological diagnostic tools for state transitions, Journal of Rheology, (2016), 60, 367-378.
Education
Ph.D., 2013, New York University-Tandon School of Engineering
M.Sc., 2008, Columbia University
B.Sc., 2006, New York University-Tandon School of Engineering