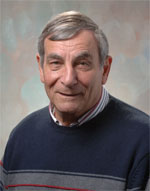 Dr. Arkady I. Leonov
Professor Emeritus
Department of Polymer Engineering
Email: leonov@uakron.edu

Education
1969 Ph. D., Mathematical Physics, Karpov's Physical Chemistry Research Institute, Moscow
1962 Ph. D., Theoretical Mechanics, Institute of Problems in Mechanics, USSR Academy of Sciences, Moscow
1961 M.C., Mathematics, Moscow State University
1957 M.S., Chemical Engineering, Moscow Institute of Chemical Engineering
Research Interests
Classic and polymer related continuum mechanics of solids and liquids (including geophysical fluid mechanics), polymer rheology and fluid mechanics, polymer physics and physico-chemistry, polymer processing, mathematical sociology.
Employment
Professor - Institute of Polymer Engineering and Department of Polymer Engineering, the University of Akron, Akron, Ohio, August 1988 to present
Professor, Chairman - Department of Theoretical Mechanics, Kemerovo Institute of Technology, Kemerovo, USSR, 1984 -1987
Professor - Department of Polymer Engineering, Moscow Institute of Chemical Engineering, Moscow, USSR, 1974- 1984
Senior Research Fellow, Head - Rheology Group, Institute of Problems in Mechanics of the USSR Academy of Sciences, Moscow, USSR, 1965 -1982
Research Associate - Rheology Lab., Institute of Petrochemical Synthesis of the USSR Academy of Sciences, Moscow, 1962 -1965
Doctoral Candidate - Department of Theoretical Mechanics, Moscow Institute of Chemical Engineering, Moscow, USSR, 1959-1962
Senior Engineer, Head - Department of Computations in Mechanics, Moscow Synthetic Rubber Plant, Moscow, USSR, 1957 -1959
Visiting Positions
Visiting Scientist - Materials Division, NASA Glenn, Cleveland, Ohio, Jan. 31 - May 31, 2001
Visiting Scientist - Isaac Newton Institute for Mathematical Studies, Cambridge, U.K., January, 1996
Visiting Scientist - Institut de Mechanique de Grenoble, Grenoble, France, June - July, 1990
Visiting Scientist - The Goodyear Tire and Rubber Co., Research Division, Akron, Ohio, June-August, 1989
Visiting Scientist - Dept. of Polymer Sci. and Polymer Technology, IBM Almaden Research, San Jose, CA, May - August, 1988
Visiting Scholar - Department of Chemical Engineering, Stanford University, Stanford, CA, Jan-May, 1988
Professional Affiliations
Society of Rheology
American Academy of Mechanics
American Society of Mechanical Engineers
Awards and Honors
Honorary Member of British Society of Rheology
Vinogradov's Society of Rheology Award, 2001
Reviewing (Personal and Proposals)
Journal Reviewing
Journal of Rheology
Rheological Acta
Journal of Non-Newtonian Fluid Mechanics
Macromolecules
Journal of Applied Polymer Science
Polymer Engineering and Science
International Polymer Processing
Rubber Chemistry and Technology
International Journal of Engineering Science
Journal of Engineering Mathematics
Fluid Dynamics Research
Mechanics of Time-Dependent Materials
International Journal of Solids and Structures
Ind. J. of Pure and Appl. Math.
Research Group
Alexei Melnikov, Ph.D. Student, 3rd Year
Topic: Damage and Fatique in Cross-Linked Rubbers.
Defended PhD proposal in December, 2008.
Siamak Shams, Ph.D. Student, 1st Year
Topic: Modeling and Optimization of Polyimide Films Processing
Started to work in January 2009.
Faculty Profile [PDF]
http://www.uakron.edu/polymer/documents/faculty-profiles/FacultyProfile-Leonov.pdf