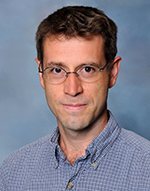 Dr. Hunter King
Assistant Professor
Department of Polymer Science
Phone: 330-972-6370
Email: hking@uakron.edu

---
Dr. King's Research Group Website
Education
2012 PhD Physics, University of Massachusetts, Amherst
2006 M.S. Physics, Bogazici University, Istanbul
2002 B.S. Physics, University of Massachusetts, Amherst
Research Interests
Mechanics of structures engineered by plants and animals; non-equilibrium and soft matter physics; open-source instrumentation for table-top experiment and field measurement.
Contact Information
Hunter King
The University of Akron
Department of Polymer Science
Akron, Ohio 44325-3909
Email: hking@uakron.edu
Voice: (330) 972-6370
Recent Publications
J. D. Paulsen, E. Hohlfeld, H. King, J. Huang, Z. Qui, T. P. Russell, N. Menon, D. Vella and B. Davidovitch. (2016) Curvature-induced stiffness and the spatial variation of wavelength in wrinkled sheets PNAS 10.1073.
H. King*, S. Ocko* and L. Mahadevan. (2015). Termite mounds harness diurnal temperature oscillations for ventilation PNAS 10.1073.
J. Chung, H. King, and L. Mahadevan. (2014). Evaporative microclimate driven hygrometers and hygromotors EPL 107, 64002
H. King*, R. Schroll*, B. Davidovitch and N. Menon. (2012). A sheet on a drop reveals wrinkling and crumpling as distinct symmetry-breaking instabilities, PNAS (cover) 109.25, 9716-9720.
H. King, R. White, I. Maxwell, and N. Menon. (2011). Inelastic impact of a sphere on a massive lane: Nonmonotonic velocity-dependence of the restitution coefficient, EPL 93, 14002.