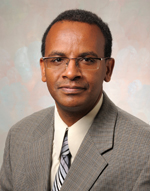 Dr. Mesfin Tsige
Professor
Department of Polymer Science
Phone: 330-972-5631
Email: mtsige@uakron.edu

---
Dr. Tsige's Research Group Website
Education
2001 Ph.D., Physics, Case Western Reserve University
1995 Advanced Diploma in Condensed Matter Physics, International Center for Theoretical Physics (ICTP), Trieste, Italy
1994 M.S., Physics, Addis Ababa University, Ethiopia
Research Interests
Computational polymer science and soft condensed matter physics; structure and dynamics of molecules at surfaces and interfaces, elastic and failure behavior of thermosetting polymers, molecular transport through nanostructured materials, interaction of water with surfaces.
Contact Information
Dr. Mesfin Tsige
The University of Akron
Department of Polymer Science
Goodyear Polymer Center 1021
Akron, Ohio 44325-3909

E-mail: mtsige@uakron.edu
Voice: (330) 972-5631
Fax: (330) 972-5290
Recent Selected Publications
Carbon Nanotube-textured Sand for Controlling Bioavailability of Contaminated Sediments, X. Ma, D. Anand, X. Zhang, M. Tsige and S. Talapatra, Nano Research, 3, 412 (2010).
Effect of Chain Stiffness on the Morphology of Diblock Copolymer Melts, M. Tsige, G. Leuty and J. Bedard, J. Poly. Sci. B: Polymer Physics, 47, 2556 (2009).
An all-atom simulation study of the ordering of liquid squalane near a solid surface, M. Tsige and S. S. Patnaik, Chem. Phys. Lett, 457, 357-361 (2008).
Structure of Poly(dialkylsiloxane) Melts: Comparisons of Wide-Angle X-ray Scattering, Molecular Dynamics Simulations, and Integral Equation Theroy, Anton Habenschuss, M. Tsige, J. G. Curro, G. S. Grest, and S. K. Nath, Macromolecules, 40, 7036-7043 (2007).
Morphology of Evaporated Multiblock Copolymer Membranes Studied by Molecular Dynamics Simulations, M. Tsige, T. R. Mattson, and G. S. Grest, Macromolecules, 37, 9132-9138 (2004).
Role of network connectivity on the mechanical properties of highly cross-linked polymers, M. Tsige, C. D. Lorenz, and M. J. Stevens, Macromolecules, 37, 8466-8472 (2004).
Interdiffusion of solvent into glassy polymer films: A molecular dynamics study, M. Tsige and G. S. Grest, J. Chem. Phys., 121, 7513-7519 (2004).
Honors
NSF CAREER Award (2009)
ORAU POWE Junior Faculty Enhancement Award (2007)
Graduate Fellow of the German Academic Exchange Service (DAAD) (1991-1994)