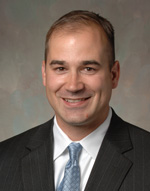 Dr. Matthew Becker
Duke University
Department of Chemistry
Phone: 919-681-3812
Email: matthew.l.becker@duke.edu

---
Biosketch
Professor Becker joined UA in 2009 where he is a Professor of Polymer Science and Biomedical Engineering. To date, his group has published more than 100 papers and has 20 patents pending. He is the founder of two start-up companies, 3D BioResins & 3D BioActives. In 2015, Professor Becker was one of two scientists worldwide under 40 named Macromolecules-Biomacromolecules Young Investigators.
Professor Becker completed his PhD in organic chemistry in 2003 at Washington University in St. Louis under the direction of Professor Karen L Wooley as an NIH Chemistry-Biology Interface Training Fellow. In 2003, Dr Becker moved to the Polymers Division of the National Institute of Standards and Technology for a NRC Postdoctoral Fellowship in biophysics. He joined the permanent staff in 2005 and led projects in bioimaging and combinatorial methods for tissue engineering working with the NIH, Industry and FDA to advance measurement methods for combination products. He received his BS in chemistry in 1998 from Northwest Missouri State University.
Education
2003 Ph.D. Organic Chemistry, Washington University
2000 M.A. Organic Chemistry, Washington University
1998 B.S. Chemistry, ACS Accredited, Northwest Missouri State University
Dr. Becker's Research Website
http://www.beckerresearchgroup.com/
Research Interests
My group focuses on synthesizing macromolecular materials, which stimulate and influence cell functions including proliferation, differentiation and internalization. These materials incorporate bio-functional species in a controlled manner with the goal of directing cell responses. We are developing new peptide-and DNA-based ligands and nanoparticle reporters for the characterization of molecular signatures, which occur during these processes. The knowledge gained from these studies impacts numerous areas in biomaterials, regenerative medicine, and the detection of disease states, including cancer.
Contact Information
Phone: (330) 972-2834
E-mail: becker@uakron.edu
Recent Publications
1) NZ Dreger, Z Fan, ZK Zander, C Tantisuwanno, MC Haines, M Waggoner, T Parsell, CS Søndergaard, M Hiles, C Premanandan, ML Becker * "Amino-Acid Based Poly(ester urea) Copolymer Films for Hernia-Repair Applications" Biomaterials, 2018, 182, 44-57. DOI:10.1016/j.biomaterials.2018.08.003
2) E Silantyeva, W Nasir, J Carpenter, O Manahan†, RK Willits*, ML Becker* Accelerated neural differentiation of mouse embryonic stem cells on aligned GYIGSR-functionalized nanofibers. Acta Biomaterialia 2018, 75, 129-139. doi.org/10.1016/j.actbio.2018.05.052
3) ZK Zander, P Chen, Y-H Hsu, NZ Dreger, L Savariau†, A Olivero†, A Chiari, S Chambers, HA Barton, ML Becker* "Post polymerization functionalization of polyurethanes with QACs for imparting multispectral antimicrobial properties" Biomaterials 2018, 178, 339-350. doi:10.1016/j.biomaterials.2018.05.010.
4) JA Wilson, AP Kleinfehn, D Luong, S Sallam, C Wesdemiotis, ML Becker* "Magnesium catalyzed polymerization of end functionalized poly(propylene maleate) and poly(propylene fumarate) for 3D Printing" J. Amer. Chem. Soc. 2018, 140(1), 277–284. DOI: 10.1021/jacs.7b09978.
5) ZK Zander, ML Becker* "Antimicrobial and Antifouling Strategies for Polymeric Medical Devices" ACS Macro Lett., 2018, 7, 16-25.
6) S Li, Y Xu, J Yu, ML Becker* "Enhanced Osteogenic Activity of Poly(ester urea) Scaffolds using Facile Post-3D Printing Peptide Functionalization Strategies", Biomaterials 2017, 141, 176-187.
7) J Yu, Y Xu, S Li, GV Siefert, ML Becker* "Fused Deposition Modeling 3D Printing of Nano Hydroxyapatite/Poly(ester urea) Composite Scaffolds with Enhanced Bioactivity" Biomacromolecules 2017, 18 (12), 4171–4183. DOI: 10.1021/acs.biomac.7b01222
8) V Baghat, ML Becker* "Degradable Adhesives for Surgery and Tissue Engineering" Biomacromolecules, 2017, 18(10), 3009−3039.
9) GI Peterson, AV Dobrynin, ML Becker* Biodegradable Shape Memory Polymers in Medicine, Advanced Healthcare Materials, 2017, 6(21), 1700694. DOI: 10.1002/adhm.201700694.
Personal Affiliations
American Chemical Society
Society for Biomaterials
American Association for the Advancement of Science