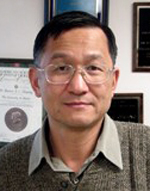 Dr. Steven S.C. Chuang
Director, FirstEnergy Advanced Energy Research Center
Professor
Department of Polymer Science
Phone: 330-972-6993
Email: chuang@uakron.edu

---
Dr. Chuang's Research Group Website
Education
1985 Ph.D., Chemical Engineering, University of Pittsburgh
1982 M.S., Chemical Engineering, New Jersey Institute of Technology
1977 Diploma, Chemical Engineering [5yr. program], National Taipei Inst. of Tech.
Contact Information
Dr. Steven S.C. Chuang
The University of Akron
Department of Polymer Science
Akron, Ohio 44325-3909

Email: chuang@uakron.edu
Voice: (330) 972-6993
Research Interests
Professor Chuang investigates the structure of adsorbed species and its reactivity by transient infrared (IR) techniques. These techniques combined with traditional characterization methods such as XRD, UV-Vis, NMR, SEM, and TEM have been used for studying the nature of adsorbed species and reaction pathways during oxygenate synthesis, hydroformylation, partial oxidation, reduction of nitric oxide, nitric oxide decomposition, oxidative carbonylation, photocatalytic oxidation and reduction, carbon dioxide adsorption, reactions on solid oxide fuel cell catalysts, and synthesis organic/inorganic hybrid materials. The objectives of his research program are (i) developing an understanding of the reactivity of adsorbed species and its associated sites, (ii) using mechanism information to guide catalyst and sorbent preparation, and (iii) scaling up of catalytic and adsorption processes from laboratory scale to the pilot scale.