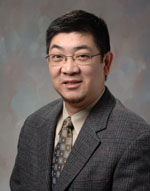 Dr. Li Jia
Professor
Department of Polymer Science
Phone: 330-972-7511
Email: ljia@uakron.edu

---
Dr. Jia's Research Group Website
blogs.uakron.edu/jialab
Education
1996 Ph.D., Chemistry, Northwestern University
1991 B.Sc., Lanzhou University
Research Interests
Metal-catalyzed polymerization, supramolecular micelles and elastomers, synthesis of polymeric electronic and optoelectronic materials, and soft lithography via nanoparticle self-assembly.
Contact Information
Dr. Li Jia
Department of Polymer Science
The University of Akron
Akron, Ohio 44325-3909

Email: ljia@uakron.edu
Voice: (330) 972-7511
Fax: (330) 972-5290
Recent Publications
Lin, S.; Zhang, B.; Skoumal, M. J.; Ramunno, B.; Li, X.; Wesdemiotis, C.; Liu, L.;* Jia, L.;* "Antifouling poly(ß-peptoid)s", Biomacromolecules 2011, 12, 2573-2582.
Bhawalkar, S. P.; Qian, J.; Heiber, M. C.; Jia, L.;* "Development of a colloidal lithography method for patterning nonplanar surfaces", Langmuir 2010, 26, 16662-6666.
Qian, J.; Bhawalkar, S. P.; Xu, Y.-S.; Jia, L.;* "Novel use of polymer brush in colloidal lithography to overcome lateral capillary force", ACS Appl. Mater. Interfaces 2010, 2, 3111-3118.
Wang, C.; Kim, F. S.; Ren, G.; Xu, Y.; Pang, Y.; Jenekhe, S. A.;* Jia, L.;* "Regioregular poly(3-alkanoylthiophene): Synthesis and electrochemical, photophysical, charge transport, and photovoltaic properties", J. Polym. Sci. Part A: Polym. Chem. 2010, 48, 4681-4690.
Lin, S.; Yu, X.; Tu, Y.; Xu, H.; Cheng, S. Z. D.;* Jia, L.;* "Poly(ß-alanoid-block-ß-alanine)s: Synthesis via cobalt-catalyzed carbonylative polymerization and self-assembly", Chem. Commun. 2010, 46, 4273-4275.
Ray, M. A., Shewmon, N.; Bhawalkar, S.; Jia, L.;* Yang, Y.; Daniels, E. S.; "Submicron surface patterning using interfacial colloidal particle self-assembly", Langmuir 2009, 25, 7265-7270.
Chai, J.; Wang, C.; Jia, L.;* Pang, Y.; Graham, M.; Cheng, S. Z. D.; "Synthesis and electrochemical properties of a new class of boron-containing n-type conjugated polymers", Synthetic Metals 2009, 159, 1443-1449.
Chai, J.; Liu, G.; Chaicharoen, K.; Wesdemiotis, C.; Jia, L.;* "Cobalt-catalyzed carbonylative polymerization of azetidines", Macromolecules 2008, 41, 8980-8985.
Ray, M. A.; Jia, L.;* "Micropatterning by non-densely packed interfacial colloidal crystals", Adv. Mat. 2007, 19, 2020-2022.
Liu, G.; Jia, L.;* "Carbonylative copolymerization of azetidines and tetrahydrofuran. Dual role of azetidine and synthesis of poly(amide-co-ester) with periodic ester distribution", Angew. Chem., Int. Ed. 2006, 45, 129-131.
Ray, M. A.; Kim, H.; Jia, L.;* "Dynamic self-assembling. Linear periodic structure generated by evaporation of colloidal solution on flat surface", Langmuir 2005, 21, 4786-4789.
Liu, G.; Jia, L.;* "Design of carbonylative polymerization of heterocycles. Synthesis of polyesters and poly(amide-block-ester)s", J. Am. Chem. Soc. 2004, 126, 14716-14717.
Patents
Caporale, S.; Barclay, G. G.; Wang, D.; Jia, L. "Compositions and processes for immersion lithography", 2007, patent application: US30/855,715.
Jia, L.; Ray, M. A.; "Bottom-up surface self-assembly of polymer colloids to form patterned arrays", 2006, patent application: US60/839,592.
Professional Affiliations
American Chemical Society
Materials Research Society
International Society for Optical Engineering (SPIE)
Honors
NSF CAREER Award
DuPont Young Professor Award
Lindback Minority Junior Faculty Award