William Landis Named Fellow
04/06/2012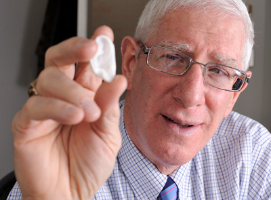 UA polymer science professor receives honor from Microscopy Society of America
Akron, Ohio, April 6, 2012 - Professor of Polymer Science and G. Stafford Whitby Chair in Polymer Science Dr. William J. Landis was named a fellow of the Microscopy Society of America (MSA). Elected by his peers, Landis will be recognized for his "outstanding research using microscopy and microanalysis to advance the knowledge of bone and cartilagedevelopment" at the 70th MSA Annual Meeting June 30 in Phoenix.
After graduating magna cum laude from The University of Massachusetts with a B.S. in physics, Landis attended the Massachusetts Institute of Technology where he earned graduate degrees in biology and biophysics. At the UA College of Polymer Science and Polymer Engineering, Landis leads research in tissue engineering; bone, cartilage and tendon structure; biochemistry and function; orthopedicpathology; and related specialties.
About The University of Akron
The University of Akron is the public research university for Northeast Ohio. The Princeton Review listed UA among the "Best in the Midwest" in its 2010 edition of Best Colleges: Region-by-Region. Nearly 30,000 students are enrolled in UA's 300 associate, bachelor's, master's, doctoral and law degree programs and 100 certificate programs at sites in Summit, Wayne, Medina and Holmes counties. For more information, visit www.uakron.edu.