NIST Scientist Matthew Becker Joins UA Polymer Science Faculty
03/31/2009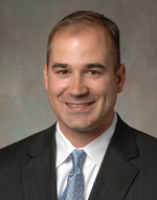 Akron, Ohio, March 31, 2009 - Dr. Matthew Becker will join The University of Akron College of Polymer Science and Polymer Engineering as an associate professor of polymer science. Becker, who will take his new post on April 6, comes from the National Institute of Standards and Technology (NIST) in Gaithersburg, Md., where he served as a staff scientist and project leader of the institute's Polymer Division for the past four years.
"Dr. Becker's expertise in tissue engineering and organic chemistry will significantly complement the biopolymer research currently underway at the UA College of Polymer Science and Polymer Engineering," says Dr. Stephen Cheng, dean of the UA College of Polymer Science and Polymer Engineering, "and furthermore, will enhance the biomolecular materials research at UA and at the BioInnovation Institute in Akron."
Becker's most recently funded research, "Integrated Technologies for Polymeric Biomaterials: RESBIO," for which he was a co-investigator and area leader, received $5.5 million from the National Institutes of Health - National Institute of Biomedical Imaging and Bioengineering.
Among his other accomplishments, Becker has published more than 40 refereed papers and was a National Research Council postdoctoral fellow at NIST from 2003-05. Previously, Becker was an NIH chemistry-biology interface training fellow at Washington University in St. Louis.
The University of Akron is the public research university for Northern Ohio. It is the only public university in Ohio with a science and engineering program ranked in the top five nationally by U.S. News & World Report. Serving 26,000 students, the university offers approximately 300 associate, bachelor's, master's, doctoral and law degree programs and 100 certificate programs at sites in Summit, Wayne, Medina and Holmes counties. For more information, visit http://www.uakron.edu/.