Mr. McMaster goes to Washington: Alumnus puts degree to use at Pentagon
September 11, 2018
When Mason McMaster stepped out of a Black Hawk helicopter atop a parking deck at the Mercedes-Benz Superdome in New Orleans, he was given one simple rule: "If you, a non-civilian or civilians are at risk of being hurt or killed, you are to shoot and shoot to kill."
It was 2005, and the 22-year-old University of Akron student had arrived in Louisiana with other members of the Ohio Army National Guard to secure and evacuate the thousands of people who had taken refuge in the football stadium of the New Orleans Saints. The destructive and deadly Hurricane Katrina had just swept through the Gulf Coast and destroyed much of everything — businesses, homes and lives.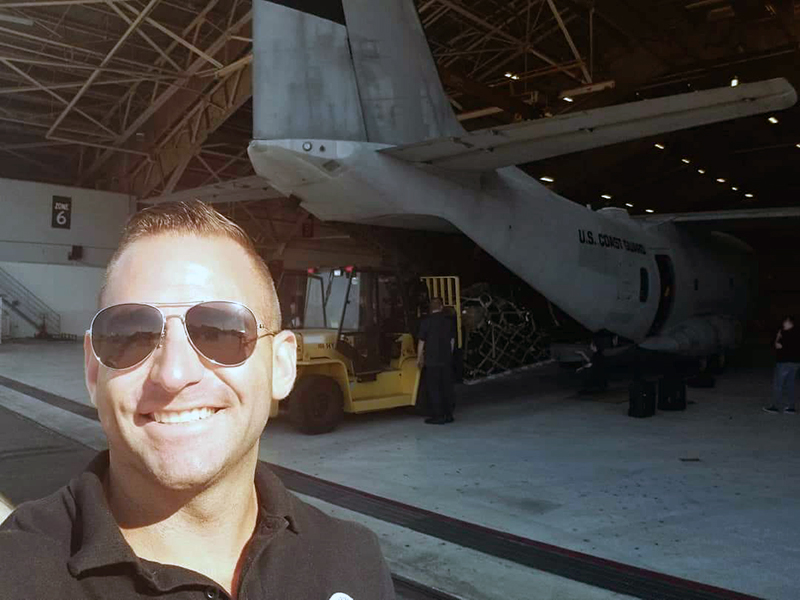 Mason McMaster is seen here as his FEMA incident management team, IMAT West, conducts loadout training on C-27s with the U.S. Coast Guard.
McMaster didn't know it at the time, but what he was about to experience would be a major turning point in his life – setting him on a course that would lead, 13 years later, to his current position as an emergency management specialist for the with Pentagon Force Protection Agency in Washington, D.C.
Katrina was a life-changing moment for me," the Akron native said, recalling the "mounds of trash and debris" that surrounded the Superdome, as well as the violence, lootings and smell of human waste within. "The situation at the Superdome was one of chaos and complete breakdown of civil order. … It's an awful feeling to witness human suffering that you cannot stop or change.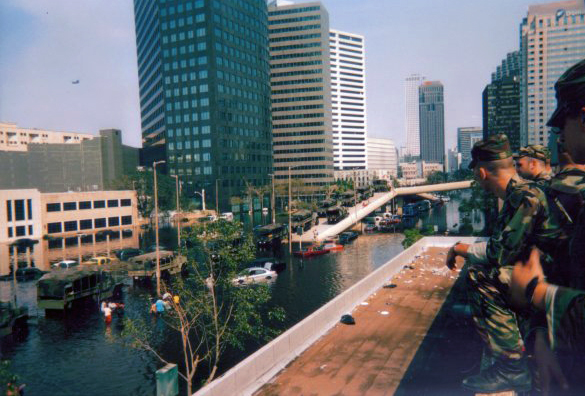 In the wake of Hurricane Katrina, Mason McMaster and members of his Ohio Army National Guard division watch as supplies arrive at a ramp that leads to the entrance of the Mercedes-Benz Superdome in New Orleans.
Found purpose
"Upon returning home to Akron, I became aware that The University of Akron had the first accredited emergency management degree program in the country. I felt like it was a sign, and that it was my purpose in life to become an emergency manager. I wanted to be one of the people that helped other Americans on what would most likely be the worst day of their life."
In 2013 (after years of being in and out of school due to multiple deployments overseas) McMaster graduated from our College of Applied Science and Technology with a Bachelor of Science in Emergency Management and Homeland Security. The degree, when it was established in 1998, was the third of its kind in the country, and it is still the only one of its kind in Ohio. The program was the first to achieve accreditation in 2000 — awarded by the International Fire Service Accreditation Congress. Today, it is the only such program accredited by the IFSAC.
Emphasis on preparation
"We teach students how to prevent or lessen threats, prepare for when they occur, coordinate response agencies and assist with recovery strategies to get areas back to as normal," said Dr. Stacy Willett, director of the program, which covers subjects such as cyber disaster management, crisis leadership and hazard science. "Our world is increasing in complexity, threats and risk. There are many ways disasters can disrupt our lives, from power outages to industrial explosions, terrorism, pandemic diseases, active shooters and natural disasters. Students in this program are protectors and devote their lives to disaster readiness and reducing threats across all types of organizations."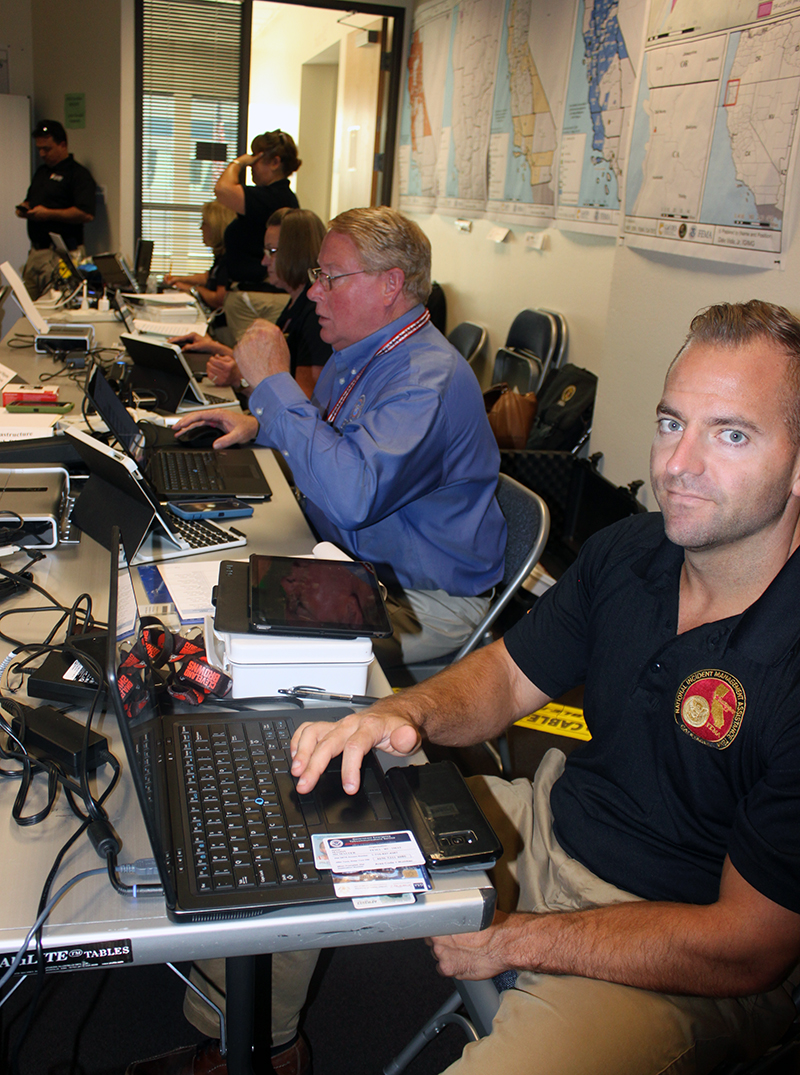 Mason McMaster is seen here during a disaster exercise in California with members of his FEMA incident management team.
While deployed in Afghanistan from 2011-2012, McMaster was able to take online courses in the program, learning what he said were the "building blocks for success in [his] career." After graduating, he moved to the West Coast and spent a 10-month term with California Safe Corps (an AmeriCorps program), concentrating on disaster preparedness activities in the Greater Los Angeles region with the American Red Cross.
"Leaving my comfort zone in Akron was a risk, but I found that to be successful, to achieve something great in life, requires some level of risk," he said.
After his Safe Corps term, McMaster worked several security-related jobs before becoming a mission assignment manager on a national incident management assistance team for the Federal Emergency Management Agency in 2015. The team responds to catastrophic disasters and incidents of national significance. McMaster's responsibilities included issuing task orders to other federal agencies during presidentially declared disasters, such as hurricanes Harvey, Irma and Maria in 2017.
Earlier this year, McMaster earned a master's degree in public administration at the University of San Francisco. Now, after years of responding to, rather than preparing for, crises – whether they be hurricanes, wildfires in California or conflict in Afghanistan – he is adjusting to his new role at the Pentagon.
Embracing new challenge
"Having spent the majority of my career in response, I'm a little timid in transitioning to a primary preparedness position," McMaster said. "I enjoy working at a very fast pace in a high-stress atmosphere. Disaster response can be very exciting, while preparedness is often a much slower, less exciting portion of the emergency management cycle."
But combating new challenges, like the destructive paths of floods or the outbreak of a deadly virus, is what McMaster thrives on.
"My long-term professional goal is to learn, grow and advance professionally," McMaster said. "I welcome change and enjoy taking on new challenges professionally. Unlike a lot of career fields, economic downturns have little effect on this field. The world will always experience disasters, and the industry will always grow, regardless of outside factors. Emergency management can provide you purpose and meaning, knowing the work you do is ultimately saving and rebuilding lives."
Media contact: Alex Knisely, 330-972-6477 or aknisely@uakron.edu .