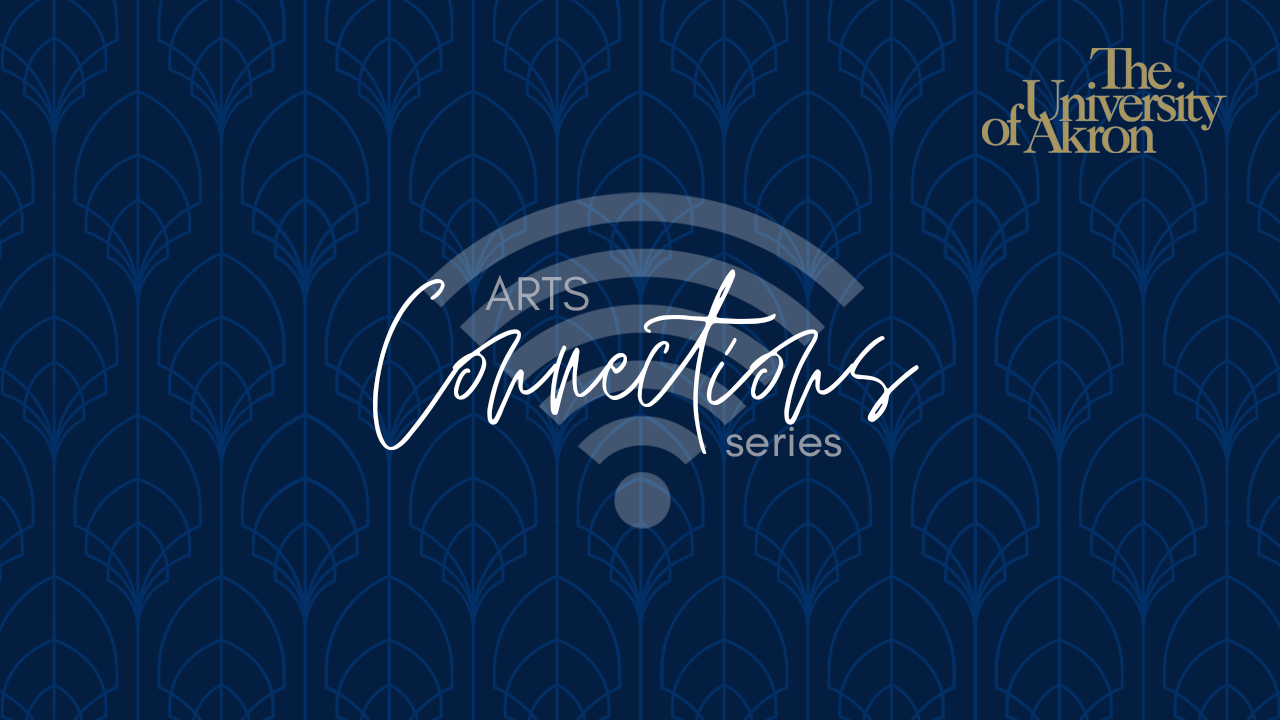 Join DTAA and Guests for discussions about the arts, culture, and community
Last semester upon the onset of the shut down due to COVID-19, the UA Arts Administration office began an online talk series called "Arts Connections." The purpose of this series is to provide students with resources and opportunities to meet and learn from UA professors, Akron community members, and influential leaders in their arts field.The Arts Administration office wants to be a resource to all students in the Akron area, whether they are affiliated with UA or simply looking for a quality place to find and make art. We have expanded the Arts Connections Series audience to all artists, arts supporters, students, and the greater community.
View upcoming talks at: https://www.facebook.com/UADanceTheatre/events/
---
View recordings of past discussions on this page below.
---
#10: The 39 Steps
The 39 Steps was the student directed theatre production in Spring 2021, directed by Lysander Mills and stage managed by Cennidie Hall. Listen in as they talk about the show and what they learned with actors Shaunice Shell and Tyler Kula!
#9: Spring into Dance 2021
Student choreographers Lexi Hartung and Abbey Boenig-Dombek discuss the 2021 Spring into Dance Concert! Listen in on their experiences in choreographing, choosing music and setting, leading safe rehearsals, and collaborating with virtually every dance entity on campus.
#8: Arts Connections Series: We Dance On
Listen in on conversation with student and faculty choreographers from the 2020 We Dance On Concert! They discuss choreographing socially-distanced pieces and persevering through their art form.
Arts Connections Series: Myers School of Art 85th Annual Student Exhibition
The 85th Annual Student Exhibition is held during the month of March in the Emily Davis Gallery on The University of Akron Campus and features students from the Meyers School of Art. Congratulations to our winners Abigail Cipar, Tim Bekelesky, and Kayla Weinman.
Arts Connections Series: "Band" by Ian Brill with Graduate Assistant John Aylward and UA alumna Courtney Cable
Graduate assistant John Aylward and UA alumna Courtney Cable give a behind-scenes peek on the brand new art installation "Band," by Ian Brill, that can be seen from all over downtown Akron.
#7 February 26, 2021: Clue
The School of Dance, Theatre, and Arts Administration joined members of the cast of Clue for an interactive discussion. UA theatre students Lysander Mills, Cennidie Hall, Tia Jones, and Arianna Allen discussed the production and UA Theatre with arts administration graduate assistant Anna-Jeannine Kemper.
Anna-Jeannine Kemper
Anna-Jeannine Kemper (Production Manager) is in her final term of coursework in the University of Akron's Master of Arts program for Theatre Arts – Arts Administration. Anna-Jeannine has a diverse arts background, including a lifetime in the performing arts as a theatrical costume designer, lighting and sound designer, and performer. In fact: she was recently featured in The Cassidy Theatre's production of Clue as Mrs. White!
Cennidie Hall
Cennidie Hall (Stage Manager) is a Senior Theatre Major with a Discipline in Stage Management. Cennidie has been the stage manager for Big Love, Out of Silence, How I Learned to Drive, The Resistible Rise of Arturo Ui, The Waves, and Clue. She was last seen on stage as Vassalisa Karpovna in The Lower Depths and as Susan in The Waves. She was the wardrobe assistant for Richard III, designed costumes for The Waves, and was the costume assistant for Rubber City Theatre's A Christmas Carol in 2020. Cennidie was also the Production Assistant for Akron Civic Theatre's All City Musical: West Side Story and the Prop Mistress for Stupid F*cking Bird.
Lysander Mills
Lysander Mills (Wadsworth) is a Senior Theatre Arts Major, Dance Minor from Lancaster, Ohio who was previously seen as Arturo Ui in The Resistible Rise of Arturo Ui, Peck How I Learned to Drive, Conrad in Stupid F*cking Bird, Vaska Pepel in The Lower Depths, Bernard in The Waves, King Edward in Richard III, Piero in Big Love, and Mr. Fitzpatrick in Skin of Our Teeth. You might also have seen Lysander in A Christmas Carol at Rubber City Theatre as Bob Cratchit in 2019 and as an Understudy in 2020, A Winter's Tale at Rubber City Theatre as Florizel, and in Through His Eye at QuTheatre as an ensemble member.
Tia Jones
Tia Jones (Miss Scarlet) is a Freshman UA Theatre Arts Major originally from Columbus, Ohio. Tia is looking forward to furthering her experience in theatre and creating new bonds in her first role at The University of Akron.
Arianna Allen
Arianna Allen (Ensemble Woman 1) is a Freshman UA Physical Theatre major from Ontario, Ohio who was previously seen as Jinny in The Waves. Arianna danced at Richland Academy for 10 years before starting her career at The University of Akron
#6 October 26, 2020: Musical Theatre and Opera with Dr. Frank Ward, Dr. Laurie Lashbrook, Dan Hoy, and Lauren Corcoran Emrich
The School of Dance, Theatre, and Arts Administration joined UA faculty Dr. Lashbrook and Dr. Ward along with performers Lauren Corcoran Emrich and Dan Hoy to discuss professional musical and opera theatre careers, ways to prepare, vocal and mental health, and more.
Dr. Laurie Lashbrook
Read Dr. Lashbrook's biography by clicking the button below:
Dr. Frank Ward
Read Dr. Ward's biography by clicking the button below:
Dan Hoy, A.E.A.
Now residing in New York, Dan is a new face in the musical theatre world. A graduate of Baldwin-Wallace University, he was most recently seen as Munkustrap in the 1st National Tour of the CATS revival and has performed in regional theaters across the country including Idaho Shakespeare Festival and Great Lakes Theater.
Lauren Corcoran Emrich
An alumna of The University of Akron, Lauren now resides in Pittsburgh where she sings with numerous choirs such as the Mendelssohn Choir of Pittsburgh and Resonance Works Festival Chorus and performs in productions such as Verdi's Macbeth (Dama, Lady Macbeth), and Bernstein's On the Town, A Joyous Sound! (Ivy Smith).
#5 October 13, 2020: Anna-Jeannine Kemper, Brian Schultis, Lysander Mills, and Cennidie Hall
Virginia Woolf's The Waves is a one-of-a-kind virtual performance and the first of its kind here at UA. Listen in on a discussion with director Brian Schultis, members of the cast Cennidie Hall and Lysander Mills, and arts administrator Anna-Jeannine Kemper about virtual productions, their virtual process, and how they are making art in a COVID-19 world.
---
Brian Schultis
Brian Schultis, PhD CLMA practices and researches performer training, embodied and performative relations to environments and materials, and embodied practice as a way of generating knowledge. He currently teaches theatre at The University of Akron and has also taught at The University of Kent UK, and Kent State University. He was associate director of Oberlin College Drama at Grafton Reintegration Center from 2018-2019. His doctoral research built theory around the work of Polish director Jerzy Grotowski in relation to practical research on performative meetings in relation to landscapes based on travel and transition. He certified as a Laban / Bartenieff Movement analyst in 2020. Brian was an apprentice from 2009-2012 with the Akron, Ohio based New World Performance Laboratory.
Anna-Jeannine Kemper
Anna-Jeannine Kemper is an Arts Administration Graduate Student serving as the University of Akron's School of Dance, Theatre, and Arts Administration's Theatre Coordinator and as a Fellow for ArtsNow. Anna-Jeannine comes from a diverse arts and entrepreneurial background, and she is passionate about education and advocacy. She likes to see the arts working for good. She especially enjoys helping artists launch new acts from start to finish, particularly in working to develop audiences, creating deeper connections between patrons and performers.
Lysander Mills
Lysander Mills (Bernard) is a senior Theatre Arts major and Dance minor. very excited to be part of such an experimental piece of theatre. His past roles consist of Arturo Ui in The Resistible Rise of Arturo Ui, Conrad in Stupid F***ing Bird, Pepel in The Lower Depths, and Bob Cratchit in A Christmas Carol. He would like to thank the Shannon A. Hollinger Fund, his mother, and his grandmother for their continued support. He would like to dedicate his performance to his dog, Borko.
Cennidie Hall
Cennidie Hall (Susan/Assistant Director) is a senior Theatre Arts major with an emphasis in Stage Management. She has previously stage managed
Big Love
,
Out of Silence
, and
The Resistible Rise of Arturo Ui
. Cennidie was previously seen as
Vassilisa Karpovna
in
The Lower Depths at
The University of Akron. She was also responsible for the creation of two costumes in
Richard III
and was the wardrobe assistant for that production. This past spring, Cennidie directed and starred in a devised piece based off of
Trifles
by Susan Glaspell entitled
If I Was the Man
. She was hired as a production assistant for the Akron Civic's All City Musical Production of
West Side Story
but was unable to see the production to fruition because of the pandemic. Upon graduating in the spring, Cennidie plans on relocating to Cleveland, where she plans to work in the administrative side of theatre as well as to stage manage.
---
#4 May 6, 2020: Dr.Andrew D. Feyes and Dr. Laurie Lashbrook
UA Assistant Director of Bands Dr. Andrew D. Feyes and UA Chair of the Voice Program Dr. Laurie Lashbrook joined UA students for a virtual talk session on May 6, 2020. Dr. Feyes and Dr. Lashbrook discussed how the current health crisis is affecting the field of music, both instrumentally and vocally, and how musicians can make the most of this time.
Dr. Laurie Lashbrook
Read Dr. Lashbrook's biography by clicking the button below:
Dr. Andrew D. Feyes
Read Dr. Feyes's biography by clicking the button below:
---
#3 April 23, 2020: James Slowiak and Katie Beck
James Slowiak, New World Performance Lab's Co-Artistic Director and The University of Akron's Professor and Coordinator of Theatre, and Gum-Dip Theatre's Artistic Director Katie Beck joined UA student for a virtual discussion on April 23, 2020. James and Katie discussed how the field of theatre has been altered and their organizations' responses to the global crisis as leaders in the theatre community.
James Slowiak
Read James Slowiak's biography by clicking the button below:
Katie Beck
Katie Beck is a creative community builder, director, writer, actor, and teaching artist who works to build spaces that highlight and prioritize underrepresented voices. After graduating from Allegheny College in 2014 with a BA in Theatre and Community and Justice Studies, she moved back to her hometown of Akron.
Since establishing Gum-Dip Theatre in 2016, Katie has produced or directed nearly 80 performances of community-based theatre. Recent directing credits include Denied Admission, My North Hill, Imprisoned, Namaste-WHAT?, In Search of Alternative Dreams, Girls Studio, and Into the Mold.
Katie is the recipient of the 2019 '30 for Future' Award by the Greater Akron Chamber, the 2018 Arts Alive Award for Outstanding Artist in Theatre, the 2017 Akron Fellowship for League of Creative Interventionists, and a 2016 Knight Arts Challenge Grant for the "Nepali Applause" festival. Her published writing credits include: "Developing a Community-Engaged Scholarly Identity" in Publicly Engaged Scholars and "Connecting My Academic Studies with Community Practice" in the fall 2016 issue of Diversity and Democracy.
---
#2 April 16, 2020: Christy Bolingbroke
On April 16, 2020 NCCAkron's Executive and Artistic Director Christy Bolingbroke joined UA students for another virtual discussion. Christy discussed how the dance field has been changed, the future of the field and NCCAkron's response to the global crisis as a leader in the dance community. For more information on NCCAkron, visit nccakron.org.
Christy Bolingbroke
Following a national search, Christy Bolingbroke was named the first Executive & Artistic Director of the National Center for Choreography located at The University of Akron. In this role, she provides both artistic and administrative leadership for NCCAkron, building upon her extensive experience in curatorial programs and external relations

Christy came to NCCAkron from the San Francisco-based ODC (founded at Oberlin College in Ohio in 1971 as the Oberlin Dance Collective), where she served as the Deputy Director for Advancement. In that position she oversaw curation and performance programming, managed marketing and development campus-wide, directed a unique three-year artist in residence program for dance artists, and mentored emerging arts administrators.

Christy was formerly the Director of Marketing for the Mark Morris Dance Group in Brooklyn where she increased touring ticket sales worldwide and activated Access/MMDG events in major hub cities nationally. The Access/MMDG program uses custom-tailored arts and humanities-based activities to deepen and enhance the audience experience.

Bolingbroke has a B.A. in Dance from the University of California, Los Angeles, is a graduate of the DeVos Institute for Arts Management Fellowships Program (previously at the John F. Kennedy Center for the Performing Arts in Washington, DC), Arts & Business Council of New York's Arts Leadership Institute, and holds a Master's Degree from the Institute for Curatorial Practice in Performance at Wesleyan University.
---
#1 April 8, 2020: Nakiasha Moore-Dunson and Alyssa Lombardi
Our UA Arts Administration students were joined by Nakiasha Moore-Dunson and Alyssa Lombardi for a virtual discussion on April 8, 2020. Nakiasha and Alyssa discussed how artists and arts administrator in the field are navigating this unprecedented time. This talk kicked off the Arts Connections Series and took place live.
Nakiasha Moore-Dunson
Nakiasha Moore-Dunson is the Company Manager for Verb Ballets, a Northeast Ohio dance company that strives to act as a catalyst to promote learning, nurture wellness, and encourage dialogue about the dance art form through contemporary ballet. Nakiasha supports the entire organization in timely completion of projects, organizing and managing the daily operations of Verb Ballets, and supports the Associate Artistic Director, Director of Marketing, and the organization's board.
Alyssa Lombardi
Alyssa Lombardi is the Manager of Communications and Marketing at The Fine Arts Association, an organization that strives to be innovative and motivates, inspires, and transforms individuals as they lead, collaborate, promote creative exchange, and act as a catalyst for uniting the regional community to embrace the arts. Alyssa is an advocate for incorporating accessibility best practices and policies within arts organizations. From Massillon Ohio, she has always appreciated both the arts and the philanthropic community in Cleveland.