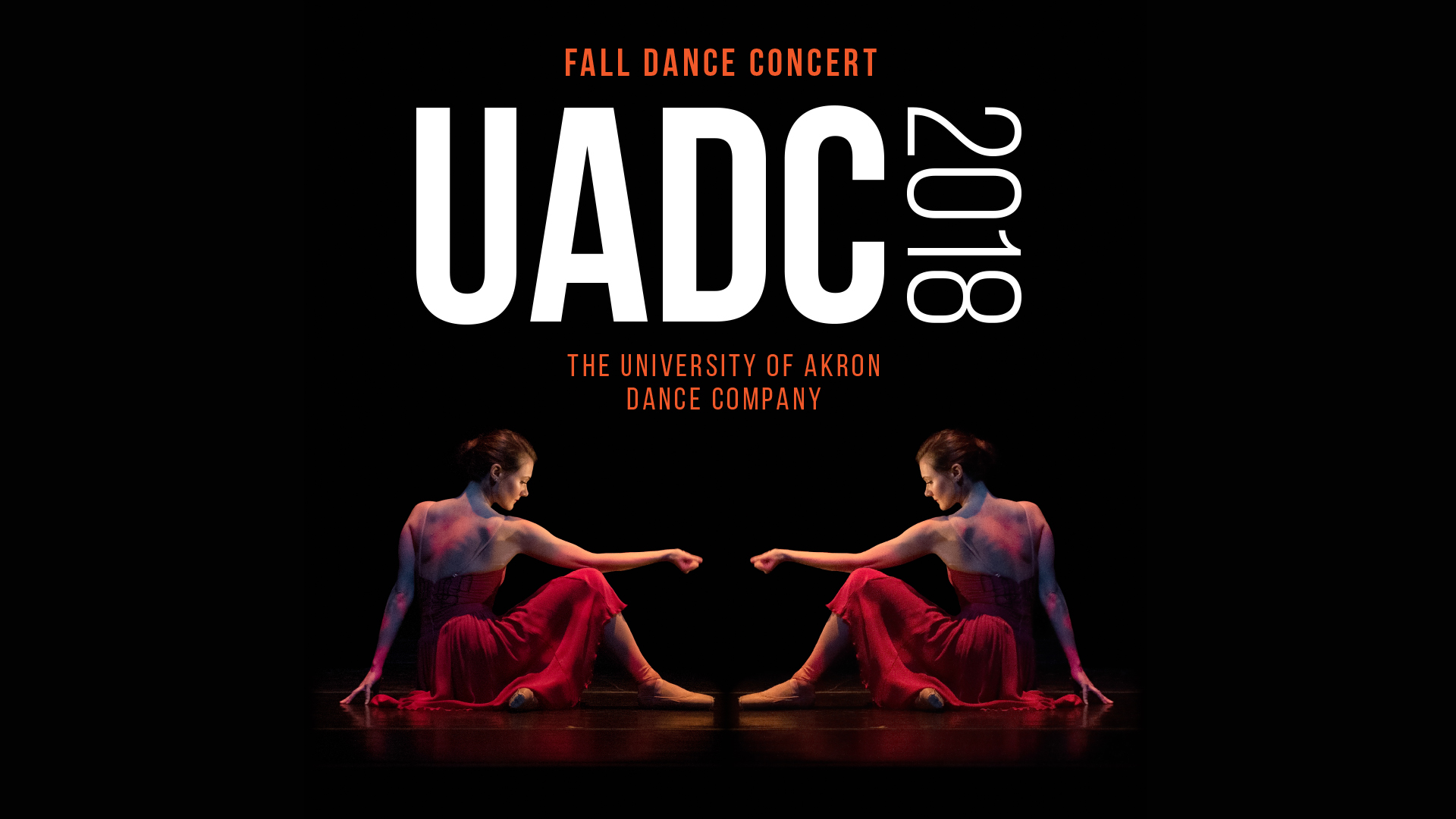 Daum Theatre

November 15,16,17 2018 | 7:30 PM

Tickets for Daum Theatre events may be purchased by calling (330) 972-7895

General Admission - $12
Seniors, UA Alumni, Faculty, and Staff - $10
Students - $6

Production Highlights

---

4 Women

Choreography: Nick Carlisle

Music: Many Rivers Ensemble, Jonatan Szer, Rosewynde Flute and Harp Duo, Lindsey Stirling

Performers: Chelsey File, Alexis Hartung, Lydia Marshall, Fabiana Mosquera

Note: This dance is dedicated to my Mother

Orientation

Choreography: Holly Bass

Music: "Up in the Air" by Udi Harpaz

"(You Make Me Feel Like) A Natural Woman" by Aretha Franklin, Documentary audio of female students

Performers:Teresa Catterlin, Aeroneishia Hall, Alexis Hartung, Lydia Marshall, Domonique Patton

The Façade of Solitude

Choreography: Lilia Bailey

Music : Daniel Hope, Kaiser Quartett, Jacques Ammon, Christoph Anacker & Jane Berthe

Performers: Teresa Catterlin, Meghan Dorey, Olivia Patton, Chloe Redman, Matthew Venus

Exceptions

Choreography: Kaleb Reilly

Music: "0952" by Ólafur Arnolds, "A Deal with Chaos" by Jóhann Jóhannsson, "By the Roes, and by the Hinds of the Field" by Jóhann Jóhannsson, "Fragment II" by Jóhann Jóhannsson

Performers: Stephanie Anderson, Tiffany Campbell, Madeline Large, Carolyn Lott, Sarah Neiswander

And How Creativity Happens

Choreography: Mary-Elizabeth Fenn

Music: The Books, Interview excerpts from Elizabeth Gilbert, Alexandre Desplat, Charles Prevost Linton, Jon Brion, Flying Lotus, Melanie

Performers: McKenna Biss, Teresa Catterlin, Amanda Kindt, Carolyn Lott, Chloe Redman, Jena Robinson

The Creative Team: Choreographers

---

UA Dance Faculty Choreographers:

Guest Choreographers:

Holly Bass
Kaleb Reilly
Mary Elizabeth Fenn

---

Artist Spotlight

---

Guest Choreographers

Holly Bass

Holly Bass is a multidisciplinary performance and visual artist, writer and director. Her work has been presented at spaces such as the Kennedy Center, the Smithsonian Museums, the Seattle Art Museum, Art Basel Miami Beach (Project Miami Fair) and the South African State Theatre. Her visual art work spans photography, installation, video and performance and can be found in the collections of the Corcoran Gallery of Art and the DC Art Bank, as well as private collections. A Cave Canem fellow, she has published poems in numerous journals and anthologies. She studied modern dance (under Viola Farber) and creative writing at Sarah Lawrence College before earning her Master's from Columbia University's Graduate School of Journalism. As an arts journalist early in her career, she was the first to put the term "hip hop theater" into print in American Theatre magazine. She has received numerous grants from the DC Arts Commission and was one of twenty artists nationwide to receive Future Aesthetics grant from the Ford Foundation/Hip Hop Theater Festival. A gifted and dedicated teaching artist, she currently directs year-round creative writing and performance program for adjudicated youth in DC's Department of Youth Rehabilitation Services as well as facilitating workshops nationally and internationally.

---

Kaleb Reilly

Kaleb Reilly started dancing at age 14 in his hometown of Milford, MI, and continued his dance training and education at Belhaven University (Jackson, MS). Apart from many performances within the undergraduate program, Reilly also toured to South Korea twice as a part of Bal Malhada, a dance ensemble which engaged in dance outreach and international festivals throughout the country. Since 2016, when he graduated magna cum laude with a BFA in dance, Reilly has been a part of Launchwith Northwest Dance Project (Portland, OR) and worked as a company artist with Ballet Hartford (Hartford, CT), presenting the company's repertoire in NYC and across New England. Reilly has also performed as a freelance guest artist for numerous ballet performances throughout the Midwest, Northeast, and the Southern United States. Currently, he resides with his wife in Akron, OH, performing in his second season with Neos Dance Theatre, and independently offering dance training and choreography to various communities throughout northeast Ohio.

---

Mary-Elizabeth Fenn

Mary-Elizabeth Fenn, a Wisconsin native, has trained at Milwaukee Ballet School, Central Pennsylvania Youth Ballet, Joffrey Ballet School-NYC, BalletMet, and Point Park University. She has a BFA in Dance from the University of Wisconsin-Milwaukee. Professional dance experience includes; featured soloist with Spinal Tap and appeared as a soloist in Kanye West's concert summer series in 2011. Mary-Elizabeth has performed in New York City with Anabella Lenzu/DanceDrama, Amalgamate Dance Company, Yoo & Dancers, Caitlin Dutton, and London artist EddiePeake in Performa 13. In New York, she presented her own work through Fenn & Company at Triskelion Arts Split Bill Series, Comedy in Dance Festival, Triskelion Presents, and Dixon Place NYC10. From 2011-2018, Mary-Elizabeth performed as a lead dancer with Neos Dance Theater and served as their resident choreographer. She has also served as an adjunct modern dance faculty member for University of Akron's Dance Department and teaches for various dance studios throughout Ohio.