Elizabeth Erickson, Ph.D.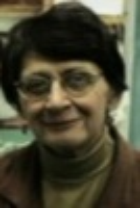 ---
Research Accomplishments
Fields: Agricultural Economics, Development, Environment
Publications
"Multiple Objective Analysis for a Spatial Market System: A Case Study of U.S. Agricultural Policy" (with Robert House). In Spatial Price Equilibrium: Advances in Theory, Computation and Application, Lecture Notes in Economics and Mathematical Sciences 249 (1985): 255-77.
"Multiple Objective Policy Analysis: A Factor Analysis and Trade-off Approach Applied to the Agricultural Sector of the Dominican Republic" (with Robert House). Journal of Policy Modeling 6 (August 1984): 369-87.
"Effects of Price Decisions of a Statutory Board." Australian Journal of Agricultural Economics 10 (June 1966): 1-13.
---
Education
Ph.D., University of Illinois, 1972
---