Campus-wide Wi-Fi upgrade under way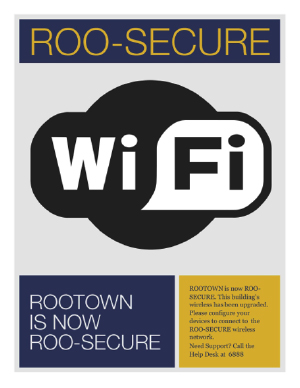 An upgrade for UA's Wi-Fi network has begun and will continue for the next year. This new system will require a configuration on wireless devices with the new Wi-Fi called Roo-Secure. The login process with your UAnet ID will remain the same. When you see the Roo-Secure sign in a building, your Wi-Fi has been converted to Roo-Secure.
If you have any questions about your building, please visit the Information Technology Services Help Desk website. For further assistance with the Wi-Fi setup, please visit the University Support Wiki or call the Help Desk at ext. 6888, or email ITHelpDesk@uakron.edu.
New job postings
Looking for a teaching, administrative, or student services position at the P-12 level?
New grant helps UA expand mentorship program for area students
When Danielle Judy begins her student teaching assignment this fall, she knows she's going to be a better teacher, because of her opportunity to first be a mentor.
She is one of the students in the LeBron James Family Foundation College of Education who trained to serve as a mentor to a group of academically at-risk 10th grade students at Barberton High School over the past academic year. Full Story
The waiting is over...
After more than 2 years, the LeBron James Family Foundation College of Education has made its much-anticipated return to Zook Hall.
The College reopened its doors on Tuesday to a beautiful, modern facility geared to teaching and learning in the 21st century.
Faculty and staff are still settling in, and a few finishing touches are being made, but we hope you will stop in soon to visit and explore.
Preadmission Advising
Preadmission Advising for those entering the College of Education is available in Zook 002 (ground floor).
Please call Student Services at (330) 972-7750 for current advising hours.

Enrollment Assistance