SCHOOL OF EDUCATION
Undergraduate and graduate degrees
As you prepare to teach students, we want you to know you will have the training and skills you need so that they, and you, succeed.
---
Why choose Akron?
We offer multiple options for undergraduate teacher licensure programs and four master's level programs for K-12 administration and curriculum instruction.
Today's K-12 public school classrooms reflect our increasingly diverse society. This offers many opportunities for enriching experiences for students and their teachers.
Our programs are designed so that you are an effective educator and mentor in any classroom. As part of that, your student teaching assignment will provide ample hands-on experience so that you understand what happens in a classroom long before you graduate and begin your teaching career.
Admission and enrollment
Are you interested in becoming a teacher?
Get started with our Pre-admission advising.
If you are you ready to begin, apply to today!
Current students
See our page for current students.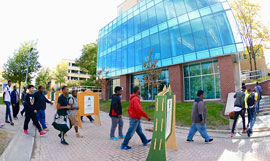 Contact us
The LeBron James Family Foundation School of Education
Zook Hall (map)
Akron, OH 44325-4201
330-972-7750
educ@uakron.edu