Dr. Ge (Christie) Zhang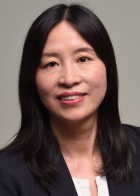 Title: Associate Professor
Dept/Program: Biomedical Engineering
Office: OLRC, 301L
Phone: 330-972-5237
Fax: 330-972-8834
Email: gezhang@uakron.edu

---
Biography
Dr. Ge Zhang earned her Ph.D. in biomedical engineering with a concentration in stem cell therapy and tissue engineering from University of Minnesota in 2006. She also earned her M.D. in China before she came to United States. Prior to joining the faculty of The University of Akron she received her postdoctoral training at University of Texas at Austin in the area of cardiovascular tissue engineering.
---
Research Accomplishments
Dr. Ge Zhang's training in both medicine and biomedical engineering provides a solid foundation for her to pursue her research interests in developing tissue-engineered constructs for cardiovascular repair. During her Ph.D. and Postdoctoral work, she has worked with different types of stem cells and biomaterials and gained extensive experience in cardiovascular tissue engineering. Dr. Zhang has developed a degradable fibrin based scaffold to deliver stem cells and sustain growth factor release for the purpose of improving the engraftment of the transplanted stem cells and facilitating their homing to the injured target. In addition, She has worked with numerous in vitro, ex vivo, and animal models for cardiovascular and neural diseases.
Publications
Zhang G, Wang Z, Wang X, Zhang J. and Suggs L.J. "A PEGylated Fibrin Patch for Mesenchymal Stem Cell Delivery." Tissue Engineering; 12(1): 9-19, 2006.
Wang X, Hu Q, Nakamura Y, Lee J, Zhang G, From AH, Zhang J. "The Role of Sca-1+/CD31- Cardiac Progenitor Cell Population in Postinfarction LV Remodeling." Stem Cell; 24:1779-1788, 2006.
Hu, Q., Wang, X., Lee, J., Mansoor, A., Liu, J., Zeng, L., Swingen, C., Zhang, G., Feygin, J., Ochiai, K., Bransford, T. L., From, A. H., Bache, R. J. and Zhang, J. "Profound bioenergetic abnormalities in peri-infarct myocardial regions." Am J Physiol Heart Circ Physiol; 291: H648-57, 2006.
Zhang G, Nakamura Y, Wang X, Hu Q, Suggs L, Zhang J. "Controlled Release of Stromal Cell Derived Factor-1α in situ Increases Stem Cell Homing to the Infarcted Heart." Tissue Engineering; 13(8), 2063-71, 2007
Zeng L, Hu Q, Wang X, Mansoor A, Lee J, Feygin J, Zhang G, Suntharalingam P, Boozer S, Mhashilkar A, Panetta CJ, Swingen C, Deans R, From AH, Bache RJ, Verfaillie CM, Zhang J. "Bioenergetic and functional consequences of bone marrow-derived multipotent progenitor cell transplantation in hearts with postinfarction left ventricular remodeling." Circulation; 115(14):1866-75, 2007.
Zhang G and Suggs LJ, "Matrices and Scaffolds for Drug Delivery in Vascular Tissue Engineering." Advanced Drug Delivery Reviews; 59(4-5), 360-73, 2007.
Zhang G, Hu Q, Braunlin E, Suggs L, Zhang J, "Enhancing Efficacy of Cell Transplantation in Hearts with Post-infarction LV Remodeling by an Injectable Biomatrix." Tissue Engineering Part A. 14(6): 1025-1036, 2008 Nam SY, Mallidi S, Zhang G, Suggs L, and Emelianov S "Ultrasound and photoacoustic imaging to monitor vascular growth in tissue engineered constructs". Proceedings of the 2009 SPIE Photonics West Symposium: Optics in Tissue Engineering and Regenerative Medicine III, 2009 NSY,
Mallidi S, Zhang G, Suggs L, and Emelianov S "Ultrasound and photoacoustic imaging to monitor vascular growth in tissue engineered constructs". Proceedings of the 2009 SPIE Photonics West Symposium: Optics in Tissue Engineering and Regenerative Medicine III, 2009
Zhang G, Drinnan CT, Geuss LR, Suggs LJ. "Vascular differentiation of bone marrow stem cells is directed by a tunable three-dimensional matrix. "Acta Biomater.6(9):3395-3403. 2010.
Drinnan CT, Zhang G, Alexander MA, Pulido AS, Suggs LJ. Multimodal release of transforming growth factor-beta1 and the BB isoform of platelet derived growth factor from PEGylated fibrin gels. J Control Release.147(2):180-186,2010
Natesan S, Zhang G, Baer DG, Walters TJ, Christy RJ, Suggs LJ. A bilayer construct controls adipose-derived stem cell differentiation into endothelial cells and pericytes without growth factor stimulation. Tissue Eng Part A.17(7-8):941-953,2010
---
Education
Ph.D. in Bio Engineering, University of Minnesota, 2006; M.D., Capital University of Medical Sciences, China, 2002
---