UA to host National Student Steel Bridge Competition in 2014
06/05/2013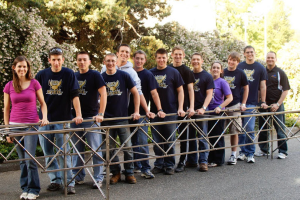 The Department of Civil Engineering will host the National Student Steel Bridge Competition (NSSBC) in May 2014. The NSSBC, which is co-sponsored by the American Society of Civil Engineers (ASCE) and the American Institute of Steel Construction (AISC), was hosted in 2013 by the University of Washington, from May 31 to June 1. The team from UA finished 2nd in Efficiency, 2nd in Stiffness and 15th overall against 49 other teams.
UA's ASCE Student Chapter submitted a thorough proposal to AISC in 2012, and Nancy Gavin, the association's Director of Education, notified the Student Chapter that AISC was pleased to accept the proposal.
According to Gavin, "We feel assured that the University of Akron is well equipped to provide fine facilities for all of the competition and your fellow students at the University of Akron will do an excellent job planning the competition with the enthusiastic support of the University's administration."
The privilege to host the national event coincides with the College of Engineering's celebration of 100 years of engineering education.