Dr. Malik Elbuluk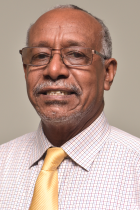 ---
Biography
Dr. Elbuluk joined the UA faculty in 1989. He is a member of the Institute of Electrical and Electronics Engineers (IEEE), the Industrial Electronics & Control Society (IEC), and Eta Kapa Nu Electrical Engineering Society. Dr. Elbuluk is the 2007 recipient of the Louis A. Hill Jr. Award in recognition of exceptional dedication and service to the UA College of Engineering. He was also awarded the 2012 National Technical Association Nsoroma Life Achievement Award.
---
Research
Power Electronics and Applications to Electric Machines and Drives, Power Quality, Control Systems Engineering. DC and AC Microgrids, Electrification of Automotive, Ship and Aerospace Power and Propulsion Systems.
---
Education
P.E. State of Ohio 1991
D.S. in Electrical Engineering, MIT 1986
E.E. MIT 1981
M.S. in Electrical Engineering, MIT 1980
B.S. in Electrical Engineering, University of Khartoum, Sudan 1976
---
Courses
Electric Circuits, Power Electronics, Electric Motor Drives, Electric Power Systems, Dynamics and Control of Power Electronic Circuits, Power Semiconductor Devices, Dynamics and Control of Electric Machines.
---