Dr. Shing-Chung "Josh" Wong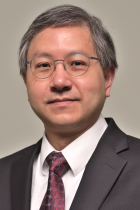 ---
Biography
Dr. Wong came to UA in the Mechanical Engineering Department in 2004. He was granted a joint appointment with the Biomedical Engineering Department in 2018. He is the Co-founder, Vice President and Chief Technology Officer of Akron Ascent Innovations, a high tech adhesive manufacturer. In 2007, Dr. Wong was granted the National Science Foundation's Faculty Early CAREER Award.
---
Research
Composite and Adhesion Sciences, Fracture Mechanics of Polymers, Rubber Composites and Soft Materials, Bio-inspired Advanced Manufacturing, Materials Science and Engineering, and Biomaterials.
---
Education
Ph.D. in Engineering, University of Sydney 1999
M.S. in Mechanical Engineering, University of Massachusetts 1995
B.S. in Engineering Physics, West Virginia Wesleyan College 1993
---
Courses
Deformation and Failure Analyses of Polymers and Soft Materials, Fundamentals of Processing and Mechanics of Composite Materials, Mechanical Behavior of Nanostructured Materials, Introduction to Materials Science and Engineering, Engineering Analysis, Tools.
---