Please join us at the College of Engineering Alumni Breakfast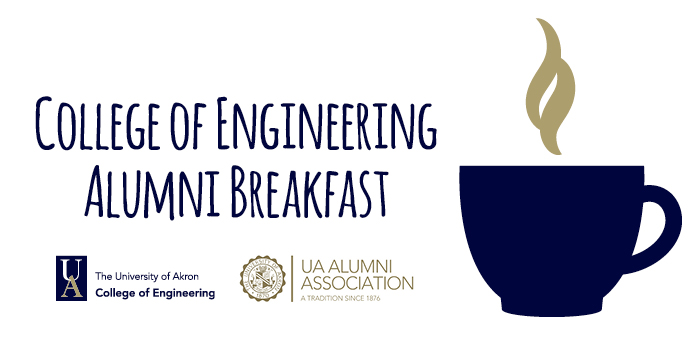 Who will receive the coveted Golden Screw Award? What is the latest news out of the College of Engineering? Learn the answers to these questions and more at the College of Engineering Alumni Breakfast on Friday, March 15, 2019 from 7:30 - 9 a.m. Meet Dr. Craig Menzemer, Interim Dean of the College of Engineering, and reconnect with fellow alumni, staff and faculty.
LOCATION & PARKING:
The University of Akron, Jean Hower Taber Student Union Ballroom - see on map
For GPS: 303 Carroll St. Akron, OH 44325
Free parking on the lower Schrank Deck (lot 37)

ACCEPTING GOLDEN SCREW NOMINATIONS!
We are excited to announce that the College of Engineering is bringing back the Golden Screw Award at our Alumni Breakfast on March 15! Not since 1983 has this award been given to a member of our engineering faculty.
Here's your chance to nominate the most lovably challenging engineering professor. This could include a professor most likely to keep lecturing even though class was over 20 minutes ago or whose policy it is to not give out "A"s. Sound like someone you know?
WHO CAN NOMINATE?
Professors can be nominated by past students, colleagues, or staff. To be considered for the award, you must nominate a professor through the online nomination form.
WHO IS ELIGIBLE?
The sky is the limit. Whether or not the professor retired years ago or is currently teaching, all are eligible.
WHEN CAN I NOMINATE?
The nomination period runs now - March 8. You do not need to attend to submit your nomination.
QUESTIONS?
Contact Katey Yinger, administrative services coordinator, at kyinger@uakron.edu.