IDEAS Programs for Student Success
IDEAs Study Center
Located in Schrank Hall North 353, the IDEAs Study Center is home away from
home for underrepresented engineering students. The center is equipped with a swipe card system, tables, chairs, computers, internets, a projector, white boards, black boards and information boards.
IDEAs Excellence Awards
The IDEAs Excellence Awards were established by Miss Kaye Rowan in 2013 for the purpose of celebrating diversity and inclusive excellence. Two students in the IDEAs Program are honored with IDEAs Excellence Awards for their outstanding academic achievement or exceptional leadership skills and community services.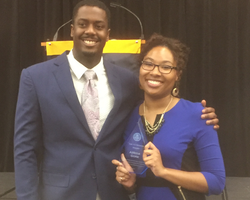 2013 award winners: Renee Calder Calderon and Jamara Beard
2014 award winners: Ana Bacco and Sophia Chichilla
2015 award winner: Joshua Thomas
2016 award winner: AlRitia Gore
Freshman Seminar
The IDEAs Engineering Seminar (4100-120) is a one-credit elective course offered every spring semester. The course meets the following objectives:
To motivate students toward achieving academic success in the fields of engineering.
To facilitate interaction between students and faculty/staff in engineering.
To experience and enhance the culture of diversity through learning.
To ensure a small group structure that provides information and promotes supportive relationships.
Freshman Project "A" Competition
The IDEAs Project "A" Competition is a sponsored program designed to encourage the freshmen in the program to strive toward academic success by achieving more A's. During the fall and spring semesters of the freshman year, students submit exams, quizzes and term papers on which they have received an "A" (above 90%). The students with the highest numbers of submissions win gift cards. All participants will be invited to the celebration lunch and field trips to our sponsored company.
IDEAs Workshops and Fields Trips
Various activities are designed to enhance the culture of diversity, academic success, professional development and personal development. The following events have been offered:
With industrial partners: Goodyear Day in the IDEAs; Dominion Day in the IDEAS; Field Trip to FirstEnergy; Field trip to NASA; etc.
With friends and donors: Lunch with IDEAs Advisory Council Members; Dinner with Dr. Sellers; Meet with IDEAs Alumni; Breakfast with Professional Mentors; etc.
Workshop on Professional Codes; Workshop on Career Development; Workshop on Interview and Resumes;
Welcome Back Pizza Night; Snack Breaks During Finals; NSBE and SHPE Potluck;
Undergraduate Research
The IDEAs program participants are encouraged to be involved with undergraduate research after their sophomore year.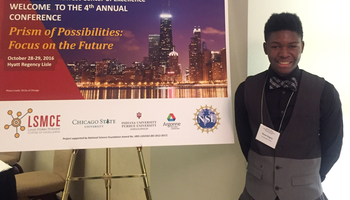 Students may publish papers with research advisors/mentors in peer-reviewed journals or present their results at conferences.
Since 1996, our undergraduate researchers have been awarded with the following research scholarships and internships:
Faculty Support at the College of Engineering
OSGC Junior or Senior Scholarships
NASA Undergraduate Student Research Program
McNair Scholarships
Glenn-Stokes Summer Research Scholarships
National Institutes of Health Summer Internship
Summer Research Internships
University of Pittsburgh – School of Medicine Summer Undergraduate Research Program
Ohio Math and Science Alliance Summer Research Internships
Community Services
This program is designed to enhance the sense of belonging and giving back. With partnership of Akron local community, the IDEAs program offers following opportunities to all engineering students:
Organizing STEM workshops for middle school students
Hosting high school visitors
Becoming a tutor for high school students
Becoming a peer mentor/tutor for engineering students
Involving service-learning projects
Multicultural Student Organizations: