The Margaret F. Donovan Chair for Women in Engineering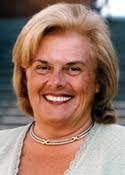 The Margaret F. Donovan Chair for Women in Engineering was established at The University of Akron through a $1 million gift from Margaret Donovan (inset). On April 25, 2001, the University Board of Trustees approved the creation of the chair, which is believed to be the first in the U.S. designed to enhance and promote female leadership in engineering.
"Women have come a long way in such areas as business, law and many science disciplines, but not as much progress has been made in the male bastion that is engineering," says Donovan. "More women need to enter this field, and it's not enough to have women who are 'examples.' We need more leaders in our colleges and universities who will actively work to bring both younger and older women into this profession."

According to the Bureau of Labor Statistics, employment of architecture and engineering occupations is projected to grow 4 percent from 2018 to 2028, and 113,300 new jobs are projected to be added. Starting salaries for engineers are excellent. The starting salary for University of Akron engineering graduates in 2018 averaged $63,365, well above the median annual wage for all occupations in the economy.
Despite the excellent job outlook, female representation in the profession and college programs is far below expectations. According to the Society for Women in Engineering, women make up approximately 13 percent of the engineering workforce.
Donovan is an alumna of Montclair State University in New Jersey (BA., '63 in Business Education) and received an M. Ed. in '78 from Lynchburg College in Lynchburg VA. Her late husband, Robert E. Donovan, earned a bachelor's degree from West Point in 1963 and a master's degree in nuclear engineering from Massachusetts Institute of Technology in 1972. They lived in Medina County from 1987 – 90 while Robert Donovan served as an executive of Babcock & Wilcox. Their daughter Kara earned a bachelor's degree in English from UA in 1993 and a juris doctor in 1996.
Donovan says her daughter's experiences and education at UA helped convince her that the chair for women in engineering would have maximum benefit here.
"I want this to be much more than a gesture. I want this gift to have an impact nationally, and the way to do that is by obtaining results initially on the local level," Donovan says. "The University of Akron already has a good Women in Engineering Program (WIEP), their College of Engineering has a strong reputation, and tuition is very reasonable. But like many other engineering colleges, Akron needs more women professors and it especially needs women in leadership positions in the college."
This is Donovan's second gift to the University. In 1996 she established the Robert E. Donovan Scholarship Fund in memory of her husband who, along with U.S. Secretary of Commerce Ron Brown and 33 other U.S. business leaders, died in a plane crash over Croatia on April 3, 1996. The Donovan scholarships are given annually to deserving undergraduate and graduate women pursuing degrees in engineering, law or business at The University of Akron.
Donovan has four grandchildren including two granddaughters. She will definitely encourage them to excel in math and science, and perhaps attend the U. of A. and major in Engineering. "The sky is the limit in this matriarchy. Perhaps one day one of them will hold the chair for Women in Engineering."
---
Related: