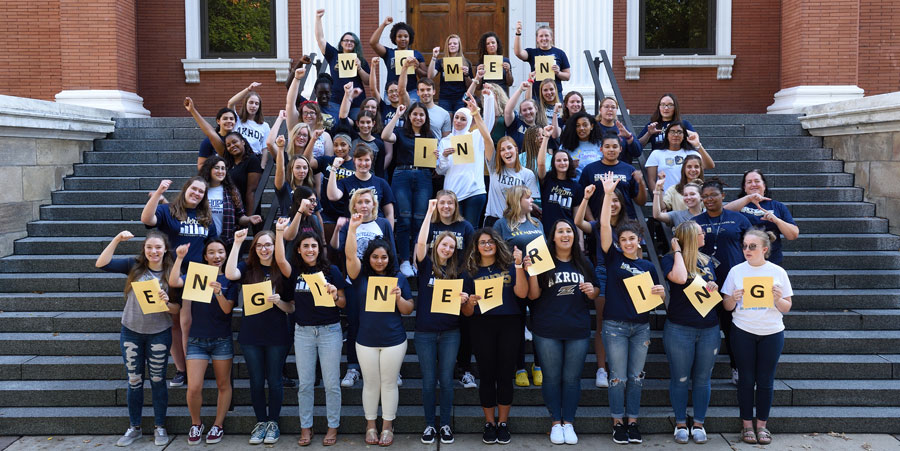 Current student programs
Our Women in Engineering Program creates connections. Students new to the program connect with fellow freshman, upper-classmen and women, and alumni working interesting jobs. We want students to have the best chance at success during their time at UA. From networking events to professional mentoring with local engineering leaders, our program is packed with exciting opportunities to learn, connect, and grow.
---
Live together with fellow women in engineering
Jump right into our engineering community with an entire floor of a residence hall devoted to women in our engineering program. The floor consists of incoming freshman along with an upper-class engineering resident assistant.
This is a great way to make friends and get help if you have a challenging class, as you will be surrounded by students going through exactly what you are. Spots fill up fast!
Mentoring program
The program director connects undergraduate students with professional women engineers and upper-class female students as part of our Mentoring Program. Mentors provide career guidance and become a part of the student's professional network.
Events are held throughout the year to support this relationship, including workshops, speed-mentoring, and corporate tours where students and mentors can take an up-close look at engineers on the job.
Women in Engineering class
The College of Engineering and Polymer Science offers students a one-credit elective course (4100:110:001) for freshman. The goal is to help students make the transition to college smooth and learn more about the types of careers available. The course consists of guest speakers, lectures on a variety of engineering topics, and group discussions led by upper-class engineering students.
Society for Women Engineers
The Society for Women Engineers (SWE) is a non-profit, educational service organization dedicated to making known the need for women engineers and encouraging young women to consider an engineering education. The Women in Engineering Program pays for the first-year membership to SWE for all freshman who would like to join. Students have access to an online Career Center, scholarships, and the chance to attend an annual SWE conference.
Scholarship opportunities
To free up some of the financial burden attached with going to college, generous donors of The University of Akron have designated sponsorships for women in the College of Engineering and Polymer Science. See our list of available scholarships for women in engineering at UA.
---
Related: