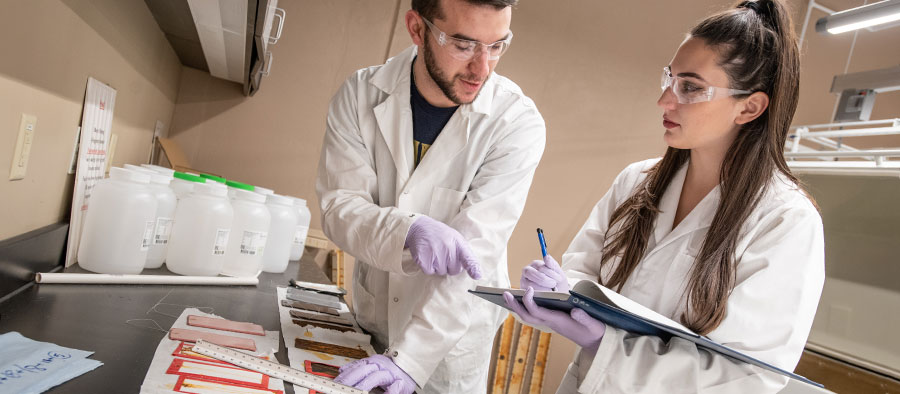 Corrosion Engineering Undergraduate Program
The only corrosion engineering bachelor's degree program in the country offered here at The University of Akron. In the Chemical, Biomolecular, and Corrosion Engineering Department at UA, you can put your high level science and math skills to good use and excel in our program.
What can I do with Corrosion Engineering?
Corrosion engineers research and develop methods to lower the environmental impact on roadways, bridges, power plants, windmills, manufacturing plants and pipelines.
Corrosion engineers also design new materials and structures that will address emerging needs in a variety of industries including energy, chemical processing and pharmaceuticals.
graduates with a b.s. in corrosion engineering from the university of akron make an average starting salary of $71,400.
We have placed graduates at companies including BP, Marathon Petroleum Corporation, Philips 66, and Newport News Shipbuilding.
What skills make successful corrosion engineers?
Undergraduate corrosion engineering students that have a strong foundation in AP physics, AP chemistry and calculus do well in our program. Also, if you have an interest in sustainability and making communities safer, this field will be a nice fit for you.
A day in the life of a corrosion...
Engineering senior student
Hear from Helen, a senior corrosion engineering major, as she takes you through a typical day as a student at UA.
Engineer on the job
Hear from UA corrosion graduate, Madeline Lee '19, as she explains what she does as a corrosion engineer.
National Center for Education and Research on Corrosion and Materials Performance (NCERCAMP)
The only one of its kind, NCERCAMP provides students with hands-on opportunities to help industry and government agencies improve material performance, mitigate the effects of corrosion and manage risk through sponsored research, technical service, education and training.
Curriculum guides & courses
The undergraduate corrosion engineering degree includes the traditional science and engineering course of study along with the fundamentals of corrosion engineering. The curriculum also integrates a unique set of management courses and co-op experiences that will prepare our graduates to immediately enter the workforce as contributing members of project teams. Students learn the fundamental and applied aspects of aqueous and high temperature corrosion.
Accreditation
The corrosion engineering undergraduate program is accredited by the Engineering Accreditation Commission of ABET, www.abet.org, and has specific program educational objectives and student outcomes that prepare graduates to enter the professional practice of engineering.