Concrete canoe, steel bridge teams win 1st and 2nd place in regional competition
04/01/2014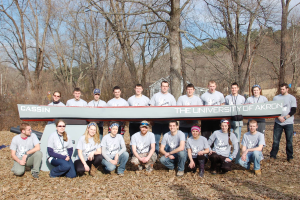 The University of Akron's Concrete Canoe team placed first and the Steel Bridge team placed second in recent ASCE student competitions, qualifying both teams for national competition.
The Concrete Canoe team topped more than a dozen teams at the Ohio Valley Student Conference (OVSC) Regional Concrete Canoe Competition hosted by Carnegie Mellon University March 28-29. As a first-place regional winner, UA's team qualifies for the national concrete canoe competition, June 19 to 21 at the University of Pittsburgh.
"The competition was very close this year," says UA team co-captain and senior civil engineering student Austin Feucht. "The entire team worked hard to get the win."
The UA team received first place in two out of four categories – the technical report and canoe races and placed first in women's sprints thanks to UA student team members Megan Huebner and Katie Kitner.
Meanwhile, the UA Steel Bridge team finished as one of the region's top five teams with its second-place finish in the competition. The team will come home to compete in the National Student Steel Bridge Competition hosted by UA May 23-24, 2014 at the John S. Knight Center.
"We finished first in lightness and display, and second overall," says Steel Bridge team captain Katie Kitner. "Now we turn our attention to nationals."
Both student design teams are led by faculty advisor Dr. Stephen Duirk, assistant professor of civil engineering.
See also: Civil engineering students optimize designs for annual competition