CAREERS & JOB PLACEMENT
The Co-op and Placement Office can also help you secure a permanent, full-time job as you near graduation.
Did you know?
Full-time salaries are likely to be higher if you participate in a co-op than a similar-degree student who has not participated in the program. Employers report that they are more likely to hire someone with co-op experience than without. Even if you are looking for a different type of permanent, full-time experience from what the co-op provided, we can still help and provide guidance with your next steps after graduating.
97 percent of spring 2021 engineering bachelor's degree graduates have participated in at least one form of experiential learning.
If you never had a co-op, we can still help.
The co-op and placement office can help any undergraduate engineering student with permanent placement, regardless of whether or not you have held a co-op position as an engineering student.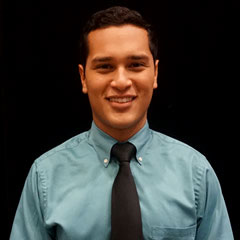 "The co-op and placement office made planning for post-grad life so easy! They consistently sent out my resume to their corporate connections on my behalf. When they heard about a newly posted position at a local engineering firm, they called me right away. They are completely committed to student success."
— Juan Camacho,
B.S. in Biomedical Engineering, '19
SALARY EXPECTATIONS
Median Salaries of 2021 May Graduates with BS Degrees:
Aerospace Systems Engineering: $70,000
Automated Manufacturing Engineering: $55,000
Biomedical Engineering: $60,000
Chemical Engineering: $72,500
Civil Engineering: $57,000
Computer Engineering: $70,000
Computer Information Systems: $61,250
Computer Science: $64,000
Construction Engineering Technology: $60,000
Corrosion Engineering: $66,000
Electrical Engineering: $65,000
Electrical and Electronic Engineering Technology: $65,000
Mechanical Engineering: $65,000
Mechanical Engineering Technology: $58,000
Surveying and Mapping: $52,000
ALUMNI PLACEMENT
The Co-op and Placement Office regularly works with UA alumni. If you are making a career transition, we can connect you with new job opportunities.
Contact the Co-op and Placement Office
---
Location:
Auburn Science and Engineering Center, Room 224
Office hours:
Mon - Fri, 8 a.m. to 5 p.m.