Wheels in motion: Daniel Shy, alumnus and Goodyear engineer, rolls through master's program in College of Engineering
Daniel Shy enjoys the rare distinction of having actually reinvented the wheel – and the rarer distinction of having done it three times.
"While reinventing the wheel is no easy task, my name is on three wheel patents," says Shy, who has spent the past three decades reinventing himself and his future, like an ever-sleeker, stronger wheel, rolling on an ageless road.
Sometime Air Force serviceman, carpenter, engineer and businessman, he is now a part-time master's student in the College of Engineering at The University of Akron (UA), while he works full-time as a technical account manager and senior customer engineer at the nearby Goodyear Tire & Rubber Co.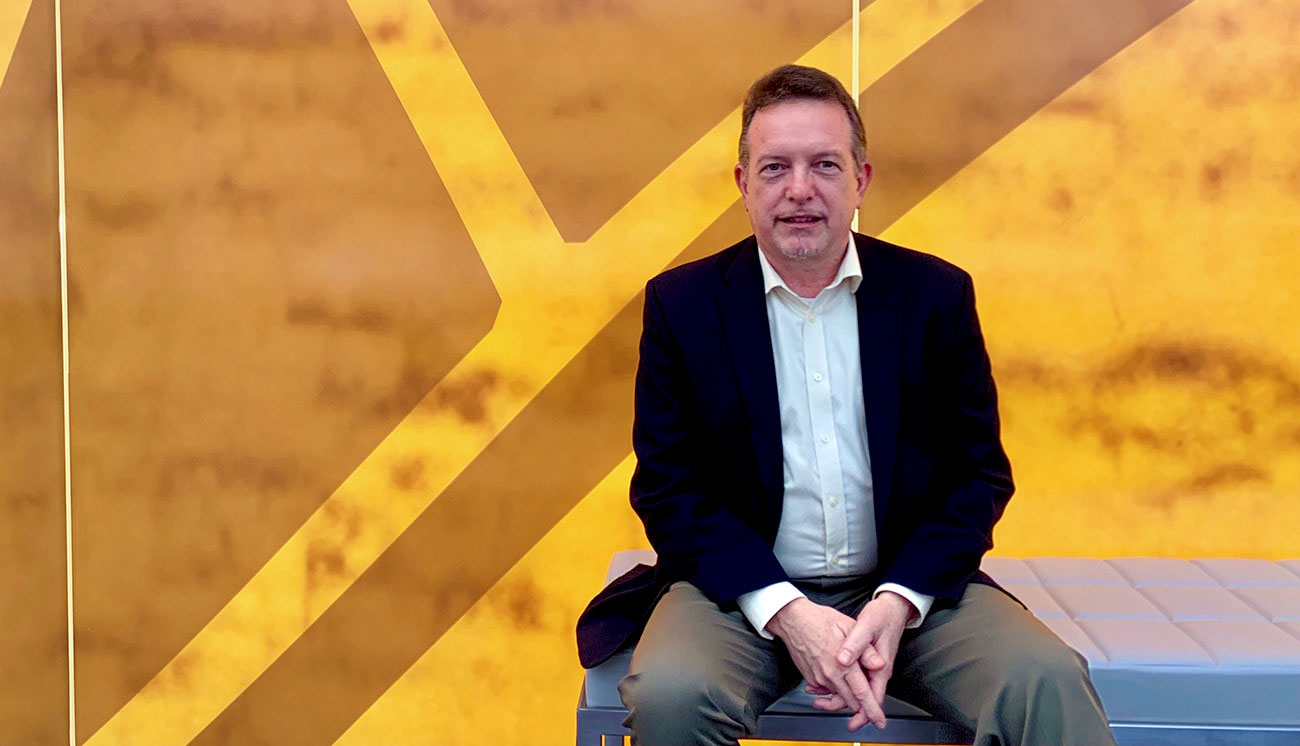 Daniel Shy, a Goodyear engineer, is looking forward to embracing his "role as an industry expert" after earning his master's degree in engineering at UA.
Fittingly, he works on a road called "Innovation Way," in the hub that is the company's global headquarters. He says that, over the past few years, he has seen his influence and confidence grow, like radiating spokes, thanks to the Master of Science in Engineering (M.S.E.) program at UA.
"Nearing the completion of the program, I now have a confidence that I did not have before," says (the not-so-shy) Shy, who expects to graduate this summer, having spent the past 27 years working for various companies, mostly supplying truck wheels to vehicle manufacturers.
"I see evidence of this increased confidence in my visits to trucking fleets to solve problems they have with tires and wheels," he continues. "Executives and directors of trucking fleets have a reputation for being, well, intimidating. When I consider my encounters with them that occurred five years ago to those of today, I am far more successful today because of my ability to not only diagnose and solve the problem, but to deliver the message with the confidence of an industry expert.
"My journey in the master's program has given me greater depth and breadth of technical knowledge. It seems that my customers and coworkers will come to me for advice more often and respect my recommendations, and I have seen a similar respect from colleagues at industry consortiums."
When Shy began working at Goodyear in 2011, after the economic recession has closed the plant where had been working, he found that about half of his coworkers had master's degrees, and about "one-sixth" had doctorates.
"I went from being the technical product expert to becoming the 'new guy who needs to be trained,'" he says. "I was making trips to trucking fleets to solve tire problems, and customer expectations were high. I needed to ramp up my tire expertise, and fast."
Shy, who earned his bachelor's in engineering from UA in 1992, remembers driving past his alma mater on his way to work – thinking the school might be the "ramp" that could elevate him from "new guy" to master.
"While I had an MBA [from Ashland University], getting a master's in engineering was always a 'bucket list' item," he says. "Every day during my commute, I would pass by The University of Akron exit on the highway. I began to think, 'I could make this drive for the next 5-6 years and have nothing, or I could stop in for a few hours per week, do the work, and have a master's degree in 5-6 years' … so that's what I did."
Shy says he chose the multidisciplinary M.S.E. program, instead of the master's in mechanical engineering, in order to better tailor his coursework to his peculiar needs at Goodyear, and to pursue his eclectic interests.
"I have always been somewhat of an engineering generalist," he says, "delving not only into the design of mechanical components, but also dealing with electro-mechanical interface, computer-aided engineering, product testing, regulatory compliance, manufacturing and production, sales engineering and new product strategies. The multidisciplinary degree allowed me to take courses that the traditional master's student in mechanical engineering probably would not take, such as a civil engineering course on pavement, and a course in statistics and probability for engineers."
Shy adds that the College of Engineering staff and faculty were flexible and accommodating in allowing him to schedule classes around his frequent business trips, even permitting him, on one occasion, to participate in class from a hotel room, via Skype.
Most of all he is grateful to the University for getting his career rolling in the first place, and for supplying the momentum that will carry him, for years to come, even further down the road of renewal.
"Discovering that The University of Akron's College of Engineering was a high-ranking program, I enrolled as a freshman at the age of 24, after four years in the Air Force and working as a carpenter," he says. "After graduating with four semesters of real-life engineering experience through co-ops at Crane Aerospace in Elyria [Ohio], Crane hired me as a new product development engineer, designing components for the Air Force's F-22 Advanced Tactical Fighter.
"Now, having attained my master's degree, I'm looking forward to embracing my role as an industry expert on commercial vehicle wheel-ends, and I have set myself up for advancement to senior-level technical positions."
Like the crude stone that, in the deft hands of an ancient engineer, became the wheel, so too has Shy been shaped and transformed.
"I have always credited The University of Akron for the quality of life that I enjoy today," he says. "Certainly, I put in the hard work, but without the University and the quality of its programs and degrees, this Akron boy may never have transformed into an engineer."