Civil Odyssey: Michael Spade carves own path in College of Engineering's master's program
There are some who, like Ulysses in Alfred, Lord Tennyson's eponymous poem, "cannot rest from travel," who drink life deeply and roam the world with a hungry heart – whose motto is ever "to strive, to seek, to find, and not to yield."
Michael Spade, a first-year master's student majoring in civil engineering at The University of Akron (UA), is one of those people.
"I cannot settle," he says. "I'm constantly moving."
Growing up in rural Crestline, Ohio, he spent his adolescence hunting and fishing, roaming the woods and splashing through streams with his dogs.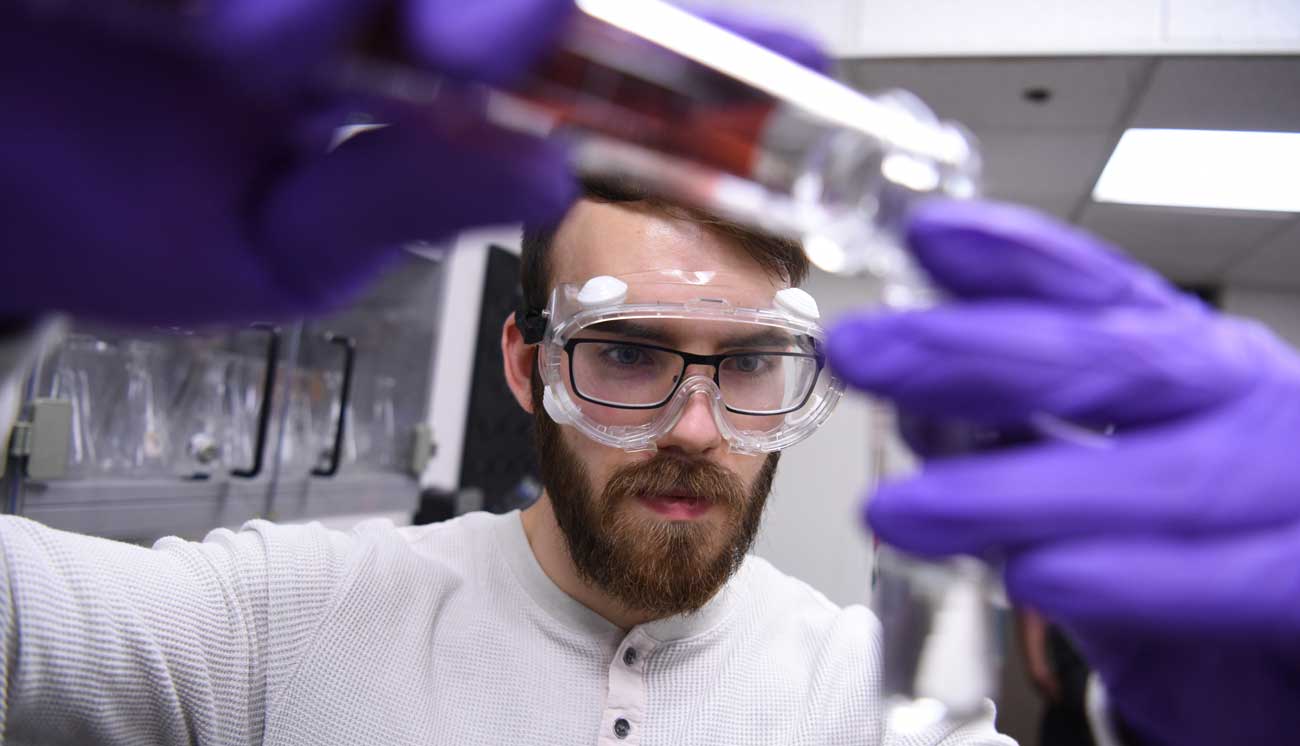 Michael Spade, an "outdoorsman and conservationist," is using the master's program in engineering to help protect the environment.
That roving spirit carried him to the University, where he majored in civil engineering and played varsity football – running from one co-op to another, as if dashing toward some distant, gleaming end zone.
After completing five co-op rotations as an undergraduate – including a stint with Welty Building Co., where he helped engineer the nearly $1 billion expansion of the Pro Football Hall of Fame last summer – Spade, ever restless, launched into a new adventure.
"A professor approached me and asked if I was interested in graduate school – and the opportunities that it opened up appealed to me," he says.
Chief among those opportunities, Spade said, was the freedom to focus more intensely on his area of interest, and to carve out his own path through self-directed research.
"Whereas, with the bachelor's degree, you study six broad disciplines, with the graduate degree, you pin down which of those disciplines you want to pursue," he says. "I wanted to focus on the environment."
So when Dr. Teresa J. Cutright, professor of civil engineering, approached Spade with an opportunity to conduct grant-funded research on improving the quality of Akron's drinking water, Spade knew he was in the right place.
"Being an outdoorsman and conservationist, I thought the project sounded awesome," he said.
Spade and a fellow master's student have been investigating methods to reduce the amount of phosphorus in a tributary that enters a drinking reservoir. Phosphorus is a potential cause of algal blooms, which can toxify the water.
"The master's program goes even further into research," he says. "I've learned a ton, and it has forced me to go outside of my element, to get better at analyzing data."
Spade says he is confident the master's degree will give him more options and mobility in choosing a career.
"I'll have more of a choice of where I'm going to work," he says. "I'll be able to go to any employer and say, 'I came up with these experiments, I conducted them, I analyzed the data – and here's what it means.'"
Coming from a small hometown with a high school graduating class of approximately 50, Spade values the class sizes and personal attention he receives in the master's program.
"What also drew me to the program was the small class sizes," he says. "You get to know the people next to you, and study with them, and the professors are proactive, hands-on and more than happy to help you."
After graduating in 2020, Spade hopes to continue his work on the environment, finding ways to conserve natural habitats and farmland which, like those in his hometown, are precious to him.
"There's so much more we can do to improve the world we live in, to minimize our impact on the environment," he says. "I want to be in a place where I can call the shots – whether it's working in industry or local government."
In fact, Spade already has some practice "calling the shots." Last year he formed an LLC with his father to market his father's homemade leather boot salve – designed to waterproof and protect work boots – called Duck Armour, which Spade says will sell on eBay soon. Spade won $1,000 for his pitch of the product last fall in the UA/eBay 10k Startup Challenge hosted by UA's EXL Center.
"If it takes off, it takes off – and if it doesn't, I learned a lot from the experience," he says. "The important thing is to keep moving forward."
Indeed, for Spade, as for Ulysses, it is never "too late to seek a newer world," to hoist the sail and embark on another journey – perhaps even a doctoral program.
"I would love for people back home to have to call me 'doctor,'" he says, laughing.