Looking back and ahead in the College of Engineering
Our President, Dr. Gary Miller, is leading the way as we gear up to celebrate 150 years of The University of Akron. We look back to reflect on our achievements and see how high we have climbed in 2019 and then push to keep going, knowing there are even greater heights to attain.
As Dean Menzemer is fond of saying, "We are here because of our students." It is evident our pride runs deep, and it doesn't just begin on our first day at UA or end at graduation. As you will see, it is obvious UA engineers rise up during their time at UA and continue to soar long after!
We are Akron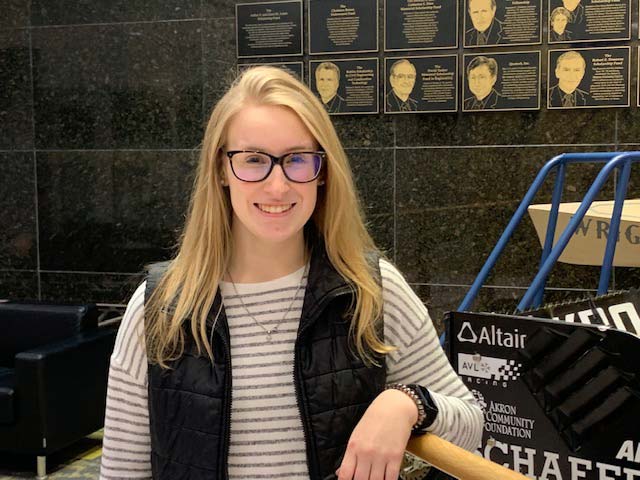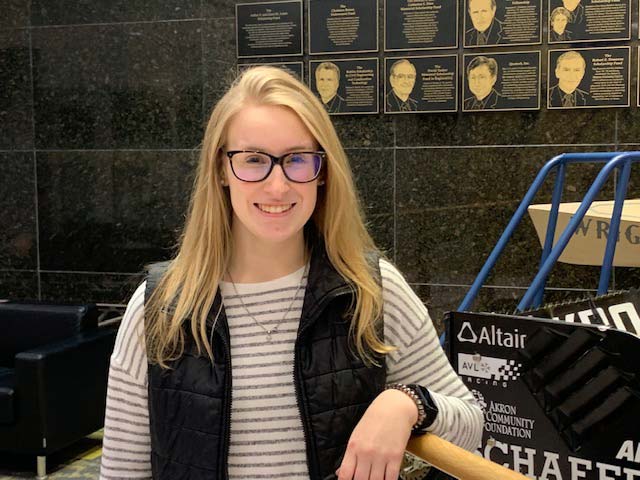 "UA wants the best for me and that feels really good! From the tough but rewarding classes, to the co-op opportunities, I know I am prepared for the future. The connections I have made, including friends and faculty, mean everything to me."
— Angelina Forman
Electrical Engineering major,
Expected graduation 2021
Engineering's top stories from 2019
Swipe through to see what students and alumni have accomplished this past year.
Looking Ahead
A message from the Dean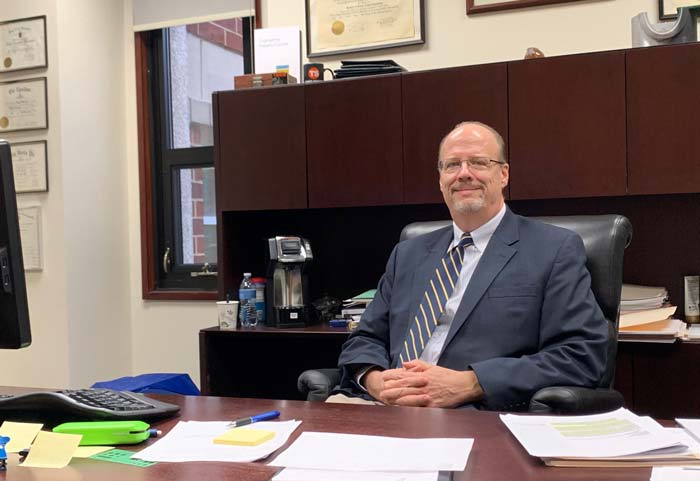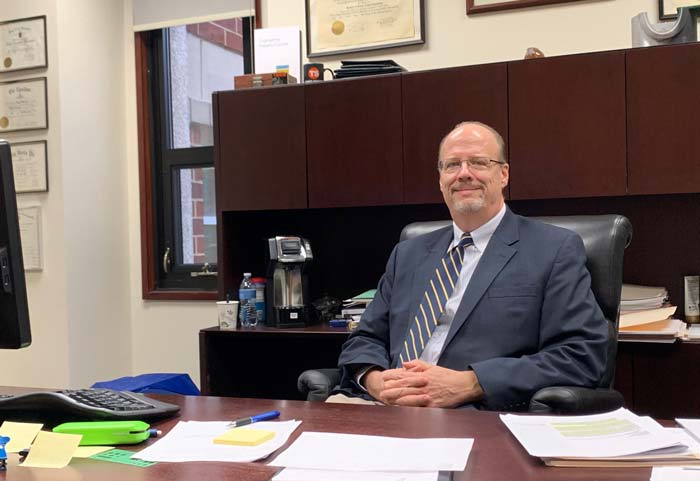 "The College of Engineering plays a vital role in The University of Akron's future, and in the community at large. Our engineering students are rising stars and work hard – they show up with that Akron grit and drive and accomplish great things while here and when they graduate. Take the students of the Formula Electric Team who brought home trophies in their first year of competing. Or, Christina Pastore, a civil engineering alum who managed the development of a $12-billion transit plan in Atlanta. Our faculty research is second to none, examples of which include the modeling and treatment of cancer, the development of material systems for aerospace applications, and the improvement of winter roadway maintenance in Ohio. I am proud of them and the work they do launching the next generation of engineers. We look forward to our future – Go Zips!"
— Craig Menzemer, Ph.D.
Interim Dean, College of Engineering
Our Initiatives for 2020 and Beyond
Increase scholarship opportunities
Celebrate the achievements of our students, and illustrate the need for continued financial investment in their future.
---
Commitment to student success
Understand and tackle barriers that get in the way of graduation.
---
Promise to expand cutting-edge research in focused areas of strength
Support our faculty and students in their quest for discovery.
---
Explore opportunities for new programs
Ask ourselves: What are new ways we can provide value to our students and the engineering community?